printer friendly version
Quick and reliable shaft alignment
June 2017
Maintenance, Test & Measurement, Calibration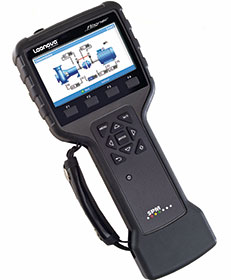 BMG's latest condition monitoring equipment comprises the newly launched portable SPM Leonova Diamond Aligner system, designed for quick and reliable shaft alignment in applications including compressors, gearboxes, generators and pumps.
This dual laser system, which is suitable for most combinations of machinery and coupled or uncoupled shafts, incorporates advanced digital technology where alignment sensors communicate with the instrument via Bluetooth. Automatic calculations and instant correction and alignment data ensure a perfect shaft alignment, even in tough operating environments.
The new hand-held Leonova Diamond Aligner is a complete kit packed in a portable case, consisting of the control and display instrument, alignment sensors, aluminium brackets, extendable chains up to 480 mm diameter shafts, rods, cables and a tape measure.
"The alignment sensors use high precision digital CMOS linear image detectors which automatically distinguish from interfering light sources, to provide maximum accuracy in shaft alignment," states Carlo Beukes, general manager, power transmission, BMG. "Dual axis high precision inclinometers measure the angle of rotation of both detector units at all times. This allows measurements in fully automatic mode, with less than half turn of the shaft.
"This system works with standard and user defined tolerance levels to perform accurate alignment calculations for horizontal, as well as vertical or flange-mounted machines. Other measurement programmes include soft foot check, thermal growth compensation and tolerance checks. For user convenience, the feet lock function automatically provides alternative alignment corrections.
"Leonova produces a log file with all alignment data for documentation and printing. Specially designed modular software, supports the Diamond Aligner, providing easy set-up of personalised default settings for exact user requirements."
The heavy duty aligner, with a carbon-fibre reinforced IP65 rated enclosure, has been drop tested to 1 metre and the LCD backlit colour display has a user-friendly graphical interface for easy operation and accurate results. These products are designed for users at every level, including operators, as well as for advanced vibration analysts.
For more information contact Carlo Beukes, BMG, +27 (0)11 620 1500, carlob@bmgworld.net, www.bmgworld.net
Credit(s)
Further reading:
All-in-one documenting process calibrators
Comtest Maintenance, Test & Measurement, Calibration
The multifunction calibrators perform sourcing, simulation and measurement of pressure, temperature and electrical signals.
Read more...
---
Five reasons for force measurement
WIKA Instruments Editor's Choice Maintenance, Test & Measurement, Calibration
Wika takes a closer look at the measured variable of force and gives five reasons to show why force measurement is of particular importance.
Read more...
---
Drive-based predictive maintenance solutions
Bearing Man Group t/a BMG Motion Control & Drives
BMG's NORD predictive maintenance solutions offer fast, efficient and comprehensive evaluation of analogue and digital data, to enhance the operational efficiency and safety of machines. The intelligent 
...
Read more...
---
High-quality contact lubricants
Vepac Electronics Maintenance, Test & Measurement, Calibration
CG53A is part of the CG series of contact lubricants, designed as an extension of the extremely popular 2X range. The main advantages of these products are reduced contact resistance, even on extremely 
...
Read more...
---
Match & Tag for high accuracy in paired chain
Bearing Man Group t/a BMG Motion Control & Drives
Modern machinery often requires chains of precisely the same length to be used in pairs or other multiples. For these applications, BMG specialists recommend Tsubaki Match & Tag chains, which guarantee 
...
Read more...
---
Field services – beyond break-fix to invaluable organisational insight
Schneider Electric South Africa Maintenance, Test & Measurement, Calibration
An outsourced field services team can assist organisations not only during emergencies but also by providing spares, technical support and 24/7 callout availability.
Read more...
---
Pyranometer for monitoring small-scale PV installation efficiency
GHM Messtechnik SA Electrical Power & Protection Maintenance, Test & Measurement, Calibration
The device's classification level under the ISO 9060:2018 standard guarantees accuracy, reliability, precision and compliance with reference standards.
Read more...
---
Condition monitoring on offshore oil platforms
Beckhoff Automation Maintenance, Test & Measurement, Calibration
The steel structures of an offshore platform are exposed to extreme environmental conditions throughout their entire service lives. Difficult sea conditions ranging up to freak waves and aggressive 
...
Read more...
---
The 'P' in predictive maintenance represents progress, not pain
SMC Corporation South Africa Maintenance, Test & Measurement, Calibration
There are three main types of maintenance: reactive, preventative and predictive. But how do you make sense of these terms? Human health can provide an analogy to machine health. Take diabetes, for 
...
Read more...
---
Power transmission solutions for the sugar sector
Bearing Man Group t/a BMG Motion Control & Drives
BMG plays a critical role in the sugar sector, not only during the operational period of sugar production, but also in off-crop seasons, when maintenance and refurbishment on sugar farms and at mills 
...
Read more...
---