printer friendly version
An evolution in gas measurement
June 2017
Flow Measurement & Control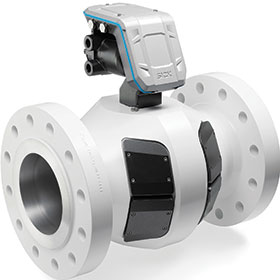 As the follow-up to the successful FlowSIC600, the FlowSIC600-XT ultrasonic gas flowmeter is setting new standards in its market segment. With four device variants available, it can take on many challenges, whether it is being used as a stand-alone device or as part of a system solution, and delivers optimum measurement performance.
The FlowSIC600 already provided absolute long-term stability in extreme ambient conditions, and now the four device variants in the XT product family combine the features of their predecessors with unprecedented usability. Throughout their service life, they meet the requirements for safe, stable and custody transfer gas quantity measurement.
The instrument's trend-setting design houses some impressive and innovative internal features such as i-diagnostics for smart application diagnostics with a built-in solution wizard, and PowerIn Technology, which continues to take measurements for up to three weeks in the event of a mains voltage failure.
The FlowSIC600-XT features an ideal combination of maximum measurement accuracy, long-term stability and unparalleled operational safety, yet is not at all complicated to use.
The ultrasonic gas flowmeters in the XT product family are designed for custody transfer gas quantity measurements, satisfy the requirements of current national and international standards, and are exceptionally simple to integrate into conventional system environments.
For more information contact Doreen Cronje, SICK Automation Southern Africa, +27 (0)11 472 3733, doreen.cronje@sickautomation.co.za, www.sickautomation.co.za
Credit(s)
Further reading:
Wall-mount ultrasonic flow meters
Royce Water Systems Flow Measurement & Control
High measurement accuracy and minimal interference due to its advanced error correction technology are among the flow meter's benefits.
Read more...
---
Flow meters and switches for very slow flows
Instrotech Flow Measurement & Control
Kobold's KSV meters are shock resistant, small, lightweight and simple to install for measuring liquid or air flow with full-scale accuracy within +/-6%.
Read more...
---
Indian airport's fuel station retrofitted with Rotork actuators
Flow Measurement & Control
A reduction of downtime was of critical concern to the customer, which can be assisted by an holistic asset management programme such as Lifetime Management.
Read more...
---
Flow control for wastewater treatment
Flow Measurement & Control
Going beyond simple open/close functions, the Rotork actuators can move the valves and gates to exact positions to provide complete control of flow in the process.
Read more...
---
Flow measurement of abrasive slurries in hydrocyclone feedlines
KROHNE Flow Measurement & Control
Dedicated flowmeters for cyclone classification help miners improve throughput while keeping maintenance costs low.
Read more...
---
Intelligent electric actuators control flow at chemical plant
Flow Measurement & Control
The actuators have been installed in the cracking units in the plant to control the flow of the oil that is the feedstock at the heart of the production process.
Read more...
---
3D machine vision camera gives robots human eyesight
SICK Automation Southern Africa Sensors & Transducers
The camera integrates easily into existing systems using system integration software, and features easily configurable input and output functionality.
Read more...
---
Air gap sensor outputs absolute value
ifm - South Africa Flow Measurement & Control
The air gap sensor can be taught to detect the target state both via its external operating buttons and an external input, or with just one click via IO-Link.
Read more...
---
Improving efficiency and reliability of CIP and SIP systems
Emerson Automation Solutions Flow Measurement & Control
By using clean-in-place and steam-in-place systems, food and beverage manufacturers can improve product quality, minimise recalls and protect personnel.
Read more...
---
Monitoring the safe ventilation of mines
EOH Process Automation Solutions Flow Measurement & Control
By accurately monitoring air quality and airflow volumes, mining companies will improve working conditions, maintain full staff complements and enhance their energy management.
Read more...
---