printer friendly version
Yokogawa delivers network solution to Oji Group
May 2017
IT in Manufacturing
Yokogawa Electric Corporation has announced that its subsidiary, Yokogawa Solution Service Corporation, has completed the installation of a software-defined networking (SDN) solution at four paper plants in Japan that are operated by the Oji Group. This is the first plant-wide implementation in Japan (based on a March 2017 Yokogawa market survey) of SDN, a software-based technology that enables the creation of virtual network environments. As part of this undertaking, Yokogawa assessed the company's IT infrastructure, including its existing networks, and designed and deployed SDN-based networks at these facilities.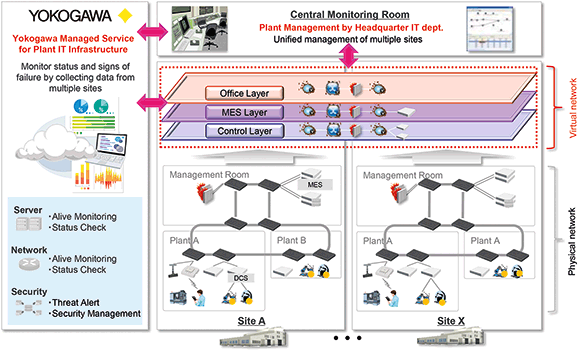 Utilising SDN technology for IoT-enabled smarter plant infrastructure.
Flexible implementation of virtual networks
With conventional plant networks, security devices (i.e., routers, firewalls) must be installed and configured for each individual application, location and facility. The software-based SDN technology enables flexible implementation of virtual networks for each individual application, linking network devices using the same physical network. This facilitates the integrated management, implementation and reconfiguration of networks. Also, it helps to reduce the required number of network devices and the amount of wiring that needs to be installed, saving both operating and management costs. Furthermore, the visualisation of network status leads to enhanced security. Problems can be easily identified and network operators can remotely shut down specific segments of the plant network in the event of an emergency.
Yokogawa won this order because the customer highly valued its solid track record in delivering production control systems, wealth of production site knowledge and experience in providing solutions that lead to enhanced productivity, safety, and product quality.
For this project, Yokogawa chose to use a proven SDN network device solution, NEC Corporation's Univerge PF series of controllers and switches. While minimising impact on plant operations is usually difficult when replacing IT infrastructure, Yokogawa was able to do this by leveraging its abundant experience and knowledge of production sites. At each of this customer's plants, Yokogawa assessed the IT infrastructure, including existing networks, and based on this assessment then designed and deployed its SDN technology solution.
Security management service
Yokogawa is also providing, on a trial basis, a security management service that monitors the status and health of the networks throughout these plants. While enabling timely preventive measures that help to maintain the health of the networks in these plants, this service also ensures that prompt actions can be taken in the event of an emergency.
In plants around the world, there is an increasing need to improve productivity, safety, and maintenance efficiency, and this is being achieved through the introduction of IIoT technology. Networks help to create new value by connecting various types of devices, but it is essential to be able to change their configuration, quickly respond to surges in data volume, and ensure more secure operations. For the optimal implementation of IIoT technology, attention is now increasingly turning to the use of SDN systems in plant IT infrastructure. This will also help company IT departments manage the infrastructure at their plants in a more integrated manner.
Capitalising on its production site know-how, Yokogawa will continue in its endeavours to introduce SDN and other cutting-edge technologies that will enable the realisation of smarter plant IT infrastructure.
For more information contact Christie Cronje, Yokogawa South Africa, +27 (0)11 831 6300, christie.cronje@za.yokogawa.com, www.yokogawa.com/za
Credit(s)
Further reading:
Industrial Ethernet switches reflect ongoing evolution at the IIoT 'thin edge'
January 2020 , IT in Manufacturing
Today's digital transformation strategies require data connectivity throughout the architecture to fulfil the quest for improved operations.
Read more...
---
RS Components introduces 4ZeroBox IIoT development system
January 2020, RS Components SA , IT in Manufacturing
RS Components has introduced the 4ZeroBox IIoT unit from Italian manufacturer TOI. 4ZeroBox is the hardware component of TOI's 4ZeroPlatform, a plug-and-play data gathering, processing and reporting system 
...
Read more...
---
IFS study reveals AI investments looming on the business horizon
January 2020 , IT in Manufacturing
Global enterprise applications company, IFS, has announced the findings of a research study into the attitudes and strategies towards artificial intelligence (AI) among business leaders. The study polled 
...
Read more...
---
New Mindsphere app from Siemens
January 2020, Siemens Digital Industries , IT in Manufacturing
With Predictive Services for Drive Systems, Siemens presents a standardised extension to local service agreements. Based on the new Mindsphere Predictive Service Assistance app, it makes maintenance more 
...
Read more...
---
Schneider Electric brings digital competence to mining applications
January 2020, Schneider Electric South Africa , IT in Manufacturing
Schneider Electric is dedicated to the deployment of digital technologies in mining to address the rising pressures on business sustainability and reduced energy consumption. "The organisation has invested 
...
Read more...
---
Micromine assists mining operations in the Industry 4.0 era
January 2020 , IT in Manufacturing
Global trends such as Industry 4.0 are transforming the traditional methods deployed to extract ore from rock. Mining operations are instead looking at innovations such as automated drilling in high risk 
...
Read more...
---
11th annual MESA Africa conference
January 2020 , IT in Manufacturing
I recently attended the MESA conference held at the Zulu Inyala Country Manor.
Read more...
---
Digital twin allows process simulations
December 2019, Siemens Digital Industries , IT in Manufacturing
The high-tech company Grenzebach's portfolio includes the simulation of material flow in complex plants in the glass industry, which it achieves using Siemens simulation solutions. Together, the two companies 
...
Read more...
---
Game-changing digital solutions for mines
December 2019, SKF South Africa , IT in Manufacturing
With digitalisation creeping into the mining industry and transforming day-to-day operations, this sector is enhancing its Industry 4.0 operation and process compliancy. As a preferred supplier of premium 
...
Read more...
---
Protect critical infrastructure and manufacturing plants
December 2019 , IT in Manufacturing
As manufacturers around the world analyse and embrace the importance of being more connected to the IIoT, cybersecurity experts caution that the benefits of being interconnected come with a warning, and 
...
Read more...
---