printer friendly version
IDX Nexus Data Harvester
Technews Industry Guide: Maintenance, Reliability & Asset Optimisation 2017
Maintenance, Test & Measurement, Calibration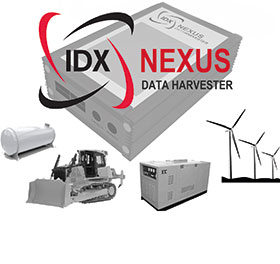 You might not realise it yet, but you could be sitting on a goldmine of un-harvested data contained within your equipment. Whether that piece of equipment is a dozer, genset or scale you can now unleash the hidden potential of being able to monitor, control and optimise your assets.
The new IDX Nexus addresses the challenge of harvesting data that is tucked away in disparate systems or behind some little-understood communications protocols. Let us take the case of trying to understand what is going on with the heavy mobile machinery (dozers, cranes, etc.) on your site. The parameters that might be of interest to you may include warnings such as oil temperature and pressure, running hours and rpm so that it can be understood when a specific vehicle needs to come in for maintenance say, part needs to be ordered or if it is being misused.
The chances are that there are different makes of vehicle on your site, each with their own way of exposing data (CAN, J1939, Serial, etc). The IDX Nexus is a family of hardware and software components that allows flexible data collection so it can be adapted to monitor different communications protocols through its modular design. Each vehicle would be equipped with an IDX Nexus Data Harvester. This hardware is designed to communicate with the well-established IDX Suite through various wireless technology options depending on the site layout.
IDX Suite is comprised of a Tag Manager, Data Exchange Component and Historian, and the sum of these allows for your asset's data to be collected and stored, for alarms and events to be generated and data shared with other systems (Data Historians, LIMS, MES and MIS, OPC, Scada, SQL, etc). The web-based IDX Nexus Portal allows you to remotely configure your devices, perform firmware updates and of course monitor your equipment using dashboards and graph views.
The IDX Nexus can also be used as a standalone unit and configured to act as a gateway between proprietary protocols and standard industrial protocols. For example, two different weigh scales speaking their own ASCII protocol over RS-232, can be made to appear as a single MODBUS device. This would use three of the four on-board interchangeable communication channels. Devices communicating over serial CAN and Ethernet can all be integrated this way. Perfect for an OEM, developer or industrial hobbyist looking for an end-to-end flexible remote monitoring solution!
IDX Nexus can be a game-changer of how data is shared between machines and exposed to humans, bringing us into a new era of Industrial Data Exchange.
Key Features
• Flexible and open architecture.
• Interfaces: RS-232, RS-485, CAN, 4-20 mA, 20 mA digital, inclinometer, accelerometer and Ethernet.
• Designed with components rated for -40 to 85°C.
• Wireless communications include Wireless, GPRS and Bluetooth.
Credit(s)
Further reading:
The route to proactive maintenance
Comtest Editor's Choice Maintenance, Test & Measurement, Calibration
What were once complex tasks can now be accomplished by less experienced technicians with easy-to-use tools such as vibration screeners and thermal imagers.
Read more...
---
Composition analysis by micro gas chromatography
Electrocomp Maintenance, Test & Measurement, Calibration
The DynamiQ-X gas analyser from Q-Micro is designed for continuous gas mixture monitoring in industrial process and factory automation applications.
Read more...
---
ABB's automatic paper testing delivers faster quality insights
ABB South Africa Maintenance, Test & Measurement, Calibration
Quality data from the L&W Autoline is collected in the mill's quality management system via integration with the 800xA DCS.
Read more...
---
Regular machine maintenance is key to operational efficiency
Maintenance, Test & Measurement, Calibration
Benefits include savings on costs, energy efficiency and spare parts, which can account for as much as half of the total maintenance costs.
Read more...
---
Using ultrasonic NDT to identify wear and corrosion
BAMR Maintenance, Test & Measurement, Calibration
Monitoring equipment for damage and potential flaws is vital in preventing loss of productivity and even injury or potential death of operators.
Read more...
---
All-in-one documenting process calibrators
Comtest Maintenance, Test & Measurement, Calibration
The multifunction calibrators perform sourcing, simulation and measurement of pressure, temperature and electrical signals.
Read more...
---
Five reasons for force measurement
WIKA Instruments Editor's Choice Maintenance, Test & Measurement, Calibration
Wika takes a closer look at the measured variable of force and gives five reasons to show why force measurement is of particular importance.
Read more...
---
High-quality contact lubricants
Vepac Electronics Maintenance, Test & Measurement, Calibration
CG53A is part of the CG series of contact lubricants, designed as an extension of the extremely popular 2X range. The main advantages of these products are reduced contact resistance, even on extremely 
...
Read more...
---
Field services – beyond break-fix to invaluable organisational insight
Schneider Electric South Africa Maintenance, Test & Measurement, Calibration
An outsourced field services team can assist organisations not only during emergencies but also by providing spares, technical support and 24/7 callout availability.
Read more...
---
Pyranometer for monitoring small-scale PV installation efficiency
GHM Messtechnik SA Electrical Power & Protection Maintenance, Test & Measurement, Calibration
The device's classification level under the ISO 9060:2018 standard guarantees accuracy, reliability, precision and compliance with reference standards.
Read more...
---