SAIMC: Durban branch
August 2012, SAIMC

There was a good turnout at the July Technology Evening, where the audience enjoyed listening to seasoned presenter Gary Friend discussing his very topical and indeed critical subject 'Cyber Security in a Modern Process Network'. Gary said: "As industrial Ethernet rolls out into process plants, security and connectivity to the business network has to be considered." So in this context he examined the current scenario; looked at the myths of network security and considered how control system security differs from office IT security. He examined firewall technology in general and finished off with a look at where and what it is most critical to protect.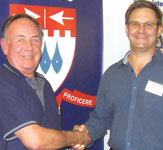 John Owen-Ellis (l) thanks Gary after the presentation.