printer friendly version
Datalogic showcases encoders for smart motion control
November 2016
Sensors & Transducers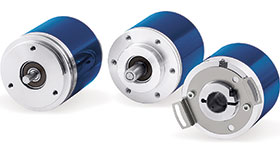 Datalogic now offers a complete range of incremental and absolute rotary encoders for industrial automation applications, such as motion control, length measurement and positioning. The range is composed of four lines:
ENC41 incremental encoder basic line offers a reduced dimension and pricing thanks to the compact ø41 mm fibreglass epoxy case without compromising the robustness and overall performance.
ENC58 incremental encoder extended line with industrial standard ø58 mm metal case includes the widest range of mechanical variances, resolution from 500 up to 10 000 PPR, and programmable versions.
AST58 absolute single-turn encoder line in the standard ø58 mm metal case offers a resolution up to 13 bit, Gray SSI output, hollow shaft ø15 mm or solid shaft ø6 and 10 mm, all available with cable, M12 or M23 connector.
AMT58 absolute multi-turn encoder: in addition to the characteristics already described for the single-turn, this line offers a 13x12 bit resolution x turns in the Gray SSI models, or even 18x16 bit in the Fieldbus versions which include CANopen, Devicenet, EtherCAT, Profibus, and Profinet.
A wide range of accessories is also available such as mechanical couplings, mounting fixtures, connectors and cable, as well as metric wheels and draw wires for linear measurement applications.
Main applications
Motion control is the most common application, the encoder is mounted directly to the end of a motor via a shaft and provides feedback to a drive to verify that the speed and direction is correct.
Web speed or tension control is another application in which an encoder is mounted so that any unevenness in the rotating speed of the tension roller is fed to a controller to maintain an even tension.
Length measurement applications use an encoder mounted on a wheel in order to convert a linear movement into a rotation angle, or number of rotations, so providing a length measurement to control cutting, folding or other operations.
Conveying is another common industry application where encoders are used to control speed and position of a motor or intermediate axle shafts along conveyors. Encoder information is synchronised, for example, to control barcode scanners or label printers.
Automated packaging machinery has many axes of high-speed rotary motion that require feedback for motion control, hence, the frequent need of encoders for speed or position feedback, length measurement and positioning.
For more information contact Farrel Sher, AC/DC Dynamics, +27 (0)10 202 3300, farrels@acdc.co.za, www.acdc.co.za
Credit(s)
Further reading:
Tiny transmitter for Memosens sensors
Mecosa Sensors & Transducers
In keeping with the use of Memosens sensors in tough environments, the MT201N transmitter is equipped with a sturdy, sealed housing.
Read more...
---
Long-range laser distance sensors
ASSTech Process Electronics + Instrumentation Sensors & Transducers
As a result of intensive R&D, these transit time sensors emit very short light pulses in the nanosecond range, with signals that are statistically evaluated to determine the distance to the object.
Read more...
---
Sensors train many eyes on FMCGs
VEGA Controls SA Editor's Choice Sensors & Transducers
Profit margins on consumer goods are small, which makes it all the more important for producers to have smooth, efficient operating processes.
Read more...
---
Ultrasonic sensors enable automatic stacking turf harvester
Instrotech Sensors & Transducers
The AutoStack, and now the AutoStack II, use an automated Ultra Steer system to guide the harvester with precision while the operator watches over all aspects of the harvesting process.
Read more...
---
Condition monitoring sensor with IO-Link
Turck Banner Sensors & Transducers
Continuously records humidity and temperature in production and storage areas, and outputs the values via IO-Link or as a switching signal.
Read more...
---
Concentration and viscosity measurements from raw materials to finished products
Sensors & Transducers
Learn more about Anton Paar's various solutions through these seven application reports, which cover just a fraction of the company's portfolio.
Read more...
---
2D/3D profile sensor for weld seam tracking
ASSTech Process Electronics + Instrumentation Sensors & Transducers
Supporting software can evaluate two- and three-dimensional data from smart cameras, vision systems, profile sensors and IPCs with profile sensors.
Read more...
---
Fibre-optic position sensor
ifm - South Africa Sensors & Transducers
With ifm's new OCF sensor, fingernails and DIN-rails will remain intact during assembly and disassembly, and screwdrivers can stay in the toolbox.
Read more...
---
Standard-compliant differential current transformer
Beckhoff Automation Sensors & Transducers
The SCT5564 can be used as a residual current monitor and can measure DC and AC residual currents with up to 100 kHz frequency in the 0 to 2 A range.
Read more...
---
Wire-actuated encoder for crane arms and lifting platforms
Instrotech Sensors & Transducers
Siko has solved the challenges presented by such applications with the SG 30 and its very compact, yet robust, design.
Read more...
---