printer friendly version
High-resolution low cost IR cameras
November 2016
Temperature Measurement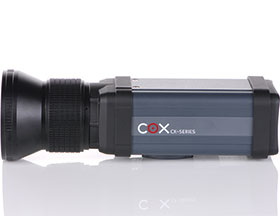 Cox has just released its latest low cost high-resolution thermal imaging camera fixed applications that need quality images at a cost effective price. Many 'low cost' imaging cameras have a resolution of 160x120 px or lower, but the new Cox units have two standards, 384x288 and 640x480 px resolution.
Radiometric application thermal cameras.
All CG series radiometric models are built with the latest version of thermal detectors from ULIS: the QVGA Gen2 and VGA Gen2 respectively. These detectors have better NETD (noise equivalent temperature difference) than detectors for former CX series models, and just a few cycles of NUC (non-uniformity correction) in a day is good enough because they are shutter-less compatible. Even though NUC is not performed every 5 minutes, image quality is better than former CX series models.
By increasing the processing capacity, CG series cameras have more detailed features such as alarm and ROI settings, which were previously only available in thermal imaging analysers.
CG series radiometric thermal cameras are fully controlled by a thermal imaging analyser on a PC. SDK for thermal imaging analysers, working in Windows and developed in C++, is provided for customers who wish to develop their own version of thermal imaging analyser.
Radiometric network thermal cameras
CG320-IP and CG640-IP are thermal network cameras transmitting video and temperature data simultaneously. The core is exactly same as the CG320 or CG640, with normal temperature detection mode (measure up to 120) or high temperature detection mode (measure up to 650) respectively.
CG320-IP and CG640-IP are unique thermal network cameras in that they transmit compressed video and temperature data, including temperature alarms, simultaneously via an IP network. The user can set an alarm temperature in each section (32x32 pixels), or in a group of sections in minimum, maximum or average temperature. If the temperature of any section or group of sections exceeds set temperature, the camera sends alarm data to the alarm management software.
Cox thermal cameras are supplied with a variety of lenses to suit customer requirements for projects. Focal lengths from 4,8 to 250 mm are available in manual or motorised lens.
Various continuous zoom lenses, 2FOV lenses, and thermalised lenses are also available.
These flexible low cost IR cameras provide real-time thermal images for process applications in a wide range of industries like petrochemical, iron and steel, automotive, food and beverage, and plastics. With the use of the provided software tools, users can interface with existing control systems either digitally or via single analog and digital outputs. Cox thermography cameras with macro-lenses to measure the temperature of very small parts like the pins of a chip on a PCB are also available.
For more information contact R&C Instrumentation, 086 111 4217, info@randci.co.za, www.randci.co.za
Credit(s)
Further reading:
Bimetal thermometer with switch contacts
December 2019, WIKA Instruments , Temperature Measurement
WIKA's model TGS55 is a stainless steel bimetal thermometer which offers high reliability and long service life. Wherever the process temperature has to be indicated on-site and, at the same time, circuits 
...
Read more...
---
Infrared monitoring of kiln shells extends refractory life
December 2019 , Temperature Measurement
Extending the life of a kiln refractory as well as preventing disastrous failures requires a good understanding of the condition of the refractory material.
Read more...
---
Thermocouples in gasification reactors
November 2019, WIKA Instruments , Temperature Measurement
Gasification reactors, due to their harsh process conditions, place high demands on the instruments used there. Many manufacturers have reacted to this and adapted their products accordingly, but what 
...
Read more...
---
Hotspot detection in pressboard manufacturing applications
October 2019, R&C Instrumentation , Temperature Measurement
In the building industry, there is a product used that is commonly referred to as pressboard, also known as chipboard. Sheets of pressboard are typically 1,2 m x 2,4 m in size and are used in the construction 
...
Read more...
---
Pair temperature probes with different cable lengths
October 2019, ASSTech Process Electronics + Instrumentation , Temperature Measurement
In heat meters for heating systems, two paired temperature probes are usually used for symmetrical installation. These must have identical cable lengths to comply with the legal regulations. Now, Jumo 
...
Read more...
---
Vibration measurement in machine maintenance
October 2019, R&C Instrumentation , Maintenance, Test & Measurement, Calibration
Vibration and temperature are the most common parameters measured on process plants for machine maintenance. Temperature measurement has been around for longer, probably because it was available first 
...
Read more...
---
IR thermometers in the steel industry
September 2019, R&C Instrumentation , Temperature Measurement
In many foundry applications, temperature readings show whether processes are operating within their proper ranges, whether a reheater is too cold or too hot, whether a stand needs adjusting, or how much 
...
Read more...
---
Ten facts about infrared windows
September 2019, R&C Instrumentation , Maintenance, Test & Measurement, Calibration
Infrared (IR) inspection is widely used and quickly becoming indispensable in electrical maintenance programmes. With the advent of IR windows, this procedure is now both safe and cost-effective. However, 
...
Read more...
---
Compact IR camera with industrial accessories
September 2019, Comtest , Temperature Measurement
Comtest has announced an addition to the Optris Compact line of IR cameras – Xi 80 and Xi 400 – with new industrial accessories for use in harsh conditions. The range has a modular design and as a result, 
...
Read more...
---
IR measurement optimises plastic stationary and rotary thermoforming
August 2019, R&C Instrumentation , Temperature Measurement
Background
Thermoforming is the process by which a thermoplastic sheet is made soft and pliable by heating, and bi-axially deformed by being forced into a three-dimensional shape. This process may take 
...
Read more...
---