printer friendly version
Manage overall asset performance to identify and prioritise production risks
Technews Industry Guide - Maintenance, Reliability & Asset Optimisation 2016
Maintenance, Test & Measurement, Calibration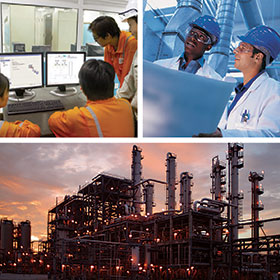 Use AMS Suite (Asset Management Software Suite) interfaced with Meridium's APM (Asset Performance Monitor) framework to maximise asset performance, mitigate risk, and optimise maintenance costs. AMS Suite and APM consolidate data from assets in a facility and allow users to define, view and measure metrics to analyse asset performance.
AMS Suite and APM integrate data from thousands of assets throughout the plant into a single application. Not only process variables are visible, but also a wealth of information on equipment health and performance. With this information, producers can avoid unplanned downtime and keep maintenance spending within budget.
Get the information needed to extract maximum performance from operations – both processes and people. AMS Suite and APM deliver immediate, actionable information to keep the focus on business goals.
Get the information needed to keep the plant running smoothly
• Gain a broad view of critical asset details across the enterprise to guide decision-making.
• Immediately focus on the areas that need attention with information targeted to specific functions.
• Schedule and create meaningful reports to discover trends and identify bad actors.
• Receive real-time mobile alerts on problematic assets to manage production risks.
• Establish goals and key performance indicators (KPIs) to drive improvements that deliver business results.
• Collaborate with Reliability Consulting Services to maximise the value of smart devices and AMS Suite.
Reports and metrics deliver key asset details
AMS Suite and APM make finding the information needed simple and efficient. Users can customise their homepage with the information most used, including charts, graphs, and links to more details. Create queries to delve deeper into the asset data to target specific problems and identify root causes.
Create and track custom metrics to reveal under-performing assets and develop world-class maintenance strategies and practices. KPI results are displayed graphically in charts, graphs, and dials, so producers can always see how their performance compares to goals. Reports can be generated from any query or data options in the database. Schedule report generation for common reports and manually create reports for unique situations. Reports can be emailed to colleagues or posted to the APM homepages for online collaboration.
Improve business results
AMS Suite and APM integrate with the CMMS system to create work notifications based on asset condition and performance. CMMS integration allows the entire organisation to drive common goals by uniting asset information with business data to fuel key metrics.
For more information contact Luculle Stols, Aveng ACS, +27 (0)11 249 6702, luculle.stols@avenggroup.com, www.aveng-acs.com
Credit(s)
Further reading:
The route to proactive maintenance
Comtest Editor's Choice Maintenance, Test & Measurement, Calibration
What were once complex tasks can now be accomplished by less experienced technicians with easy-to-use tools such as vibration screeners and thermal imagers.
Read more...
---
Composition analysis by micro gas chromatography
Electrocomp Maintenance, Test & Measurement, Calibration
The DynamiQ-X gas analyser from Q-Micro is designed for continuous gas mixture monitoring in industrial process and factory automation applications.
Read more...
---
ABB's automatic paper testing delivers faster quality insights
ABB South Africa Maintenance, Test & Measurement, Calibration
Quality data from the L&W Autoline is collected in the mill's quality management system via integration with the 800xA DCS.
Read more...
---
Regular machine maintenance is key to operational efficiency
Maintenance, Test & Measurement, Calibration
Benefits include savings on costs, energy efficiency and spare parts, which can account for as much as half of the total maintenance costs.
Read more...
---
Using ultrasonic NDT to identify wear and corrosion
BAMR Maintenance, Test & Measurement, Calibration
Monitoring equipment for damage and potential flaws is vital in preventing loss of productivity and even injury or potential death of operators.
Read more...
---
All-in-one documenting process calibrators
Comtest Maintenance, Test & Measurement, Calibration
The multifunction calibrators perform sourcing, simulation and measurement of pressure, temperature and electrical signals.
Read more...
---
Five reasons for force measurement
WIKA Instruments Editor's Choice Maintenance, Test & Measurement, Calibration
Wika takes a closer look at the measured variable of force and gives five reasons to show why force measurement is of particular importance.
Read more...
---
High-quality contact lubricants
Vepac Electronics Maintenance, Test & Measurement, Calibration
CG53A is part of the CG series of contact lubricants, designed as an extension of the extremely popular 2X range. The main advantages of these products are reduced contact resistance, even on extremely 
...
Read more...
---
Field services – beyond break-fix to invaluable organisational insight
Schneider Electric South Africa Maintenance, Test & Measurement, Calibration
An outsourced field services team can assist organisations not only during emergencies but also by providing spares, technical support and 24/7 callout availability.
Read more...
---
Pyranometer for monitoring small-scale PV installation efficiency
GHM Messtechnik SA Electrical Power & Protection Maintenance, Test & Measurement, Calibration
The device's classification level under the ISO 9060:2018 standard guarantees accuracy, reliability, precision and compliance with reference standards.
Read more...
---