printer friendly version
Veolia adopts ProSoft Technology radios
Technews Industry Guide - Wireless 2015
Industrial Wireless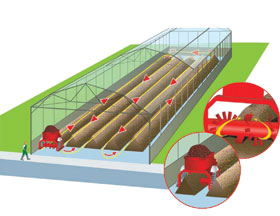 Veolia Water Solutions & Technology (Veolia) is a world leader in engineering, building and managing water treatment plants. It has designed the technological solutions used at these plants and also offers a whole range of associated services to ensure the day-to-day technical efficiency and durability of all solutions installed on its customers' sites.
Solar sludge drying process
In the solar sludge drying process, sludge is treated by a centrifuge and laid out in a greenhouse heated by solar radiation. An automated robotic turner is used to aerate the sludge and accelerate water evaporation. The robots are radio-controlled, which provides a more robust solution than the traditional wired approach. With wireless control of the robots, the entire operation is automated, and there is no further need for operators to enter the greenhouse.
Radios are attached to the robots to enable information to be sent back and forth to the control station. This means the operator can control the robot remotely, program its movements and know its current position. The robot has an onboard controller, which interfaces with the radio. "Implementation proved to be very simple, thanks in particular to ProSoft Technology's technical support," explains Veolia's Xavier Bousquet. "Our major concern was reliability. We had to have a reliable solution, with none of our users encountering any problems. This is indeed the case with ProSoft Technology's RadioLinx solution."
A reliable transmission system
RadioLinx solution from ProSoft Technology brings all the advantages of wireless connection to industrial automation applications, while still offering high levels of reliability. In addition to its ability to withstand harsh operating conditions, it also improves the transmission of Ethernet data packets. The standards set out in IEEE 802.11 (commonly known as WiFi) bring an extremely high level of security (802.11i), flexibility and interoperability to industrial automation applications. Originally designed for office and home applications, these less robust technologies have limitations when it comes to industrial protocol transfer, resulting in transmission problems for industrial automation systems associated with the radio transmission method used for Ethernet packets. But the RadioLinx range of industrial solutions ensures optimal transfer of data packets. To improve data packet transfer, RadioLinx uses a specific signal processing algorithm implemented by ProSoft Technology, which allows better use of the full bandwidth and supports the fast data transmission speeds demanded by industrial automation engineers. This is vital for industrial applications (involving protocols such as EtherNet/IP) with a need to transport non-critical messaging data, but also critical industrial I/O data.
With its Power over Ethernet specification, the power supply and connection of the radio system to the wired Ethernet is done via a single cable (instead of two), which greatly simplifies installation and reduces set-up times. Another valuable function of the RadioLinx series for this installation is that it supports serial encapsulation, which means that serial peripherals can be used and integrated into the main Ethernet architecture of the control system. The radio used in this application ensures high performance for both 2,4 GHz and 5 GHz band configurations.
For more information contact Bob Petrie, Throughput Technologies, +27 (0)11 705 2497, info@throughput.co.za, www.throughput.co.za
Credit(s)
Further reading:
IO-Link data communication through to the cloud
April 2020, Pepperl+Fuchs , Industrial Wireless
Continuous data communication from the lowest sensor/actuator level to the cloud is becoming increasingly important across the entire industrial environment. For the logistics sector in particular, where 
...
Read more...
---
Handheld spectrum analysers
April 2020, Comtest , Industrial Wireless
The latest offering from Bird expands its highly sought-after SignalHawk family of rugged, handheld spectrum analyser products by adding the SH-60S-AOA Angle of Arrival spectrum analyser and the SH-60S-TC. 
...
Read more...
---
Take data to the cloud wirelessly
February 2020, RJ Connect , Industrial Wireless
The ultimate goal of most industrial automation applications is to obtain actionable insights from data sources for more precise decision-making. To achieve this, businesses need to make their field data 
...
Read more...
---
Wireless control of pumps
February 2020, Omniflex Remote Monitoring Specialists , Industrial Wireless
The ability to control a pump remotely over distance and without using wires is simple using Omniflex Teleterm Radio RTUs over a licence free band, avoiding administration of radio frequency band use. 
...
Read more...
---
Enterprise-level wireless infrastructure management
February 2020, Emerson Automation Solutions , Industrial Wireless
Emerson has added two new IIoT solutions to its Plantweb Insight data analytics platform that will enable industrial facilities to transform the way they manage their enterprise-level wireless network 
...
Read more...
---
Vibration sensor simplifies asset monitoring
February 2020, Emerson Automation Solutions , Industrial Wireless
Emerson has introduced the AMS Wireless Vibration Monitor, a low-cost, easy to deploy vibration sensor that performs prescriptive analytics on vibration data using native software to automatically identify 
...
Read more...
---
5G – the wireless network of the future
December 2019, Siemens Digital Industries , Industrial Wireless
Mobile wireless network standards, starting with 1G, have been shaping our mobile communication for years. While previous developments have focused on improved usability in the public sector, the new 
...
Read more...
---
Dome protects communication sticks
December 2019, Beckhoff Automation , Industrial Wireless
With the new CU8210-M001 cabinet dome, the USB port of an industrial PC can be fed out of the control cabinet and still be well protected. In this way, reliable and powerful wireless connections to the 
...
Read more...
---
Instrument Area Network
December 2019 , Industrial Wireless
Modern plant managers and operations professionals can save time and money through a robust condition and preventative maintenance model enabled by wireless Instrument Area Network devices. Instrument 
...
Read more...
---
Local PDS at the cutting edge of technology
November 2019 , Industrial Wireless
With mine safety legislation getting progressively tighter, Booyco Electronics continues to ensure compliance with its locally developed proximity detection system (PDS). According to Pieter Janse van 
...
Read more...
---