printer friendly version
Underground methane monitoring
October 2014
Sensors & Transducers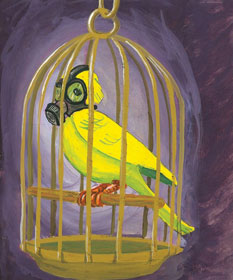 Blades on a large heavy metal circular ball spin at a high speed crushing rock and, possibly, releasing dangerous levels of invisible methane gas. Pressure and speed are adjusted by the operator controlling the machine with joysticks and buttons, but this is not your next-generation gaming console.
This is reality 61 metres below ground in a coal mine. The machine: a roadheader.
The roadheader is equipped with tools that grab the rocks and place them on a conveyor before they are sent out of the mine for processing, ultimately to be burned to produce electricity, cement or even steel.
The danger of methane
Although the cliché 'safety first' is used in just about every work environment, it has to be the standard in a coal mine where people are working hundreds of metres underground in a hazardous environment.
KFG Electric Systems in Poland is a company that knows this. KFG recently engineered and installed a modern underground coal mining control system that is designed to be used anywhere in Europe with the latest safety features desired by the major mining companies, including protection against methane.
Methane is a big concern for coal miners as it releases naturally during coal extraction. For years, canaries were used in mines to detect high methane levels as they could not survive in slightly lower than the dangerous levels for humans. When the bird stopped chirping, the miners knew to flee. For the last four decades, thanks to modern detectors worn by every miner, methane is detected without killing any birds.
The problem
The controls enclosure that is on the rear of the roadheader measures 1700x700x600 mm with a weight of 1200 kg, making it rock-solid for underground mining applications. It is equipped with a safety Rockwell Automation Compact GuardLogix 43S, a Point IO safety adaptor and a regular Point IO adaptor. A safety PAC is used for safety specific instructions, security and safety I/O.
KFG needed to communicate from the Rockwell Automation system that natively speaks EtherNet/IP to protection relays, EX IOs and other devices that communicate using Modbus.
The solution
The system uses several specialised Modbus devices from different vendors and because of this, it needed a gateway with multiple ports. ProSoft Technology's gateway has four Modbus ports and is fast with up to 4000 words in 5 ms.
KFG chose ProSoft Technology's EtherNet/IP to Modbus Gateway to communicate from the controller to the protection relays and other remote Modbus devices. "We didn't want to be beta testers and use a device made by a one-person company," Marcin Ptaszny CEO of KFG Electric Systems said. "It was key to have long term support and availability of the device."
A proven solution was required and hence ProSoft Technology was chosen. A protection relay senses when there could be trouble and transmits the information to the PAC which shuts off the system.
Port 1 of the gateway is connected to an RTU master and communicates with over current protectors. Port 2 is connected to a RTU slave which is used for the remote radio control system that allows the miner to control the roadheader from a safe distance. Port 3 is connected to an RTU master and explosion safe distributed I/O system. Port 4 is connected to an RTU slave and communicates to a surface scada system.
The ProSoft Technology EtherNet/IP to Modbus gateway was easy to configure, diagnose and implement. "This is why the customer loves the add-on profile and add-on instruction we delivered," said Ptaszny. "They are pleased with the implementation of EtherNet/IP to Modbus gateway, specifically the I/O connection allowing really fast data exchange with the I/Os and the remote joystick in the roadheader."
Mining is the kind of market which does not implement technological changes quickly. KFG is one of the first companies in the world designing new mining systems this way, using safety I/O and a GuardLogix safety controller communicating with numerous protection relays and EX IOs.
For more information contact Bob Petrie, Throughput Technologies, +27 (0)11 705 2497, info@throughput.co.za, www.throughput.co.za
Credit(s)
Further reading:
Suspended solids sensor
April 2020, Morton Controls , Sensors & Transducers
Morton Controls, in partnership with Quadbeam, has introduced the Stormwater and Wastewater sensor, the SWW, the newest suspended solids sensor/turbidity meter available. Quadbeam has created an incredibly 
...
Read more...
---
Modular image processing solution
April 2020, ASSTech Process Electronics + Instrumentation , Sensors & Transducers
ASSTech offers the latest VisionSystem2D from Wenglor. This is a modular image processing system developed for all vision applications. The system consists of up to 16 digital cameras, lenses with various 
...
Read more...
---
3D sensors for automation of robot grippers
April 2020, ifm - South Africa , Sensors & Transducers
Gripper navigation
The 3D sensor detects the object position, even when objects are moving and transmits it to the robot control. The system can detect rectangular, round and irregular shapes and transmit 
...
Read more...
---
4-wire performance in a compact housing
April 2020, ASSTech Process Electronics + Instrumentation , Sensors & Transducers
Randburg instrumentation specialist, ASSTech, now includes in its product range the new Jumo dTrans T06 Junior multifunction 4-wire transmitter that offers great performance for a wide range of applications. The 
...
Read more...
---
Modular LED signal towers
April 2020, RS Components SA , Sensors & Transducers
RS Components has launched the RS PRO range of preassembled, prewired and modular LED signal towers, providing OEM automation engineers and maintenance buyers with a cost effective means of visually signalling 
...
Read more...
---
Turbidity sensor with IO-Link
March 2020, Morton Controls , Sensors & Transducers
Digitisation has branched into industry under the keyword Industry 4.0. IO-Link offers significant advantages when it comes to reliably controlling the entire system technology in process control with 
...
Read more...
---
Expert opposed-mode sensor
March 2020, Turck Banner , Sensors & Transducers
The new QS18E offers superior ambient light immunity to prevent unintentional triggering and prevents the sensor from being tricked by ambient light sources, such as a lightbulb, flashlight, or other 
...
Read more...
---
Using infrared to detect the invisible
March 2020, R&C Instrumentation , Sensors & Transducers
Both preventive and predictive maintenance programmes rely on regular inspections of the critical assets that comprise a plant or facility. These inspections range from visual inspections to non-destructive 
...
Read more...
---
Wenglor's light band technology
March 2020, ASSTech Process Electronics + Instrumentation , Sensors & Transducers
Based on a continuous, homogenous light band, Wenglor's new retro-reflex sensors can reliably detect objects with irregular or asymmetrical shapes, for example in the field of intralogistics. With three 
...
Read more...
---
Contour detection for inline quality checks
March 2020, ifm - South Africa , Sensors & Transducers
In assembly and handling applications, the PMD profiler from ifm electronic does not only verify the presence of an object, but it checks whether the correct component has been used and properly installed. 
...
Read more...
---