printer friendly version
Wireless access for demanding applications
March 2014
Fieldbus & Industrial Networking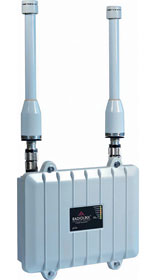 The RadioLinx 802.11abg Water Resistant Industrial Hotspot model RLX-IH65W brings real-time wireless access for the most demanding, hazardous and time-critical applications. This is a cost-effective wireless solution for plant and field engineers who need real-time access to remote or mobile equipment, particularly when the environment is exposed to harsh temperatures, moisture, dust, and weather. The radios allow users to reduce costs including those associated with downtime, labour and installation, and leased-line or wireless service fees.
Field applications exposed to severe conditions, such as on an oil rig or in the wash down area of a manufacturing plant, can benefit from this latest addition to ProSoft Technology's RadioLinx wireless product family. This radio functions as an access point, repeater, or client. It also offers Power over Ethernet (PoE), which allows it to be installed close to the antenna, reducing antenna cable loss and so maximising range.
IGMP Snooping
The RLX-IH65W is equipped with RF-based Internet Group Management Protocol (IGMP) Snooping, a tool which allows multicast filtering at the wireless level, so that the radio transmitting data from the producer (such as a distributed I/O block) is able to identify the consumer (e.g. PLC) and transmit the producer data directly to the consumer as opposed to multicasting the information to the entire wireless network. Since the RLX-IH65W sends the data directly to each of the consumers, it is able to confirm receipt of the data and retransmit the data if necessary. RF-based IGMP prevents crowding over the air by sending messages only where they need to go and it increases reliability by confirming receipt of the data.
Industrial design
The IP65 rated enclosure protects the device from water jets and against dust. The RLX-IH65W can be used in industrial operating temperatures, and is vibration and shock resistant.
Security
The radio offers cryptographic strength security with WPA2 (802.11i-128/192/256 bit) Advanced Encryption Standard (AES) and CCM (Counter with Cipher Block Chaining Message Authentication Code) integrity check. The radio is also equipped with MAC ID filtering to limit access to approved device MAC IDs. It also monitors the wireless environment for approved and rogue radios.
OFDM modulation
The hotspot uses OFDM (Orthogonal Frequency Division Multiplexing) modulation for high noise immunity at maximum speeds. This technique distributes data over multiple carriers which are ­assigned individual frequencies, translating into less distortion or interference.
Additional product features
These include:
* Dual frequency band (2,4 GHz and 5 GHz).
* OPC server included to embed diagnostics in HMI clients.
* Programmable RF power output to meet regional regulations.
* Support for high-speed applications like video and EtherNet/IP I/O.
* UL1604 Class 1, Div 2 approved for hazardous environments.
* Support for Voice over IP (VoIP).
* Automatic network configuration with self-healing network.
* Multiple master network architecture for large networks such as scada.
* Includes bracket for mounting to poles up to 3 inches in diameter.
* Die-cast Aluminium enclosure.
* Supports distances of up to 8 km at 54 Mbps.
For more information contact Bob Petrie, Throughput Technologies, +27 (0)11 705 2497, info@throughput.co.za, www.throughput.co.za
Credit(s)
Further reading:
Seamless integrated connectivity for electric automation from Festo
April 2020, Festo South Africa , Fieldbus & Industrial Networking
The cloud is everywhere. We save data on the cloud and access it on our phones and computers from anywhere at our convenience. The same applies to seamless connectivity in industrial automation from your 
...
Read more...
---
I/O for the IIot
April 2020, Opto Africa Holdings , Fieldbus & Industrial Networking
Intelligent, Ethernet-based I/O unit for IIoT connection to real-world signals.
Read more...
---
Breaking into the Industrial Internet of Things
March 2020, Pepperl+Fuchs , Fieldbus & Industrial Networking
IO-Link paves the way from the sensor to the cloud.
Read more...
---
ETG provides new developer tool
March 2020 , Fieldbus & Industrial Networking
The EtherCAT Technology Group (ETG) offers manufacturers, developers and users comprehensive support services for EtherCAT technology. The EtherCAT Device Protocol Poster is an additional tool that specifically 
...
Read more...
---
Wireless connectivity for hazardous locations
March 2020, Comtest , Fieldbus & Industrial Networking
Comtest – local representative of Industrial Scientific, global leader in gas detection – has introduced the RGX Gateway, which enables designated safety contacts to receive real-time alerts for gas hazards, 
...
Read more...
---
ETG officially supports EtherCAT G
December 2019 , Fieldbus & Industrial Networking
The Technical Committee of the EtherCAT Technology Group (ETG) has accepted EtherCAT G as an addition to the EtherCAT standard. Moving forward, EtherCAT G, which extends EtherCAT technology to 1 and 10 
...
Read more...
---
Adding mobile network visibility
January 2020, RJ Connect , Fieldbus & Industrial Networking
A high-speed railway operator built a fibre Ethernet backbone for data transmission between its operational management centre and railway stations to ensure high network availability. The customer used 
...
Read more...
---
The power of data
October 2019, Throughput Technologies , IT in Manufacturing
Gain access to important information with ProSoft's new OPC UA-based gateway and data logger.
Read more...
---
Interference-free Ethernet media converter
October 2019, Phoenix Contact , Fieldbus & Industrial Networking
The new FL MC EF 660 SCRJ media converter from Phoenix Contact enables the connection of cost-effective polymer and HCS/PCF fibre technology. The optical transmission of data via fibre optics is free 
...
Read more...
---
I/O solutions with Profinet redundancy
October 2019, Turck Banner , Fieldbus & Industrial Networking
Turck's Simple IO-Link Device Integration, SIDI for short, simplifies the handling of IO-Link. As its first fieldbus module with Profinet S2 system redundancy, the company has introduced the TBEN-L5-8IOL. 
...
Read more...
---