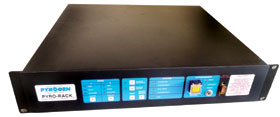 Automatic self-contained fire extinguishing system
December 2013, IS & Ex

The Pyrorack is a fully automatic, self-contained fire extinguishing system for use in applications such as telecommunications cabinets, banking, computer rooms, IT networks, CCTV equipment racks, website servers, hosting equipment and public address system racks. Designed specifically for 48 cm racking systems, the Pyrorack detects a fire using the coincidence detection method and extinguishes the fire in less than 10 seconds after detection.
The use of the Pyrorack in cabinets ensures that the equipment is being protected close to the potential source of the risk, with the fire being detected at an early stage. This eliminates the necessity of discharging large and costly amounts of fire extinguishant.
It has first and second stage fire and volt-free contacts, with manual or automatic modes selectable and built-in battery backup.
For more information contact Sam Wright, AST Africa, +27 (0)11 949 1157, , www.astafrica.com