printer friendly version
Systems Automation and Management: Upgrade old Siemens S5 control systems to the latest Siemens PCS7
September 2012
System Integration & Control Systems Design
Systems Automation and Management (SAM) has developed methodologies, using various products and engineering knowhow, to give its clients a control system upgrade without breaking the budget. Thus all the functionality of a new control system can be achieved without replacing all the legacy hardware and software. The implemented technologies set the foundation for future expansion and modification.
The issues today when upgrading a control system on an existing plant are as follows:
* Budgets have been squeezed to do the work and major upgrades can severely affect the cash flow of the company.
* A phased approach to upgrading the plant is required, while still setting a technology foundation for future upgrade phases.
* No company can afford to shut down their plant for any length of time, so upgrades usually have to be done slowly during planned outages.
* There is always a risk that an upgrade will result in production downtime.
* Product life cycles are becoming shorter. Clients are looking to extend their investments in the control systems in order to maximise their return on investment.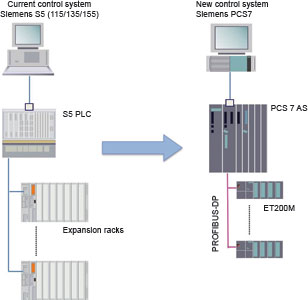 Phase 1 CPU upgrade
The first step is to replace the existing S5 CPU cards with the new dual control system X5/X7 CPUs. The X5/X7 CPU can execute both the Simatic Step 5 and Step 7/PCS7 programmes simultaneously. The CPU also has a four-port Ethernet switch on board. This allows one to run the existing S5 inputs and outputs as well as the existing Simatic S5 software on the new X5/X7 CPU and communicate with any scada system. By using the existing software, the changeover of the CPUs and connection to Ethernet can be achieved in a matter of hours.
During this phase, SAM will be able to connect previously non-networked control systems to other major PLC brands on an industrial network and communicate to any scada system. Further, the old HMI/Scada can usually be run in parallel with the new system. This allows time to check correct functionality of the new system and also gives plant personnel time to accept and adapt to the new technology.
Phase 2 hardware upgrade
The second step in the upgrade process is to replace the existing PLC I/O cards in expansion racks and remote I/O racks with new S7 remote I/O racks. At this stage, the client can elect to introduce technologies such as field buses, remote I/O in the field, new intelligent instrumentation, as well as intelligent energy meters.
By introducing these new technologies, a vast amount of additional information can be extracted, stored in the historian and used for data analysis and production optimisation.
The upgrade process can be stopped at this stage and run with a combination of new PLC hardware and old PLC software. SAM has secured the agency of several companies who specialise in repairing and supplying old PLC modules, thus eliminating any problem with legacy spares.
Phase 3 software development
The third phase of the upgrade process involves developing the new control system software. In parallel to the systematic change-over of the old S5 hardware to S7 hardware, the new PCS7 software can be developed and tested.
At this stage PCS7 specific 'Controls/Software Standards' can be developed that will include functionality such as intelligent alarm management, plant sequencing, work flows, intelligent maintenance systems etc. Furthermore, links to the ERP system can be established for data exchange. During maintenance shutdowns, the old software can be disabled, and the new software enabled and commissioned.
If the engineers encounter problems with the new software while testing on the plant, they can always reinstate the old software and get the plant up and running, without any risk of production loss. The fact that this feature is available means that the engineers are not under excessive stress to get the new software running, which allows them to concentrate on developing quality software.
During this phase all new software can be checked without affecting the plant, thus the new software can use the feedback from the actual plant for true plant simulation.
Phase 4 replication
Once the new PCS7 software for one plant section has been proven to the satisfaction of the client, the next plant section can be upgraded using the same procedures as above.
Conclusion
This methodology minimises the client's risks both in terms of production downtime and cash flow and the processes allow them to proceed cautiously with the upgrade and manage the phases in accordingly.
The latest control and automation technologies can be deployed rapidly and the client can take advantage of these technologies to maximise ROI at a fraction of a complete control system upgrade. Depending on the client's particular plant and respective needs, the above four phases can be extended to incorporate several combinations and intermediate steps in to the upgrade plan.
The issues related to controls system upgrades as initially stated can be addressed and their impacts minimised by utilising the experience gained and methodology developed by SAM over several years.
Credit(s)
Further reading:
Case History 183: Bad valve split-ranging causing problems
Michael Brown Control Engineering Editor's Choice System Integration & Control Systems Design
Pressure control is one of the processes that can be self-regulating or integrating, and it is sometimes very difficult to determine which type it is.
Read more...
---
Optimised, PC-based food production
Beckhoff Automation Editor's Choice System Integration & Control Systems Design
Foodjet's MDL food printers can portion and deposit toppings with maximum precision, whether coating pizza dough with a perfect layer of tomato sauce, or icing doughnuts with seasonal decorations.
Read more...
---
Loop Signatures 13: Digital controllers – Part 5: The D term
Michael Brown Control Engineering Editor's Choice System Integration & Control Systems Design
The objective of the derivative term is to speed up the control response in very slow processes, as often encountered in some temperature controls.
Read more...
---
Loop Signatures 12: Digital controllers – Part 4: The I term
Michael Brown Control Engineering Editor's Choice System Integration & Control Systems Design
Generally, as PLCs sometimes do not handle PIDs well, I always do some tests on them to check on the operation of their control loops.
Read more...
---
Risk assessments accelerate Booyco PDS adoption
Editor's Choice System Integration & Control Systems Design
As mines systematically assess the risks related to their trackless mining machinery, they increasingly see the value in proximity detection systems.
Read more...
---
Control loop: Case History 182 - A temperature cascade control loop that didn't work
Michael Brown Control Engineering Editor's Choice System Integration & Control Systems Design
The problems encountered in a heater outlet temperature control in a petrochemical refinery were causing considerable difficulties for the operators. Here is another wonderful example of the power of cascade control, even with a really bad control element.
Read more...
---
The role of 'green' packaging in sustainable manufacturing
Omron Electronics System Integration & Control Systems Design
Sustainability in the packaging industry is one of the key aspects in fighting the plastic waste issue and, ultimately, climate change.
Read more...
---
Working hand in hand to meet automotive OEMs' strict requirements
Turck Banner Sensors & Transducers System Integration & Control Systems Design
The LASE Group, producer of machines and assembly cells for the automotive industry, places trust in its close collaboration with Turck Multiprox.
Read more...
---
PC-based control for seed treatment
Beckhoff Automation System Integration & Control Systems Design
The cost and consumption reports generated by the production control system open up new ways of managing and analysing data.
Read more...
---
Cobot boosts production by 15%
Omron Electronics System Integration & Control Systems Design
Topcustom, an Italian producer of custom-made bathroom sinks, has recently transformed part of its operations by deploying a collaborative robot (cobot) from Omron. The new cobot is being used to automate 
...
Read more...
---