printer friendly version
Sensors train many eyes on FMCGs
August 2022 Editor's Choice Sensors & Transducers
Standard products like food, beverages, personal care and household products, clothing and apparel, tobacco products as well as pet food/animal care products are not considered very exciting or flashy. But being in great demand, usually in the same quantities over and over again, they fly off the shelves quickly. The challenge presented by FMCGs (fast moving consumer goods) is, however, that they tend to be sold in large quantities but at very low prices. Besides that, the market is highly competitive.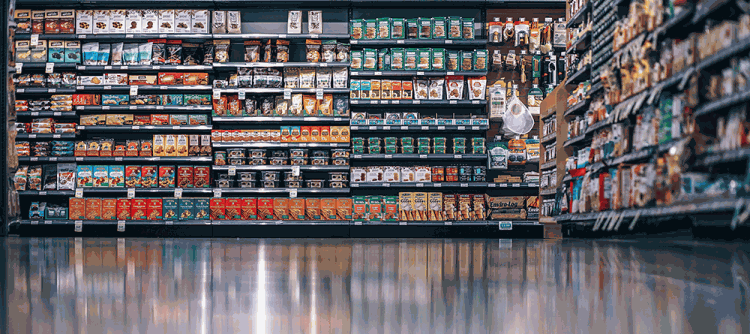 It is not surprising then that, in the facilities of one of Africa's largest FMCG companies, the focus is primarily on efficiency. Every piece of production equipment in the company is in use for long periods of time and has to function reliably. This is ensured by measuring instruments that monitor all ongoing processes.
For about four years now, measuring instruments from the Schiltach, Germany-based company, VEGA, have been in use in many places in the company, for example to monitor levels and pressures in plastic tanks, in caustic solution tanks, in the compressed air supply and in the filling systems. Many different measuring principles are deployed here, but radar technology plays a major role in level measurement, where VEGAPULS C 21 and VEGAPULS 64 are the sensors of choice. Pressure measurement is carried out by VEGABAR 82 or VEGABAR 38, and VEGADIS as well as VEGAMET 391 are used on the controllers. One of the youngest and most colourful members of the VEGA family – the VEGAPOINT 21 level switch – is brand new.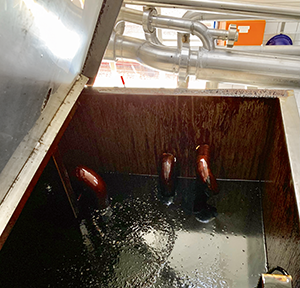 Smooth filling of highly viscous products
VEGAPOINT 21 is used in the filling systems handling liquid media. As soon as the finished product is ready for filling, it is conveyed via pipeline to a distributor. This component, in turn, ensures smooth transport to the filling machines, where the product is filled into bottles and sealed. But first the product is filled into a funnel-shaped tank. The packaging machine sucks the liquid product from this tank in order to fill the bottles. This is done at high speed as the bottles pass through the filling line.
The challenge was that previously, an ultrasonic sensor was installed under the lid of the funnel-shaped tank which started or stopped the pumps at specified level values. However, the measurement turned out to be extremely unreliable because the ultrasonic sensor was not able to cope with the process conditions. The ultrasonic sensor failed whenever even small amounts of sticky product collected on its surface. And without measurement, the tank would overfill or even overflow time and time again, and there was always the danger of pump dry-run as well. This not only led to increased cleaning costs, but also other unnecessary expenses. The situation was aggravated by the fact that the end-product is filled in this area, which means that strict hygiene requirements have to be met here.
For these reasons, management deemed it necessary to find a reliable measuring system for the high-low/low-low measurement. Besides the highly viscous product deposits, condensate also repeatedly caused problems.
Simple and reliable measurement
Other measuring principles were briefly considered, but in the end the decision was made in favour of VEGAPOINT 21. Mounted laterally in the filling/packaging system, it detects high/low levels. The switching command triggered by either of these events starts or stops the filling process. This small level switch has a compact stainless steel housing and is available in two electronics versions: a simple transistor output, and a transistor output with additional digital IO-Link communication. The sensor can be operated wirelessly via Bluetooth using a tablet or smartphone and an app.
The VEGAPOINT 21 level switch with adjustable switching point measures all water-based liquids. During the measuring process, the sensor and the tank (in this case the funnel-shaped tank) form the two electrodes of a capacitor. If the level changes, the capacitance changes, and the resulting electrical value is converted into a switching signal.
VEGAPOINT 21 is largely independent of the properties of the medium and is thus adjustment-free. Thanks to its small size, the sensor can be installed not only on tanks and containers, but also on small-diameter pipelines. Its compact design was the decisive factor in choosing the sensor. Another important point considered in the decision was that the level switch could be specially calibrated to compensate for build-up.
In the meantime, VEGAPOINT has proven its worth in this application, not least because of its simple operation. Even under difficult measuring conditions such as turbulence, air bubbles, strong external vibrations or changing media, the sensor transmits a reliable signal when a limit level is reached. Even with deposits on the end of the probe, the sensor switches reliably as soon as the residual water reaches the probe. It then returns to the normal status as soon as the level drops.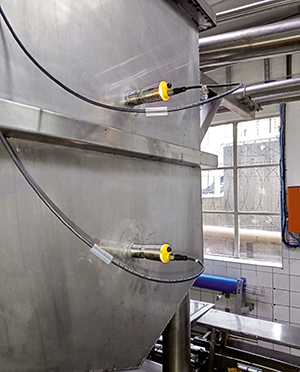 Bringing colour into production
A special highlight – in the truest sense of the word – is the colourful, all-round switching status display of VEGAPOINT, which enables quick and easy recognition of the switching status. With it, the user has the status of the tank in view at all times. Thanks to the 360° status indication, any switching condition can be grasped visually from any direction and quickly understood.
The colour of the illuminated ring, which can be freely selected from over 256 colours, remains clearly visible even in daylight. At first glance, the user can see if the measuring process is running, if the sensor is switching or if there is a possible malfunction in the process.
Wireless operation via app
The uncomplicated nature of the sensor was already demonstrated as it was being presented to the company with the help of a demo. As a result, the subsequent installation and commissioning of the sensor by the company's own technicians went off without a hitch. This was mainly due to the VEGA Tools app, which can be used to wirelessly operate all VEGA sensors that are equipped with the display/adjustment module PLICSCOM with Bluetooth.
Thanks to the intuitive adjustment structure, any VEGA sensor can be quickly and easily set up and made ready for operation. Both the measured value and the sensor status can be seen at a glance. What is more, all relevant information about the VEGA instrument can be retrieved just by entering its serial number. This facilitates later maintenance work.
The collaboration with VEGA
The South African company has been using VEGA measuring instruments for four years now. The responsible staff are not only enthused about the reliable measured values, but also about VEGA's customer service. Although the sensors were easy to install and commission, when a problem or a question did arise, they had only to make a quick phone call to VEGA and get all the help they needed. Without sensors to worry about, the workers can now focus on their main tasks in production.
Credit(s)
Further reading:
Attaining a sustainable legacy
Technews Publishing (SA Instrumentation & Control) Editor's Choice News
Through this quagmire of crises and uncertainties, the wheels of industry must continue to turn if we are to sustain our modern way of life, and those wheels are, either directly or indirectly, powered by electricity.
Read more...
---
Meeting the challenges of water management with sensor technology
ifm - South Africa Editor's Choice Analytical Instrumentation & Environmental Monitoring
Holistic solutions for the automation and monitoring of plants are a key element for the efficient and sustainable water supply of the future.
Read more...
---
From Industry 4.0 to Industry Green.0
Rockwell Automation Editor's Choice News
As sustainability becomes a business imperative for manufacturing organisations, they must incorporate sustainability goals into every step of the business lifecycle – because purpose and profit must go hand in hand.
Read more...
---
Combining the best of hydraulics with the advantages of electric
Parker Hannifin - Sales Company South Africa Editor's Choice
While battery technologies continue to evolve and overcome challenges that have previously restricted more rapid electrification adoption rates, hybrid electric systems are well positioned as an ideal interim solution.
Read more...
---
The route to proactive maintenance
Comtest Editor's Choice Maintenance, Test & Measurement, Calibration
What were once complex tasks can now be accomplished by less experienced technicians with easy-to-use tools such as vibration screeners and thermal imagers.
Read more...
---
LED strips enhance efficient pick-to-light C-parts management
Turck Banner Editor's Choice Operator Interfaces, Switches & Relays
KEB Automation used Turck's WLS15 strip lights to refine its assistance system for C-parts management into an efficient and failsafe pick-to-light solution.
Read more...
---
Young unemployed graduate gets kickstart to his career
ABB South Africa Editor's Choice News
The training provided by ABB is hands-on and will see Momelezi Sifumba rotate through different departments and activities to ensure his practical experience is as well-rounded as possible.
Read more...
---
Case History 183: Bad valve split-ranging causing problems
Michael Brown Control Engineering Editor's Choice System Integration & Control Systems Design
Pressure control is one of the processes that can be self-regulating or integrating, and it is sometimes very difficult to determine which type it is.
Read more...
---
Optimised, PC-based food production
Beckhoff Automation Editor's Choice System Integration & Control Systems Design
Foodjet's MDL food printers can portion and deposit toppings with maximum precision, whether coating pizza dough with a perfect layer of tomato sauce, or icing doughnuts with seasonal decorations.
Read more...
---
Ready for industrial network evolution?
RJ Connect Editor's Choice IT in Manufacturing
To prepare for the future, it is time for industrial networks to evolve, and Moxa is committed to helping them take the leap towards the next generation of networking.
Read more...
---