printer friendly version
Regular machine maintenance is key to operational efficiency
June 2022
Maintenance, Test & Measurement, Calibration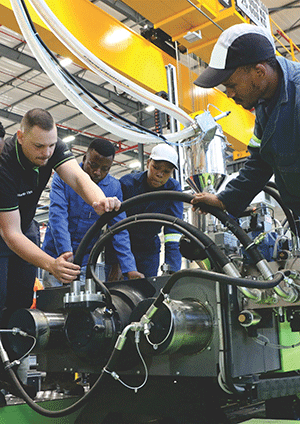 Operational efficiency is paramount for an industry that is under ever-increasing pressure to increase production output while reducing input costs. Fundamental to seamless and efficient operational processes is machine and equipment reliability. Regular machine maintenance, conducted by trained professionals, plays a critical role in this.
"There is no argument against the fact that well-maintained machines perform optimally and efficiently over longer periods, ensuring increased uptime and production, and reduced operating costs," says Marcus Visser, strategy and operations lead at GreenTech Plastics Machinery. Established in 2016, GreenTech is a supplier of premium European plastic injection moulding machinery, systems and ancillary products to southern African industry.
Visser also notes that even the best-quality machines need regular maintenance to prevent unexpected breakdowns and ensure sustainable performance levels. "The exorbitant costs brought about by the critical failure of unmaintained machines, due to subsequent unplanned halts in production, is further compounded by repair costs. Moreover, machines that are not regularly and properly serviced can also put the safety of personnel at risk.
"We therefore strongly encourage our customers to have a solid maintenance programme in place. By allowing GreenTech's team of qualified specialists to carry out professional machine inspection at least once a year, customers stand to benefit from numerous cost-saving advantages." Some of GreenTech's service offerings include machine audits, tie-bar stress measurements, thermographic imaging, machine levelling, oil check and lubrication of critical parts.
Regularly maintained equipment is more energy-efficient and delivers savings when it comes to spare parts, which can sometimes account for as much as half of the total maintenance costs. Visser explains that by switching from reactive to preventive maintenance and reducing the frequency of failures, the need for spare parts is reduced too. In addition to streamlining spare parts management, a maintenance programme helps to keep an up-to-date record of all system repairs, maintenance, spare parts and services. "As part of preventive maintenance, all work performed on our injection moulding machine is recorded in the logbooks," he states.
GreenTech aims to ensure the optimum, efficient and reliable performance of well-maintained machines over longer periods. "The resultant increased production and decreased operational costs deliver lower total cost of ownership while helping to shrink customers' carbon footprints. Taking into account all these advantages, the implementation of a maintenance programme makes sound business sense," Visser sums up.
For more information contact GreenTech Plastics Machinery, +27 11 595 8320, kgothatso@greentechmachinery.co.za, www.greentechmachinery.co.za
Further reading:
The route to proactive maintenance
Comtest Editor's Choice Maintenance, Test & Measurement, Calibration
What were once complex tasks can now be accomplished by less experienced technicians with easy-to-use tools such as vibration screeners and thermal imagers.
Read more...
---
Composition analysis by micro gas chromatography
Electrocomp Maintenance, Test & Measurement, Calibration
The DynamiQ-X gas analyser from Q-Micro is designed for continuous gas mixture monitoring in industrial process and factory automation applications.
Read more...
---
ABB's automatic paper testing delivers faster quality insights
ABB South Africa Maintenance, Test & Measurement, Calibration
Quality data from the L&W Autoline is collected in the mill's quality management system via integration with the 800xA DCS.
Read more...
---
Using ultrasonic NDT to identify wear and corrosion
BAMR Maintenance, Test & Measurement, Calibration
Monitoring equipment for damage and potential flaws is vital in preventing loss of productivity and even injury or potential death of operators.
Read more...
---
All-in-one documenting process calibrators
Comtest Maintenance, Test & Measurement, Calibration
The multifunction calibrators perform sourcing, simulation and measurement of pressure, temperature and electrical signals.
Read more...
---
Five reasons for force measurement
WIKA Instruments Editor's Choice Maintenance, Test & Measurement, Calibration
Wika takes a closer look at the measured variable of force and gives five reasons to show why force measurement is of particular importance.
Read more...
---
High-quality contact lubricants
Vepac Electronics Maintenance, Test & Measurement, Calibration
CG53A is part of the CG series of contact lubricants, designed as an extension of the extremely popular 2X range. The main advantages of these products are reduced contact resistance, even on extremely 
...
Read more...
---
Field services – beyond break-fix to invaluable organisational insight
Schneider Electric South Africa Maintenance, Test & Measurement, Calibration
An outsourced field services team can assist organisations not only during emergencies but also by providing spares, technical support and 24/7 callout availability.
Read more...
---
Pyranometer for monitoring small-scale PV installation efficiency
GHM Messtechnik SA Electrical Power & Protection Maintenance, Test & Measurement, Calibration
The device's classification level under the ISO 9060:2018 standard guarantees accuracy, reliability, precision and compliance with reference standards.
Read more...
---
Condition monitoring on offshore oil platforms
Beckhoff Automation Maintenance, Test & Measurement, Calibration
The steel structures of an offshore platform are exposed to extreme environmental conditions throughout their entire service lives. Difficult sea conditions ranging up to freak waves and aggressive 
...
Read more...
---