printer friendly version
Festo unveils world's first pneumatic cobot
June 2022
Editor's Choice
What if there was a robot that was easy to operate, did not require a safety fence, and was also attractively priced? According to Festo, that would bring about a whole new era in human-robot collaboration, which is now dawning with its world-first pneumatic robot.
The human-robot collaboration (cobot) segment is growing rapidly in the industrial market. Cobots now relieve employees of particularly strenuous or monotonous tasks, thus giving them new levels of freedom and making their work easier and healthier. No technology has such a sensitive and flexible approach to human-robot collaboration as pneumatics.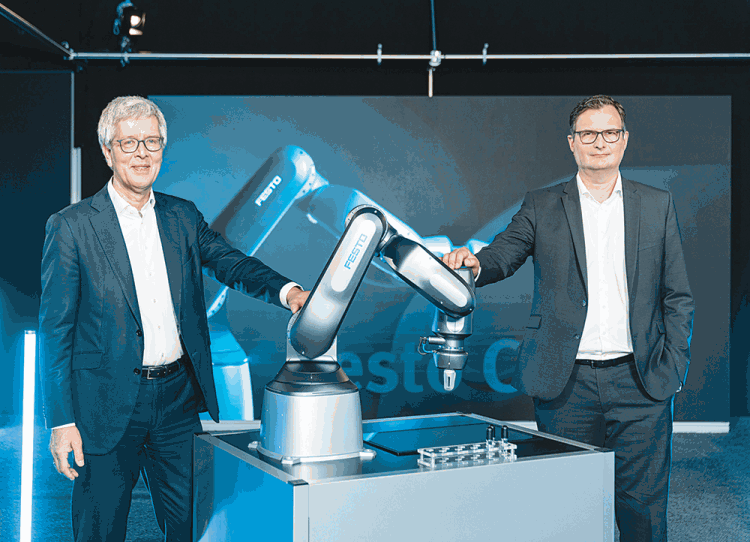 The benefits of pneumatics
The Festo Cobot owes many of its advantages – such as sensitivity, weight and value for money – to pneumatics. The direct drives in the articulated joints are very cost-effective and particularly lightweight because, unlike electric solutions, no heavy gear units or expensive force-torque sensors are required.
Cost-effective even for small and medium-sized companies
The Festo Cobot makes using cobots even more cost-effective for small and medium-sized companies, as they often rely on manual work processes. This is achieved thanks to the flexible application options that mean small batch sizes or work steps can also be processed automatically. Thanks to its intuitive and simple commissioning and programming, it is quick as well as easy to get to grips with and does not require extensive training.
The pneumatic Festo Cobot intends to be cheaper than electric cobots in the same class, and to provide excellent value for money in its main application area of small parts handling with payloads of up to 3 kg. "When it goes on sale in 2023, the Festo Cobot will set new standards in human-robot collaboration with its ease of use," explains Dr Frank Melzer, member of the management board for product and technology management at Festo.
Easy to operate and flexible to use
The Festo Cobot consists of the hardware, a handheld module and Robotic Suite software for commissioning and programming in less than an hour. Prior knowledge of robotics is not required as the self-explanatory software contains clearly visualised and standardised function blocks. Pneumatic drives enable the robot arm to be easily guided by hand and without any resistance, so that waypoints or paths can be taught quickly and precisely.
In small and medium-sized companies, cobots are only attractive if they can quickly take on a new task and are not intended to be permanently used for the same purpose. The Festo Cobot meets these requirements as it doesn't require an additional control cabinet that is difficult to connect and cumbersome. The compact controller that is integrated into its own base makes it particularly flexible, while simple connections also allow it to be used ad hoc without long changeover times. Common bus standards enable fast connection to higher-order controllers, and it also requires less space.
Thanks to state-of-the-art and lightweight construction methods, the weight of the Festo Cobot has been reduced to well under 20 kg. Thus, it can be used quickly and flexibly at different locations.
Working safer and faster
With a length of 670 mm, the Festo Cobot is just like a human arm and has the right reach for it to be perceived as a helping third hand when working with a member of staff. It moves like a real colleague within a manageable radius. Thanks to the flexibility of the pneumatic drives, the cobot acts sensitively at a speed appropriate to the situation and with fluid, harmonious movements. It is as soft to the touch as human contact.
The cobot's pneumatic direct drives and its light weight reduce its contact energy. Christian Tarragona, head of robotics at Festo, says: "Thanks to precise pressure regulators in the articulated joints, the robot recognises when it is being touched and responds with appropriate safety functions." This means employees can work together with their careful technical colleague in complete safety.
For more information contact Festo South Africa, 08600 FESTO (33786), marketing.za@festo.com, www.festo.co.za
Credit(s)
Further reading:
Attaining a sustainable legacy
Technews Publishing (SA Instrumentation & Control) Editor's Choice News
Through this quagmire of crises and uncertainties, the wheels of industry must continue to turn if we are to sustain our modern way of life, and those wheels are, either directly or indirectly, powered by electricity.
Read more...
---
Meeting the challenges of water management with sensor technology
ifm - South Africa Editor's Choice Analytical Instrumentation & Environmental Monitoring
Holistic solutions for the automation and monitoring of plants are a key element for the efficient and sustainable water supply of the future.
Read more...
---
From Industry 4.0 to Industry Green.0
Rockwell Automation Editor's Choice News
As sustainability becomes a business imperative for manufacturing organisations, they must incorporate sustainability goals into every step of the business lifecycle – because purpose and profit must go hand in hand.
Read more...
---
Combining the best of hydraulics with the advantages of electric
Parker Hannifin - Sales Company South Africa Editor's Choice
While battery technologies continue to evolve and overcome challenges that have previously restricted more rapid electrification adoption rates, hybrid electric systems are well positioned as an ideal interim solution.
Read more...
---
The route to proactive maintenance
Comtest Editor's Choice Maintenance, Test & Measurement, Calibration
What were once complex tasks can now be accomplished by less experienced technicians with easy-to-use tools such as vibration screeners and thermal imagers.
Read more...
---
LED strips enhance efficient pick-to-light C-parts management
Turck Banner Editor's Choice Operator Interfaces, Switches & Relays
KEB Automation used Turck's WLS15 strip lights to refine its assistance system for C-parts management into an efficient and failsafe pick-to-light solution.
Read more...
---
Young unemployed graduate gets kickstart to his career
ABB South Africa Editor's Choice News
The training provided by ABB is hands-on and will see Momelezi Sifumba rotate through different departments and activities to ensure his practical experience is as well-rounded as possible.
Read more...
---
Case History 183: Bad valve split-ranging causing problems
Michael Brown Control Engineering Editor's Choice System Integration & Control Systems Design
Pressure control is one of the processes that can be self-regulating or integrating, and it is sometimes very difficult to determine which type it is.
Read more...
---
Sensors train many eyes on FMCGs
VEGA Controls SA Editor's Choice Sensors & Transducers
Profit margins on consumer goods are small, which makes it all the more important for producers to have smooth, efficient operating processes.
Read more...
---
Optimised, PC-based food production
Beckhoff Automation Editor's Choice System Integration & Control Systems Design
Foodjet's MDL food printers can portion and deposit toppings with maximum precision, whether coating pizza dough with a perfect layer of tomato sauce, or icing doughnuts with seasonal decorations.
Read more...
---