printer friendly version
Record growth for EV market despite mounting challenges
May 2022
News
IDTechEx's latest electric vehicle (EV) master report 'Electric Vehicles: Land, Sea & Air 2022-2042' covers eight transport markets, broken down into over 90 forecast lines including battery-electric, fuel-cell and hybrid vehicle unit sales, battery demand and market revenues.
Electric cars are the largest market today, with sales more than doubling in 2021 to over 6,4 million. IDTechEx predicts this will still be true in twenty years, with cars accounting for 79% of EV market revenues and 83% of battery demand. The reason for this is a matter of scale: cars have long been the focus of government policies for their popularity and large contributions to lowering road emissions. Around 81 million cars were sold globally in 2021, as well as 3,3 million medium and heavy trucks and 0,2 million city buses.
Despite record growth, the tragic war in Ukraine is creating new challenges for automotive and electric vehicle markets on top of two highly challenging and unpredictable years caused by the pandemic. As economies have opened up after Covid-19 restrictions and sanctions against Russia have constrained oil and gas supply, electricity and gasoline prices have climbed. This brings electric vehicle markets to the forefront, but at a time when automakers grapple with a lingering chip shortage, new Covid lockdowns in China, increased raw material prices, and shortages of auto parts produced in Ukraine, such as wire harnesses.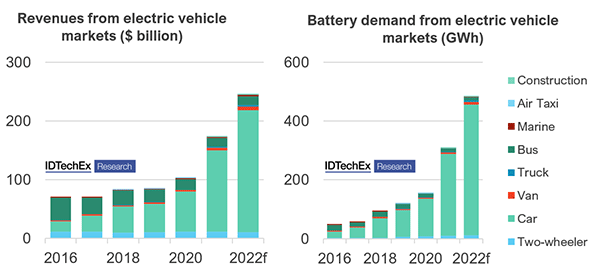 Many EV makers have started to react, increasing prices or delaying and limiting production. The price increases are not trivial. In 2020, Tesla's base Model 3 cost $39 990; in 2022 it is priced at $46 990. In March, Rivian announced it would increase the price of its models by up to $14 500, resulting in customer and investor backlash. Beyond the start-ups, automotive giant Volkswagen announced it has effectively sold out of electric vehicles in the US and Europe for 2022.
The battery remains the largest cost component of the vehicle, and climbing costs of battery raw materials, particularly lithium and nickel, are a factor behind the increases. This is driven by shortages and new lockdowns in China as well as the Russia-Ukraine war – most of the world's lithium is processed in China, and Russia accounts for around a fifth of global Class 1 nickel supplies.
As shortages continue and supplies of electric vehicle parts are eaten up by the automotive sector, this will have an impact on non-automotive sectors which use the same technologies. An example is electric truck markets, which IDTechEx predicts will have the second-largest battery demand by 2042. Tesla's Semi, a battery-electric Class 8 long-haul truck, was originally set to be produced in 2020 but the target has since been pushed out to 2023. The Semi requires new large-format 4680 cells, but limited battery production has been prioritised for highly in-demand cars which generate more profit per kWh. The delays have allowed OEMs like Volvo, Daimler and PACCAR to catch up with Tesla, and they are now primed to go into series production with new BEV truck models. Yet they might face similar problems.
Another example is electric leisure boats. Sales surged in 2020 and 2021, driven by customers spending more time away from the office. Often, automotive battery cells are used. For example, BMW has supplied Torqeedo, an electric outboard manufacturer, while Corvus Energy, a commercial marine battery pack supplier, predominantly uses automotive-grade NMC pouch cells. As shortages continue, the industry will have to look at new deals with new suppliers.
While non-automotive sectors demand fewer batteries, they still demand them. Improving the efficiency of the overall EV powertrain, rather than focusing on pure battery development, will be key – this means silicon carbide (SiC) power electronics, more efficient motors, 800 V platforms, solar energy-harvesting bodywork and less cabling.
What is clear to IDTechEx is that, despite the mounting challenges, demand for electric vehicles remains very strong from both consumers and governments. But even as the challenges mount, the transition continues.
Further reading:
New chief marketing and communications officer joins Zutari
News
Leading consulting engineering and infrastructure advisory firm, Zutari, has appointed Zipporah Maubane as chief marketing and communications officer for Africa and the Middle East (AME).    The company 
...
Read more...
---
SAS achieves Level 1 B-BBEE status
News
The company is also a longstanding advocate of STEM skills development, with emphasis on emerging 4IR skills in more recent years.
Read more...
---
Labour brokers can help IPPs meet skills requirements
News
The rush for renewable energy is upon us, but have the IPPs got a handle on the skilled labour requirements for their projects?
Read more...
---
Axis to create explosion-protected cameras
Axis Communications SA News
Axis Communications has announced its plans to develop its own explosion-protected surveillance cameras and devices across the Axis product portfolio through a new subsidiary, Axis Ex AB.
Read more...
---
KITE 2022 explored solutions to get industry back on track
News
The KwaZulu-Natal Industrial Technology Exhibition (KITE) provided an overview of the major industrial players across the country and showed that industry and technology are thriving despite the pandemic.
Read more...
---
EV wireless recharging in the future of transportation
News
Wireless recharging of electric vehicles as they travel over specially equipped, dedicated road lanes looks promising after months of testing.
Read more...
---
TUKS campus taken over by robots!
RS Components SA News
Students are required to build autonomous robotic vehicles with a sensor system to detect specific colours on a multi-coloured track.
Read more...
---
4Sight recognised at X-Change User Conference
News
4Sight's implementation of the Aveva solution at the pharmaceutical company Reckitt earned both parties an award.
Read more...
---
Control Techniques wins iF Design Award 2022
News
Commander S and Marshal won over the 132-member jury with its modern design and innovative technology incorporating NFC technology onboard the drive.
Read more...
---
One-stop shop for mining equipment procurement
News
"Most mining clients do not want to own any equipment. In fact, they prefer a rental option as this reduces their risk and allows them to focus on their core business."
Read more...
---