printer friendly version
Wireless addition to the Jumo automation system
April 2022
Industrial Wireless
Jumo's variTRON 300 provides users with a smart solution for simple automation applications. The device is based on the Jumo Jupiter platform, which allows the variTRON to leverage many of the features from this high-quality embedded system.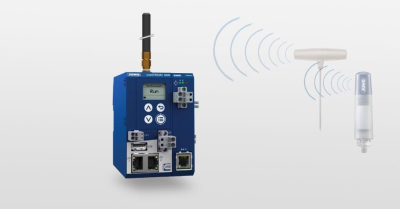 The unit is based on a powerful CPU with an 800 MHz single-core processor. The software has a modular structure based on a Linux platform and uses Codesys version 3.5 programming environment SP16. Another special feature is a customer-specific configuration and process data editor. In addition, individual applications can be created using the modern programming environment Node-RED.
The CPU unit has one USB host, two Ethernet interfaces and one RS-485 connection as options. Up to 32 wireless Jumo Wtrans sensors can be connected via a wireless gateway for various purposes, including measuring temperature or pressure.
A large selection of connection modules with high-quality, configurable analog inputs and reliable, independent PID controllers with an autotuning function can be connected using a specially developed 1-port router. Displays in various formats are available for visualisation.
Intuitive evaluation and visualisation of process data from the Jumo variTrans 300 automation system is possible with the browser-based software solution Jumo smartWARE Evaluation. Individual dashboards allow targeted and fast access to recorded process data. Manipulation detection based on digital certificates ensures high data security.
Jumo provides visualisation libraries for individual customer-specific operation via Codesys Remote TargetVisu or Codesys WebVisu. A high degree of flexibility is also guaranteed through the integration of all important fieldbus systems via Codesys (such as Modbus RTU or TCP master and slave, Profinet IO controller, EtherCAT master and OPC UA server).
Credit(s)
Further reading:
2D/3D profile sensor for weld seam tracking
ASSTech Process Electronics + Instrumentation Sensors & Transducers
Supporting software can evaluate two- and three-dimensional data from smart cameras, vision systems, profile sensors and IPCs with profile sensors.
Read more...
---
NIST finds wireless performance consistent across 5G mmWave bands
Industrial Wireless
The NIST system is unique in that antenna beams can be steered in any direction for precise angle-of-arrival estimates.
Read more...
---
Wireless fieldbus modules
SMC Corporation South Africa Industrial Wireless
The EX600-W is well suited for use with collaborative robotics for improved machine safety and quick connection of tool changers on robotic arms.
Read more...
---
Intuitive solution for process engineering
ASSTech Process Electronics + Instrumentation SCADA/HMI
With the aid of various Jumo smartWARE features, an integrated solution can be implemented from the sensor to the cloud.
Read more...
---
New addition to the Times-7 A5020 antenna range
Osiris Technical Systems Industrial Wireless
The Times-7 A5020 range of UHF RFID antennas was recently expanded with the addition of a mid-range and a linear extreme antenna.
Read more...
---
Ultrasonic distance sensor
ASSTech Process Electronics + Instrumentation Sensors & Transducers
Wenglor's new ultrasonic distance sensors combine low installation depth and easy integration of the sensor with tried and tested ultrasonic technology, setting new standards in terms of range and integration options.
Read more...
---
Gateway carries IO-Link sensor data to the cloud
ifm - South Africa Industrial Wireless
ifm electronic's io-key can bring data from more than 10 000 industrial sensors from more than 200 manufacturers into the cloud.
Read more...
---
Pressure measuring cells
ASSTech Process Electronics + Instrumentation Pressure Measurement & Control
The Jumo Ceros measuring cells can be used in such devices as pressure transmitters, level probes, data loggers or digital manometers.
Read more...
---
Miniature inductive sensors with long switching distances
ASSTech Process Electronics + Instrumentation Sensors & Transducers
No larger than a pinhead, the robust sensors come in a V2A stainless steel housing and demonstrate their strengths where space is most limited.
Read more...
---
How to use edge computing in industrial IoT
Industrial Wireless
Edge computing is a cloud environment located closer to automation-enabled devices at the edge of the network rather than at the data centre. End-points are connected to the operational network and control 
...
Read more...
---