printer friendly version
Flow control for wastewater treatment
April 2022
Flow Measurement & Control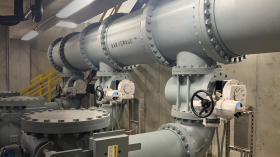 Rotork IQT part-turn electric actuators have been specified for use at the Water Resource Recovery Facility (WRRF) in East Lansing, Michigan, USA. This activated sludge/tertiary filtration plant has the capacity to process approximately 71 million litres of water each day, and provides wastewater treatment for the City of East Lansing, Michigan State University and the Meridian Charter Township.
Over 100 actuators were ordered, consisting of various IQ3 and IQT3 range part-turn electric actuators, including the IQ18, IQ25, IQT-125, 500, 1000 and 2000. These actuators serve a variety of vital roles, including the operation of flow control valves, sluice gates, ball control valves, AWWA butterfly valves and eccentric plug valves. They were installed alongside IW Mk2 quarter-turn worm gearboxes.
The actuators are able to accurately control the exact amount of flow. Going beyond simple open/close functions, they can move the valves and gates to exact positions to provide complete control of flow in the process. In addition to this modulating service, the actuators also provide an isolating service in a new digester process. The digester process breaks down the waste material to produce biogas and the actuators ensure that the flow of municipal wastewater can be stopped, should it be necessary to do so.
These new installations were not the first Rotork actuators on site, but were an addition to an installed base of IQTs connected through DeviceNet and an additional installation of around 50 IQ3 intelligent, integral, non-intrusive electric actuators and IQTs in 2016.
For more information contact Rotork Africa, +27 11 453 9741, sales@rotork.co.za, www.rotork.com
Further reading:
Mass flow controllers and meters
Electrocomp Flow Measurement & Control
Unlike most other devices on the market, these devices do not suffer from drift and do not require in-service recalibration.
Read more...
---
Magnetic-inductive flow meter for phosphate precipitation
Instrotech Flow Measurement & Control
With a 4-20 mA signal or optional pulse output, the MIK allows for immediate response to the latest process conditions.
Read more...
---
Inline process viscometer for polymer and oil monitoring
SECO Process Instrumentation Flow Measurement & Control
This hermetically sealed unit is assembled entirely from 316L stainless steel and includes built-in fluid temperature measurement.
Read more...
---
Wall-mount ultrasonic flow meters
Royce Water Systems Flow Measurement & Control
High measurement accuracy and minimal interference due to its advanced error correction technology are among the flow meter's benefits.
Read more...
---
Flow meters and switches for very slow flows
Instrotech Flow Measurement & Control
Kobold's KSV meters are shock resistant, small, lightweight and simple to install for measuring liquid or air flow with full-scale accuracy within +/-6%.
Read more...
---
Indian airport's fuel station retrofitted with Rotork actuators
Flow Measurement & Control
A reduction of downtime was of critical concern to the customer, which can be assisted by an holistic asset management programme such as Lifetime Management.
Read more...
---
Flow measurement of abrasive slurries in hydrocyclone feedlines
KROHNE Flow Measurement & Control
Dedicated flowmeters for cyclone classification help miners improve throughput while keeping maintenance costs low.
Read more...
---
Intelligent electric actuators control flow at chemical plant
Flow Measurement & Control
The actuators have been installed in the cracking units in the plant to control the flow of the oil that is the feedstock at the heart of the production process.
Read more...
---
Air gap sensor outputs absolute value
ifm - South Africa Flow Measurement & Control
The air gap sensor can be taught to detect the target state both via its external operating buttons and an external input, or with just one click via IO-Link.
Read more...
---
Improving efficiency and reliability of CIP and SIP systems
Emerson Automation Solutions Flow Measurement & Control
By using clean-in-place and steam-in-place systems, food and beverage manufacturers can improve product quality, minimise recalls and protect personnel.
Read more...
---