printer friendly version
Flow measurement of abrasive slurries in hydrocyclone feedlines
April 2022
Flow Measurement & Control
Hydrocyclones are the most widely used type of classifier for separating slurry particles based on particle weight. Their performance is considered critical to comminution efficiency and the profitability of the whole processing plant. Bespoke electromagnetic flowmeters for the mining industry can help plant operators optimise cyclone performance and maximise throughput in accordance with their classification targets.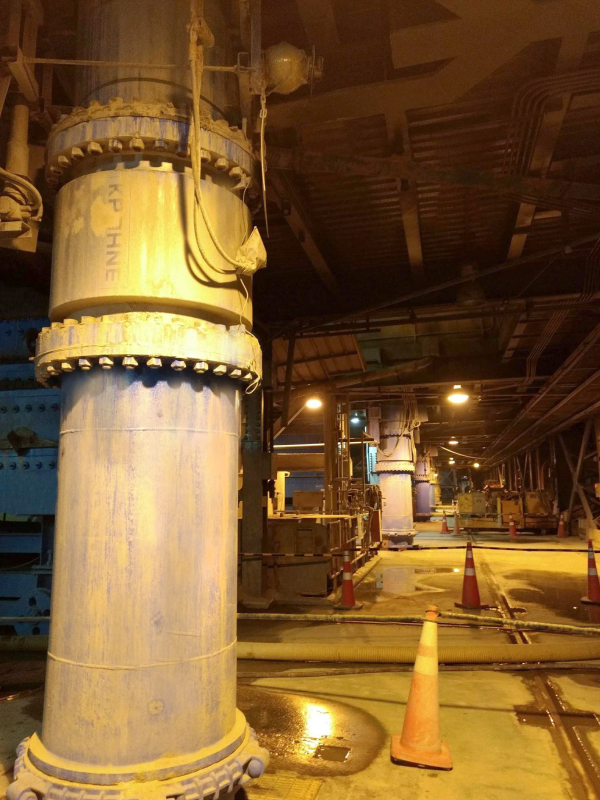 KROHNE flowmeters for measurement of slurry feeds to hydrocyclones.
Mag meters with a track record in hydrocyclone feedline applications combine abrasion resistance, high accuracy and repeatability for long-term stable flow measurement of slurry feedlines. Meter design and use of wetted materials are paramount when it comes to increasing plant uptime and reducing maintenance costs, as the following application report demonstrates.
The scenario
A large gold and copper facility operates four hydrocyclones. The value that the total gold production throughput of the four hydrocyclone feedlines was initially designed for is approximately $3 million per day. In each hydrocyclone feedline, one electromagnetic flowmeter is installed. One of the main selection criteria for flowmeters was minimal maintenance with high measurement integrity over a long period of time.
Coarse and fine materials cause major abrasive wear. The maintenance costs of the flow control are driven by the costs of replacing a flowmeter. This not only involves the acquisition price of a new meter, but also includes production downtime, manpower, crane time and the flanging and installation of new flowmeters. Secondly, maintenance costs are driven by the frequency of replacements. The use of inappropriate materials can lead to a meter replacement frequency of three to six months per line. At best, a six-month replacement frequency will cost the facility $450 000 per line per year in production losses and $50 000 for meter replacement per line per year.
Through appropriate material selection and application engineering, KROHNE has been able to change the replacement frequency of the electromagnetic flowmeters from every six months to every three years. The electromagnetic flowmeter of choice is the Optiflux 4300. Its meter design and liner provide the necessary toughness and versatility to maximise instrument lifetime in the cyclone feedlines, while the rugged polyurethane liner of the mag meter has excellent abrasion resistance.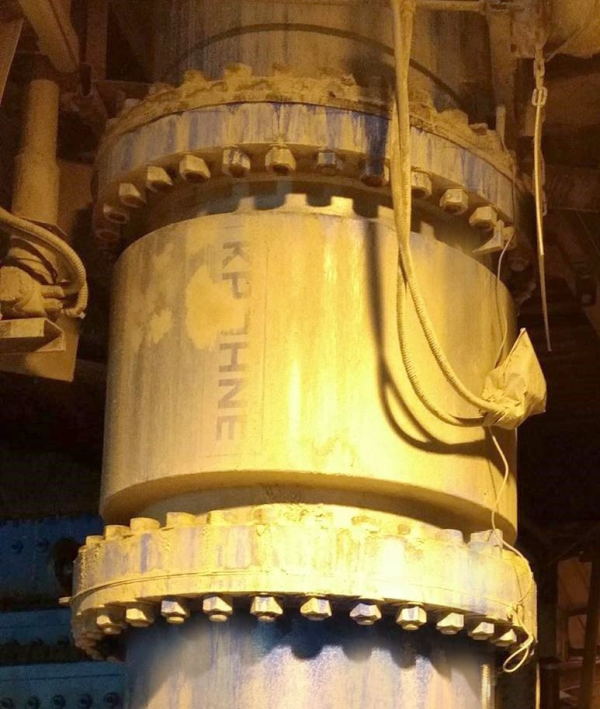 Optiflux 4300 F installed in a hydrocyclone feedline.
The flush-mounted Hastelloy C electrodes create less obstruction in the flow and are therefore less prone to wear and noise. The electrodes have a carbide coating which is extremely durable, ensuring an extended lifetime. The inner diameter of the flowmeter precisely matches the inner diameter of the connected process pipes since, in abrasive applications, even the smallest difference in inner diameter can accelerate wear.
The final measure taken is the installation of Type 3 protection rings on the inlet of the flowmeter, to prevent a difference in the inner bore. The signal converter of the flowmeter offers intelligent noise filtering techniques, while its integrated process diagnostic functions can be used for appropriate parameter settings and provide information on the status of the sensor, the converter and the process.
The bottom line
Using the KROHNE flowmeter has led to a significant reduction in maintenance costs and an increase in plant uptime for the customer and smart material selection has enabled a significant meter lifetime extension from six months to three years. In this way, KROHNE has been able to save the facility $1,5 million per line every three years.
For more information contact KROHNE SA, +27 11 314 1391, d.rampathi@krohne.com, www.za.krohne.com
Credit(s)
Further reading:
Mass flow controllers and meters
Electrocomp Flow Measurement & Control
Unlike most other devices on the market, these devices do not suffer from drift and do not require in-service recalibration.
Read more...
---
Magnetic-inductive flow meter for phosphate precipitation
Instrotech Flow Measurement & Control
With a 4-20 mA signal or optional pulse output, the MIK allows for immediate response to the latest process conditions.
Read more...
---
Inline process viscometer for polymer and oil monitoring
SECO Process Instrumentation Flow Measurement & Control
This hermetically sealed unit is assembled entirely from 316L stainless steel and includes built-in fluid temperature measurement.
Read more...
---
Wall-mount ultrasonic flow meters
Royce Water Systems Flow Measurement & Control
High measurement accuracy and minimal interference due to its advanced error correction technology are among the flow meter's benefits.
Read more...
---
Flow meters and switches for very slow flows
Instrotech Flow Measurement & Control
Kobold's KSV meters are shock resistant, small, lightweight and simple to install for measuring liquid or air flow with full-scale accuracy within +/-6%.
Read more...
---
Indian airport's fuel station retrofitted with Rotork actuators
Flow Measurement & Control
A reduction of downtime was of critical concern to the customer, which can be assisted by an holistic asset management programme such as Lifetime Management.
Read more...
---
Flow control for wastewater treatment
Flow Measurement & Control
Going beyond simple open/close functions, the Rotork actuators can move the valves and gates to exact positions to provide complete control of flow in the process.
Read more...
---
Intelligent electric actuators control flow at chemical plant
Flow Measurement & Control
The actuators have been installed in the cracking units in the plant to control the flow of the oil that is the feedstock at the heart of the production process.
Read more...
---
Air gap sensor outputs absolute value
ifm - South Africa Flow Measurement & Control
The air gap sensor can be taught to detect the target state both via its external operating buttons and an external input, or with just one click via IO-Link.
Read more...
---
Improving efficiency and reliability of CIP and SIP systems
Emerson Automation Solutions Flow Measurement & Control
By using clean-in-place and steam-in-place systems, food and beverage manufacturers can improve product quality, minimise recalls and protect personnel.
Read more...
---