printer friendly version
Safety blocks for hydraulic accumulators
March 2022
Pneumatics & Hydraulics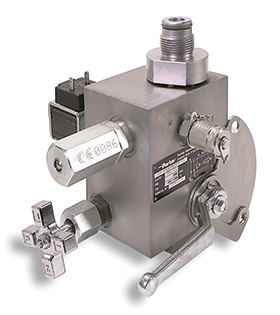 Parker Hannifin's new safety block (SB) series for hydraulic accumulators simplifies the selection, installation and maintenance process of these important system components. Safety blocks enable hydraulic accumulators to be isolated for maintenance work, repairs or system tests, acting as an emergency shut-off device to protect against system failure. The versatile SB series offers full functionality in a single product: isolation, drain, peak pressure protection and pressure control. Choosing the right safety block is now far easier. Typical markets set to benefit from the new concept include industrial, mobile and oil and gas.
As a result of feedback from customers, the improved design helps to minimise space requirements and ease installation, The series is available in sizes 10, 20 and 32, with a standardised temperature range of -20 to 80°C and high corrosion resistance compliant with ISO 9227. In addition, the SB series is PED-certified and suitable for use in ATEX environments.
Ideal for all bladder, diaphragm and piston-type accumulators, customers can select from models with electric or manual relief valves. The series features either a BSPP or SAE accumulator connection, with size 32 offering an SAE accumulator connection as standard. Furthermore, size 32 offers the choice of flanged or threaded hydraulic connection. A variety of voltage options ensures the range is suitable for all types of industrial applications, with the pressure range corresponding to an accumulator operating pressure up to 350 bar.
For more information contact Lisa de Beer, Parker Hannifin SA, +27 11 961 0700, lisa.debeer@parker.com, www.parker.com/za
Further reading:
Destructive cavitation in hydraulic systems
Hydrasales Pneumatics & Hydraulics
Cavitation results from excessive vacuum conditions at the inlet to a pump. High vacuum creates vapour bubbles within the oil, which are carried to the discharge (pressure) side. These bubbles then collapse, 
...
Read more...
---
Optimising hydraulic controls
Parker Hannifin - Sales Company South Africa Pneumatics & Hydraulics
Parker Hannifin has launched two components − the Parker Automation Controller PAC120 and the electro-hydraulic controller module PACHC − that together offer an innovative solution for the automation 
...
Read more...
---
High performance hydraulic hose
Pneumatics & Hydraulics
Gates has launched a new line of professional grade hydraulic hoses offering high performance in hydraulic applications across a wide range of end-markets.
Read more...
---
Breathing life into your machines through leading Pneumatic Automation solutions
Festo South Africa Pneumatics & Hydraulics
The pneumatics stage of Festo's three-part 'Absolute Automation 2.0' campaign takes customers on a journey to higher productivity.
Read more...
---
For more energy-efficient pneumatics, 4 is greater than 7
SMC Corporation South Africa Pneumatics & Hydraulics
To help expedite a project that involves designing a machine for 4 bar operating pressure, SMC's expert team can deliver the optimal outcome for both OEMs and end users.
Read more...
---
Increase profits by monitoring your compressed air
Artic Driers Pneumatics & Hydraulics
To find leaks is one thing, but quantifying the volume of air leakage and the associated costs is quite another.
Read more...
---
How smart pneumatics enhance machine safety
Emerson Automation Solutions Pneumatics & Hydraulics
The Industrial Internet of Things and the digital transformation it has empowered have already proven their many benefits. One that deserves a closer look is how smart pneumatic devices can improve machine 
...
Read more...
---
Honingcraft in the digital realm
Honingcraft Pneumatics & Hydraulics
Honingcraft distributes the finest steel products and components used for manufacturing hydraulic cylinders, including honed tube, chrome bar and cylinder kits. The company owns and operates highly-specialised 
...
Read more...
---
SMC´s FRL unit: compressed air filtration since 1961
SMC Corporation South Africa Pneumatics & Hydraulics
In pneumatics, the FRL unit is a key element as it ensures the proper functioning of the pneumatic equipment, thereby increasing the operating life.
Read more...
---
Smart positioner from Festo
Festo South Africa Pneumatics & Hydraulics
The latest CMSH pneumatic positioner from Festo boosts high-performance and long service life.
Read more...
---