printer friendly version
Automation construction kit replaces the control cabinet
February 2022
Enclosures, Cabling & Connectors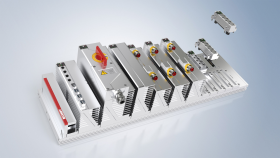 For a long time, control cabinets have been an integral part of machines and systems, and it is almost impossible to imagine machines and systems without them. However, the planning, development and wiring of control cabinets takes a lot of time and is also prone to errors. Approaches already exist to build automated control cabinets, thus increasing the resources required and also the reliability. However, even then, the problem remains that control cabinets require valuable production space on the machine.
These challenges can also be met with solutions such as decentralised terminal boxes, drives or, for example, Beckhoff EtherCAT Box modules, which can be mounted directly on the machine outside the control cabinet. None of these concepts, however, claims to replace the complete control cabinet and integrate the entire world of automation technology into the machine in a compact and robust way. After all, almost every machine still requires one or more separate control cabinets.
With the new MX-System, Beckhoff Automation is addressing these challenges with control cabinets that can be reduced to a minimum or even substituted with the holistic, modular and plug-in approach. This means that machines and systems can be designed and controlled entirely without control cabinets.
The MX-System exemplifies system integration of all machine functionalities, as it harnesses all the advantages of PC- and EtherCAT-based control technology at the same time. The compact system is made of metal and is not only dustproof and waterproof due to its high-quality workmanship, but also robust and resistant, which allows it to be placed directly at the machine.
For more information contact Dane Potter, Beckhoff Automation, +27 79 493 2288, danep@beckhoff.com, www.beckhoff.co.za
Credit(s)
Further reading:
Power supplies with EtherCAT interface
Beckhoff Automation Electrical Power & Protection
In the case of system monitoring, important operating parameters such as output current and voltage are transmitted in real time and updated continuously
Read more...
---
Connectors for the evolving world of test and measurement
Spectrum Concepts Enclosures, Cabling & Connectors
Instrumentation employed to test new products needs to become more advanced to keep up with the rapidly increasing technology in these products.
Read more...
---
Standard-compliant differential current transformer
Beckhoff Automation Sensors & Transducers
The SCT5564 can be used as a residual current monitor and can measure DC and AC residual currents with up to 100 kHz frequency in the 0 to 2 A range.
Read more...
---
Pluggable system solution for control cabinet-free automation
Beckhoff Automation Enclosures, Cabling & Connectors
Beckhoff's MX-System provides maximum efficiency for machine builders, control cabinet manufacturers and end-users.
Read more...
---
ML compensates for 'cogging' in high-precision linear motion
Beckhoff Automation Motion Control & Drives
Using recorded data, the servo motor software trains a neural network which is ultimately integrated into the control system for current pre-control.
Read more...
---
Intrinsically safe EtherCAT I/O modules
Beckhoff Automation Fieldbus & Industrial Networking
As a robust alternative to IP20 solutions with their elaborate housing protections, EPX modules with IP67 protection rating enable reliable data collection.
Read more...
---
Beckhoff upgrade is music to Vienna State Opera's ears
Beckhoff Automation Editor's Choice
The sound system that had been in continuous use for over 20 years could no longer keep up with the sound standards set by modern systems.
Read more...
---
Cost-effective electrical termination solutions for the construction industry
Pratley Enclosures, Cabling & Connectors
It is important not to compromise on quality in favour of cost, especially for safety-critical termination parts like cable glands and junction boxes.
Read more...
---
Beckhoff earns seat at the billion-Euro table
Beckhoff Automation News
2021 was the most successful business year in the company's history, with sales exceeding 1 billion Euros for the first time.
Read more...
---
Compact drive technology mobilises high-tech CT scanner
Beckhoff Automation Editor's Choice Motion Control & Drives
PC- and EtherCAT-based technology from Beckhoff delivers the desired viewing angles and mm-precise alignment of the X-ray source to the patient.
Read more...
---