printer friendly version
How to use edge computing in industrial IoT
February 2022
Industrial Wireless
Edge computing is a cloud environment located closer to automation-enabled devices at the edge of the network rather than at the data centre. End-points are connected to the operational network and control centre via an IIoT (industrial-Internet-of-Things) gateway.
The addition of cloud computing resources to the IIoT gateway at the edge enables local storage and processing of data, which, when compared to centralised cloud computing, offers compelling benefits such as:
• Higher reliability – because data doesn't need to travel to a central cloud, communication isn't interrupted if the link is down.
• Lower latency and consumption of network resources, for the same reason.
• Better security and compliance with regulations, as data isn't exposed when travelling over public links.
Cloud computing and virtualisation enable multiple applications to run simultaneously and independently on the same hardware. In the context of IIoT, this means that a single gateway can perform not only networking functions, but also host other functions that are related to industrial applications and IIoT management.
The end result is less 'boxes', as fewer networking and IIoT devices are required. This also means better security, as the function that needs to be secured is virtualised within the securely connected IIoT gateway itself. All this means that edge computing provides the required insight and agility and at the same time reduces the number of devices that need to be deployed in remote sites.

Where edge computing comes into play in new industrial IoT projects.
RAD's SecFlow with edge computing and LoRaWAN has the capability to execute all of these requirements on the same hardware.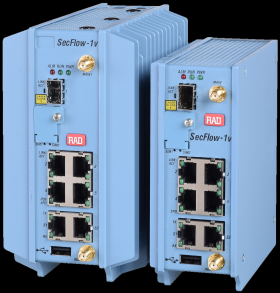 For more information contact Otto Wireless Solutions, +27 11 791 1033, wireless@otto.co.za, www.otto.co.za
Further reading:
NIST finds wireless performance consistent across 5G mmWave bands
Industrial Wireless
The NIST system is unique in that antenna beams can be steered in any direction for precise angle-of-arrival estimates.
Read more...
---
Wireless fieldbus modules
SMC Corporation South Africa Industrial Wireless
The EX600-W is well suited for use with collaborative robotics for improved machine safety and quick connection of tool changers on robotic arms.
Read more...
---
New addition to the Times-7 A5020 antenna range
Osiris Technical Systems Industrial Wireless
The Times-7 A5020 range of UHF RFID antennas was recently expanded with the addition of a mid-range and a linear extreme antenna.
Read more...
---
Wireless addition to the Jumo automation system
ASSTech Process Electronics + Instrumentation Industrial Wireless
Up to 32 wireless Jumo Wtrans sensors can be connected via a wireless gateway for various purposes, including measuring temperature or pressure.
Read more...
---
Gateway carries IO-Link sensor data to the cloud
ifm - South Africa Industrial Wireless
ifm electronic's io-key can bring data from more than 10 000 industrial sensors from more than 200 manufacturers into the cloud.
Read more...
---
I/O sensor turns wired sensors wireless
TRX Electronics Industrial Wireless
The Sentrius BT610 I/O sensor from Laird Connectivity is a new Bluetooth 5 sensor platform that turns wired sensors into IP67-rated, battery-operated wireless nodes that provide robust and secure messaging 
...
Read more...
---
5G routers for mission-critical operations
Industrial Wireless
The integration of 5G in Hitachi Energy's TRO600 routers enables a fast, secure and reliable hybrid wireless network for enhanced operational efficiency.
Read more...
---
Portable wireless gateway for Ex areas
Comtest Industrial Wireless
Comtest – local representative of Industrial Scientific, a global leader in gas detection – has introduced the RGX Gateway, which enables designated safety contacts to receive real-time alerts for gas 
...
Read more...
---
Simplify collaboration between machines and operators
RJ Connect Industrial Wireless
Moxa's wireless networking solutions are the perfect fit for manufacturing environments.
Read more...
---
DEK wireless kit
Turck Banner Industrial Wireless
The standalone DEK wireless kit from Turck Banner includes everything needed for a remote preventive maintenance monitoring solution.
Read more...
---