printer friendly version
Silencer to help protect workers from gas process noise
February 2022
Valves, Actuators & Pump Control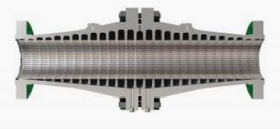 Emerson has introduced the Fisher WhisperTube modal attenuator for noisy gas or vapour applications in a wide range of industries. The modal attenuator is a full-bore device offering 15 dB sound suppression to reduce noise inside pipes produced by sources upstream, such as control valves or other devices. It is installed downstream of these types of devices in place of a pipe spool piece, generates no additional pressure drop, and has no impact on process flow.   
Industrial users have long searched for a solution to reduce process piping noise, but until now all solutions have generated significant pressure drop, reduced flow and/or introduced obstructions. This has led some users to install acoustic insulation to pipe sections to reduce noise, but this can be very costly and cumbersome to install, and it does nothing to reduce internal piping noise. The modal attenuator addresses these and other issues with a drop-in solution, improving worker safety and regulatory compliance while reducing the risk of damage to downstream equipment due to high noise levels internal to piping. 
Leading applications for the modal attenuator include those where upstream process flows are changed by control valves, pressure relief valves, pumps, compressors and other devices that generate noise. Many of these devices must be installed in lengths of piping with no flow restrictions downstream, and the modal attenuator works particularly well in these applications because it introduces no such restrictions.   
Unlike other noise suppression solutions, the modal attenuator does not introduce an obstruction into the piping, so it can be used in applications where particulates are suspended in process flows and/or where pigging is required for cleaning and maintenance.  
The exact amount of noise reduction depends on the frequency of the noise and the velocity of the flow. Estimates regarding the degree of sound suppression can be provided by Emerson prior to purchase and installation. 
WhisperTube devices are offered in sizes from 5,08 cm to 30,48 cm, with American Society of Mechanical Engineer (ASME) flange ratings of Class 150, 300 and 600. Pressure ratings match the flange rating sizes, and the maximum temperature is 371°C. 
Credit(s)
Further reading:
Wireless communication and control of electro-pneumatic manifolds and IO
SMC Corporation South Africa Valves, Actuators & Pump Control
SMC analysed the control of manifolds-in-motion, where the physical removal of communications cables is desirable. Applications include manifolds mounted on robot gripper assemblies or rotating tables. 
...
Read more...
---
Valves for motorised open/close functions
Valves, Actuators & Pump Control
The valves' robust, self-locking linear actuator has a safety switch-off function with overload protection, a manual override and an optical position indicator.
Read more...
---
Condition monitoring software gets asset health boost
Emerson Automation Solutions IT in Manufacturing
The newest version of Emerson's AMS Machine Works adds support for embedded, automatic analytics at the edge using patented PeakVue technology.
Read more...
---
Abrasive Flow Solutions celebrates 1st anniversary
News Valves, Actuators & Pump Control
The company specialises in the design and manufacture of slurry-related valves, and works closely with sister company, BMG.
Read more...
---
Actuator retrofit gives Indian airport critical performance data
Valves, Actuators & Pump Control
Since a reduction in downtime was of critical concern, the customer signed up to a service agreement as part of Rotork's Lifetime Management programme.
Read more...
---
Emerson's new edge solutions simplify IIoT projects
Emerson Automation Solutions IT in Manufacturing
PACSystems Edge Solutions are fit-for-purpose packages that reduce the time spent integrating, developing and validating IIoT projects.
Read more...
---
How smart pneumatics enhance machine safety
Emerson Automation Solutions Pneumatics & Hydraulics
The Industrial Internet of Things and the digital transformation it has empowered have already proven their many benefits. One that deserves a closer look is how smart pneumatic devices can improve machine 
...
Read more...
---
Improving efficiency and reliability of CIP and SIP systems
Emerson Automation Solutions Flow Measurement & Control
By using clean-in-place and steam-in-place systems, food and beverage manufacturers can improve product quality, minimise recalls and protect personnel.
Read more...
---
Rotork actuators installed at Beijing's second international airport
Valves, Actuators & Pump Control
The pump room, oil tanks, oil station and landing field ground wells use the company's actuators to operate a variety of valve types.
Read more...
---
Festo campaign highlights process automation solutions
Festo South Africa Valves, Actuators & Pump Control
Festo aims to aid its process automation customers to thrive even during unpredictable periods, by continually analysing the value-creation chain and communicating with its customers to understand their needs.
Read more...
---