printer friendly version
Control software library for sugar producers
February 2022
SCADA/HMI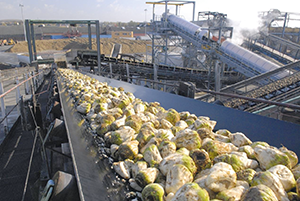 ABB has launched its latest release of ABB Ability Sugar Library, enhanced with new functionalities to serve as a control engineering inventory for sugar manufacturers. It helps to reduce engineering costs and development timelines, simplify expansions and eliminate errors in engineering, and improve quality and reliability in operational use.
The release features a range of specifically designed templates for sugar process applications in beet and cane sugar industries. It fulfils all process area requirements including raw material handling, purification, crystallisation and sugar handling and now evaporation and filtration. Customisable templates will result in engineering efficiencies; for operators, efficient monitoring of the process helps to optimise resources and energy usage.
A high-performance human-machine interface (HMI) has been designed for fast detection and resolution of process disturbances, with alarm messages. In maintenance, teams will gain the right information at the right time, with tracking and trends visually available. The auto-reconfigurable, dynamic, high-performance HMI visualisations provided in the library for selected operations reduce commissioning time and help plant engineers and operators to focus on continuous improvement.
Among its sustainability advantages, ABB Ability Sugar Library features a steam economy mode that ensures no more steam than required is generated during the evaporation phase. It is also collected and reused for the crystallisation phase, saving any fuel used to make the steam and therefore reducing production costs. The solution is built from knowledge attained through collaboration with major process and equipment suppliers and sugar manufacturers. This ensures that the latest process control philosophies are incorporated within the library. It comprises components for control and supervision, with each a complete functional unit ready for use and able to be adapted to specific user needs.
The updated library seeks to benefit ABB's installed-base customers, channel partners and system integrators for plant optimisation and expansion requirements as well as new greenfield installations, ensuring a reduced total cost of ownership. It integrates with the latest versions of ABB's distributed control system (DCS), ABB Ability System 800xA and provisions support for ABB Ability Manufacturing Operations Management (MOM). It can support end-customers' digitalisation strategies, sustainability, quality improvement and waste reduction initiatives.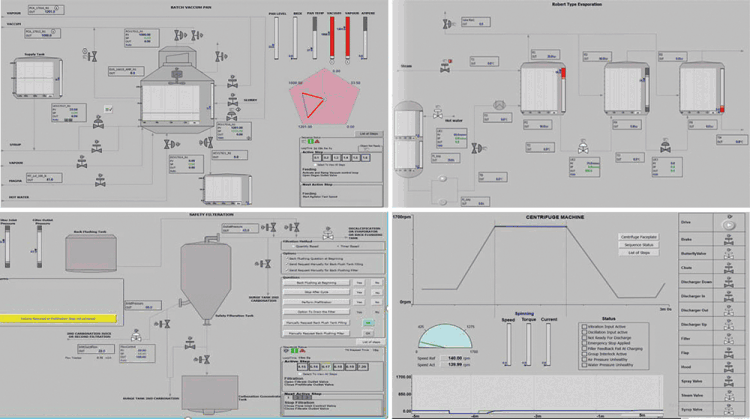 "ABB Ability Sugar Library enables reliability, quality, engineering and operational benefits for our customers, channel partners and system integrators and aligns with our overall digitalisation strategy in the food and beverage industry," said Marcello Gulinelli, global head of Food and Beverage, Process Industries, ABB. "We are encouraging efficient monitoring of the production process to help optimise resource and energy usage. This gives operators the information they need at the right time and allows flexible controls. We look forward to wider adoption across our installed base and potentially with new customers globally."
Sugar manufacturers can take advantage of ready-to-use templates with control schemes for not only vacuum pans and associated Brix control, but also for all other critical process areas including purification, evaporation and raw material handling along with associated process equipment. Library provisions include efficient boil-up curves with customisable algorithms. Operators will experience improved control for steam economy, better shape and homogeneity for crystals, with alerts and data logging capabilities throughout.
For more information contact Ofentse Dijoe, ABB South Africa, +27 10 202 5105, ofentse.dijoe@za.abb.com, www.abb.com/za
Further reading:
Intuitive solution for process engineering
ASSTech Process Electronics + Instrumentation SCADA/HMI
With the aid of various Jumo smartWARE features, an integrated solution can be implemented from the sensor to the cloud.
Read more...
---
Ultra-robust HMIs with IP67 protection rating
Turck Banner SCADA/HMI
Turck Banner's TXF700 series enables cabinet-free operating and installation concepts at operating temperatures between -20°C and +55°C.
Read more...
---
One-size-fits-all HMI platform
Pepperl+Fuchs SCADA/HMI
In the process industry, the requirements for product quality are extremely high. HMI devices, which are used for operating and monitoring the processes, also must meet the highest demands. Pepperl+Fuchs 
...
Read more...
---
HMIs for food industry and outdoor areas
Turck Banner SCADA/HMI
Turck Banner has expanded its TX700 HMI/PLC device series with new variants for food and beverage applications, as well as high-brightness displays for sunlight readability.
Read more...
---
Robust HMI devices with all-round IP67 protection
Turck Banner SCADA/HMI
Turck Banner's new TXF700 series offers an ultra-robust HMI series with complete all-round protection to IP67 for use at temperatures between -20°C and 55°C.
Read more...
---
Turck Banner expands HMI range
Turck Banner SCADA/HMI
Turck Banner has expanded its TX700 HMI/PLC device series with new variants for food and beverage applications, as well as high-brightness displays for sunlight readability.
Read more...
---
Will the IIoT kill scada, or lift it to new heights?
Adroit Technologies SCADA/HMI
Dave Wibberley, managing director, Adroit Technologies, shares his views on where scada is headed in the era of the Industrial Internet of Things.
Read more...
---
Collaborative robots
SCADA/HMI
Cobots is showcasing its range of collaborative robots. These robots make it simple and affordable for humans and machines to work together without a safety cage. Cobots can easily be implemented in small 
...
Read more...
---
Machines that manage real-time resources
SCADA/HMI
iBOS Industrial is changing the way we maintain and respond to machine level events with technology that effectively manages real-time resources (people) from the machine level.    Health and safety, 
...
Read more...
---
New benchmark scada software platform
Adroit Technologies SCADA/HMI
MAPS 4, the latest scada solution for control and visualisation from Adroit Technologies, extends connectivity options, adds user tools and increases the scope of its built-in functionality. The result 
...
Read more...
---