printer friendly version
Intelligent automation for Industry 4.0
January 2022
IT in Manufacturing
Data is the gold of the 21st century and efficient data acquisition and analysis are elementary components of industry 4.0. Jumo smartWARE Evaluation is a software solution that is now available for the Jumo variTron automation system, which allows browser-based process data analysis via customised dashboards.
The smartWARE is installed centrally on desktops, local servers, or in the cloud using Docker technology. In addition, installation of software or add-ons by the user is not necessary, which saves on costs for the administration of the system. Access then takes place via common web browsers. Once set up, Jumo smartWare Evaluation enables an unlimited number of users to analyse and visualise up to 1500 signals, from anywhere in the world.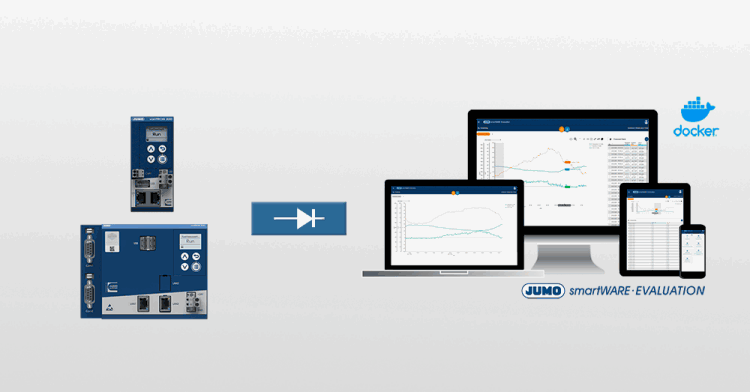 An intuitive device and plant overview allows for quick navigation and selection of dashboards. It also enables a plant-wide batch search and analysis. Individual design of the dashboards is important for the smart factory as processes can be sustainably optimised based on the collected data.
Data security is also a top priority for this Jumo product. The recorded raw data is securely transferred to a data store and archived by the Jumo variTRON 300 or 500 via Rest API, using the data diode principle. Traceability of the recorded data is also ensured in the event of a configuration change or device replacement.
Analysis takes place in a separate area (Dataview) and is supported by tamper detection based on digital certificates so that verifiable process data can be provided reliably and quickly for critical audits.
For more information contact Anastas Schnippenkotter, ASSTech Process Electronics & Instrumentation, +27 11 708 9200, info@asstech.co.za, www.asstech.co.za
Further reading:
The most common cyber threats in the industrial environment
Rockwell Automation IT in Manufacturing
Rockwell Automation's cybersecurity portfolio strategic growth leader delves into this topic in a recent blog post.
Read more...
---
Deploying IT into the factory floor environment
Omniflex Remote Monitoring Specialists IT in Manufacturing
The ongoing debate on whether OT and IT should be integrated has never been more intense. Closing the gap between the two has many benefits, not least of which are efficiency and profitability managed in near real time.
Read more...
---
PACTware further refines user interface
VEGA Controls SA IT in Manufacturing
Optimising a user interface for multiple sensor equipment manufacturers is possible in such a way that industrial users can use it similarly to everyday smart devices.
Read more...
---
EPLAN Marketplace networks users and service providers
EPLAN Software & Services IT in Manufacturing
The free online platform is divided into engineering services, module manufacturing services and general consulting sectors.
Read more...
---
Condition monitoring software gets asset health boost
Emerson Automation Solutions IT in Manufacturing
The newest version of Emerson's AMS Machine Works adds support for embedded, automatic analytics at the edge using patented PeakVue technology.
Read more...
---
A robust cybersecurity strategy is critical
ABB South Africa IT in Manufacturing
Understanding and managing the risks associated with a cyberattack can seem a daunting prospect in the face of keeping a plant up and running.
Read more...
---
Is your manufacturing plant ready for IoT?
Editor's Choice Fieldbus & Industrial Networking IT in Manufacturing
Pockets of IoT exist in manufacturing plants today; the challenge is to fully digitalise the entire plant.
Read more...
---
Revolutionising space exploration
Siemens South Africa IT in Manufacturing
Sierra Space, a commercial space company at the forefront of creating and building the future of space transportation for low earth orbit commercialisation, has implemented the Siemens Xcelerator portfolio of software and services as the foundation of its next-generation digital engineering program.
Read more...
---
Impact of innovative technologies on the mining industry
Parker Hannifin - Sales Company South Africa Editor's Choice IT in Manufacturing
Mining operations must identify creative ways to handle the increased demand for minerals and resources as global economies become even more reliant on mineral sales. As a result, mine operators must 
...
Read more...
---
SIM management essential in changing IoT market
IT in Manufacturing
Trinity IoT provides a myriad of tools to manage SIMs, whether as part of a mobile device strategy or a rapidly evolving IoT ecosystem.
Read more...
---