printer friendly version
Level switch for storage bins
January 2022
Level Measurement & Control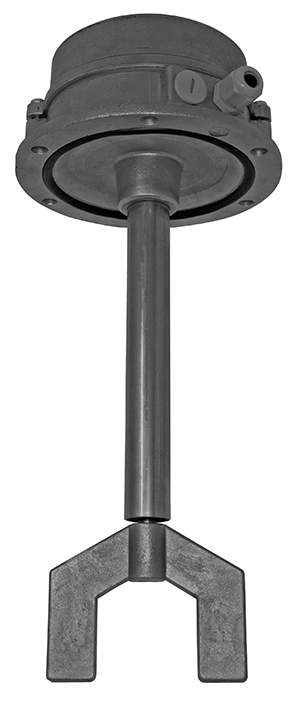 Val.Co has introduced a new LPM level switch specifically designed to control the storage of dusts, granules and solid products. Particularly suited for the pharma, food, plastics and agriculture markets, the reliable level switch is of robust construction and consists of a stainless-steel rotating shaft with sealed self-lubricating bearings. The shaft is driven by a synchronous gear motor at low speed. When the material stops the rotation of the blades, the power supply to the geared motor will be cut off, activating an electric changeover contact.
Managing director of GHM Messtechnik South Africa, Jan Grobler, commented: "This new LPM level switch from Val.Co is a cost-efficient level switch that maintains its renowned instrumentation quality, accuracy and reliability. Not only is the shaft manufactured from stainless-steel its performance is enhanced by the self-lubricating bearing system. We believe this newly developed LPM level switch will add value to the control of the storage of granules, dust and other solid products".
Technical features
The Val.Co LPM level switch offers the following technical specifications:
• Power supply range: 24-230 V.
• Temperature range of -100°C to 1200°C.
• Housing consists of cast aluminium or stainless steel AISI 304.
• Electrical connection is N.2 cable-gland.
• Paddle can be supplied with flanged or threaded connections.
• Conforms to IP65 protection standards.
• The alarm system can be activated when conveyor belts unexpectedly come to a standstill.
Credit(s)
Further reading:
Continuous non-contact level measurement with radar technology
KROHNE Level Measurement & Control
Online teaser: A narrow beam angle of 4° for tank internals and long nozzles is combined with accuracy down to ±2 mm, even in processes with fast-changing levels and low dielectrics.
Read more...
---
Plumb bob sensor for tanks and settling basins
Morton Controls Level Measurement & Control
Its precise sensitivity can be adjusted to slurries and solids in liquids, and can also be configured for use in corrosive media with increased resistance.
Read more...
---
Level measurement – now with Bluetooth
WIKA Instruments Level Measurement & Control
The instrument's description, TAG number, and 0% and 100% marks can be configured via an app on a smartphone or tablet.
Read more...
---
GHM Group announces new management team and shareholders
GHM Messtechnik SA News
The company has appointed Christian Unterberger as its new CEO and Jürgen Schneider to the position of CFO.
Read more...
---
Radar sensor keeps its cool
VEGA Controls SA Level Measurement & Control
The VEGAPULS C 21 delivers exact measuring results without effect from the medium, or the process and ambient conditions
Read more...
---
Versatile handheld indoor air quality meters
GHM Messtechnik SA Analytical Instrumentation & Environmental Monitoring
Both instruments are easy to handle and compact in design, and can be charged easily with a mobile phone cord.
Read more...
---
Load sensor for force measurement
Instrotech Level Measurement & Control Mass Measurement
The instrument provides a solution for non-intrusive level measurements of materials that are subject to uneven build-up, bridging or sidewall collection.
Read more...
---
Pyranometer for monitoring small-scale PV installation efficiency
GHM Messtechnik SA Electrical Power & Protection Maintenance, Test & Measurement, Calibration
The device's classification level under the ISO 9060:2018 standard guarantees accuracy, reliability, precision and compliance with reference standards.
Read more...
---
Diesel level sensing for rail engines
Instrotech Level Measurement & Control
Diesel fuel levels are measured, recorded and displayed, and kilowatt-hours are measured, using the Senix ToughSonic CHEM 10 ultrasonic sensor.
Read more...
---
Radar level sensor with IO-Link interface
ifm - South Africa Level Measurement & Control
Its non-contact radar measuring principle prevents malfunctions or failures of the sensor caused by the adhesion of viscous media or damage from agitators.
Read more...
---