printer friendly version
SAIMC: From the office of the CEO
November 2021
SAIMC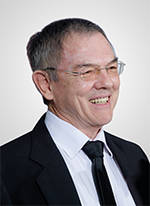 Johan Maartens.
Covid-19, vaccination and 5G are both culprits when it comes to the subject of rumours, false information and scare-mongering. I will not be talking about Covid as this is a highly controversial subject. It reminds me of a person who once said that he knows absolutely nothing about politics, but that does not prevent him from having a strong opinion.
Now back to 5G. Claims have been made about a link between 5G and Covid-19. This comes not only from countries where the education systems are known to be 'not so up- to-date', but from countries such as the UK and the Netherlands as well.
The ICNIRP Guidelines on Limiting Exposure to Electromagnetic Fields are for the protection of humans exposed to radiofrequency (RF) electromagnetic fields in the range 100 kHz to 300 GHz. The guidelines cover many applications such as 5G technologies, Wi-Fi, Bluetooth, mobile phones and base stations. These supersede the 100 kHz to 300 GHz part of the ICNIRP (1998) RF guidelines, as well as the 100 kHz to 10 MHz part of the ICNIRP (2010) low-frequency guidelines.
It is important to note that these guidelines are based on the best science currently available and will be reviewed from time to time as new information becomes available. It is also worth noting that the medical field has largely been excluded as qualified medical practitioners have to weigh up the pros and cons of using electromagnetic-based treatments, as these can indirectly cause harm by interfering with implantable medical devices (see ISO 2012).
Therefore, people can rest assured that there are specialists studying the impact of 5G and beyond on humans and the environment. The consensus is that while companies adhere to these guidelines, these electromagnetic fields are safe.
But are they really 100% safe? There is no conclusive evidence either way, but that does not mean that 5G causes Covid-19.
Each one of us needs to ensure that the messages we forward come from a reliable source and not from 'a boetie' who has personally read it in a WhatsApp message sent by a masked rumour-monger.
ECSA registration
Time is running out for those who are doing engineering-type work (technicians, technologists and engineers) and whose surnames begin with the letters A-K – you only have next year to register. If you have not started your paperwork yet, chances are you might not finish in time for this first batch. You will then have to wait until all others have registered and work under the supervision of a registered person while you wait your turn.
Yours in automation,
Johan Maartens.
Credit(s)
Further reading:
SAIMC: Durban branch
SAIMC SAIMC
The branch held its virtual technology meeting, as always, on the first Wednesday of October. Diogo Fidalgo from R. STAHL South Africa presented on the very interesting topic: HMI and camera solutions 
...
Read more...
---
SAIMC: Johannesburg branch
SAIMC SAIMC
The branch had the good fortune of hosting two technology events this month, but due to the Covid-19 virus threat and the current lockdown situation, the management team has decided to do virtual training 
...
Read more...
---
SAIMC: Vaal branch
SAIMC SAIMC
The branch hosted Kenneth M
c
Pherson from Turck Banner during the month of September, when he presented on the role that IO-Link can and probably will, play in the Industry 4.0 workplace.       Most 
...
Read more...
---
SAIMC: From the office of the CEO
SAIMC News
Last month I elaborated on the big question: What are assessors looking for? Today I would like to talk to you about the new CPD requirements. This is especially important to companies who will apply 
...
Read more...
---
SAIMC: Durban branch
SAIMC SAIMC
The September virtual technology evening was presented by Eric Carter of turboTRAIN, entitled 'Instrumentation fault finding'. He addressed the questions: Why is it problematic? and: What can be done 
...
Read more...
---
SAIMC: Vaal branch
SAIMC SAIMC
After some scheduling problems resulting in missing a monthly technical evening, the Vaal branch hosted SICK Automation to discuss 'Dust and gas measurement principles'. Our presenter for the evening 
...
Read more...
---
SAIMC: Johannesburg branch
SAIMC SAIMC
The virtual branch event held in August was all about switching technology. Today, so much is being done and discussed around how to bring objects, things and yesterday's technology into a digital 
...
Read more...
---
SAIMC: Cape Town branch
SAIMC SAIMC
Last month's technology evening was hosted online and presented by Jaco Markwat and Leonard Smit of Element 8. The theme 'Where's my data?' related to improving communication between different organisational 
...
Read more...
---
SAIMC: From the office of the CEO
SAIMC News
The registration process for people doing engineering work according to the Identification of Engineering Work, (IoEW) document gazetted in March, will start in earnest next year.       Surnames A through 
...
Read more...
---
SAIMC: Durban branch
SAIMC News
Kevin Preston of Phoenix Contact kindly presented at the virtual Durban branch technology meeting in August. Kevin is group manager IMA & IE at Phoenix Contact and is responsible for the interface, 
...
Read more...
---