printer friendly version
Get full value from factory floor data with data sciences
October 2021
IT in Manufacturing
Data is easily collected and stored, but in most cases the data pipeline stops here and there is hardly any value extracted from the data. The data pipeline is often not completed in a proper way so that the right person(s) can easily exploit the value inside the data. It is a challenge to extract the value from the huge stream of data and not to drown in the flood. Only collecting and storing of data is not enough to monetise investments in Industry 4.0 and IIoT infrastructure.
Getting the maximum value out of the data and keeping an overview of data streams goes beyond standard statistical methods and tooling. Manual analysis and creation of dashboards and reports are not sufficient. The dashboards become too complicated and do not show the right information at the right time and in the right way, to be able to see at a glance what is going on and act on it. The routines implemented in a normal machine controller to observe the production process and detect errors, can detect present deviations and problems but are not suitable to predict future problems. Machine controllers are not suitable to combine all the available information and perform analytics on it.
Most organisations understand the roles and functions of IT, but in the context of its relationship to operational technology (OT), it is probably worth expanding. In simple business terms, IT refers to the application of network, storage and compute resources toward the generation, management, storage and delivery of data throughout and between organisations.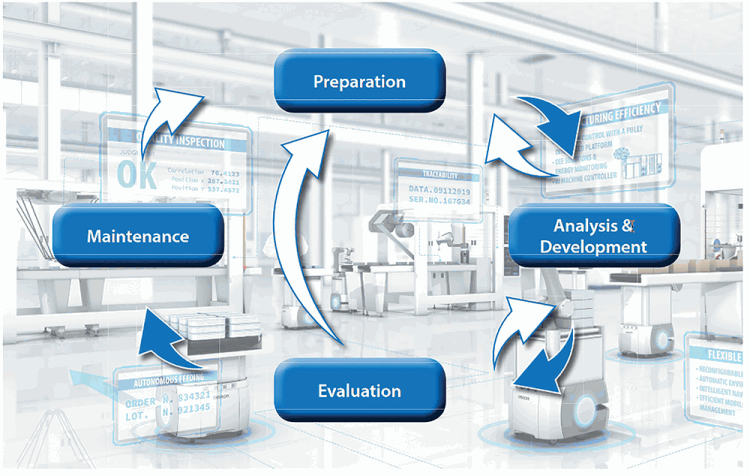 Compared with IT, OT is unique in that related hardware and software is historically designed to do specific things: control heat, monitor mechanical performance and trigger emergency shutoffs, to name a few examples. Typically, this is done through industrial control systems (ICS) and supervisory control and data acquisition (scada).
While IT and OT have historically formed separate aspects of modern organisations, a phenomenon known as IT-OT convergence is changing that. Since IoT technology takes assets not typically connected to the Internet – such as assembly line machinery – and brings them online, enterprises can now create new efficiencies by applying the intelligence of IT to the physical assets of OT systems.
Transforming data into information
The valuable information needs to be extracted from the data and presented to the right audience, at the right time and in the right way. The key is to put enough effort into the transformation of data into useful information. This should be done in close collaboration with data scientists, who know how to tame the data and domain experts of the manufacturing process, who know the story behind the data. Once data is transformed into information, a solution can be developed that brings value in the long run.
Industrial Data Science is a fairly new discipline and there is no one-size-fits-all solution yet. Each solution and application needs tailored data analysis and modelling to obtain the maximum result. Data scientists at Omron follow a standard approach (see illustration) to obtain the best project results and to manage the expectations. The approach is based on the CRISP-DM model. CRISP-DM is the acronym for Cross-Industry Standard Process for Data Mining and is widely used.
It is challenging to use the potential of (big) data. Just collecting it and simply displaying some graphs is not sufficient. The valuable information needs to be extracted from the data and presented to the right audience, at the right time and in the right way.
Credit(s)
Further reading:
Barcode reader suited for wide fields of view
Omron Electronics Data Acquisition & Telemetry
Omron's new MicroHAWK V440-F is ideal for reading multiple codes in a wide area, as well as for applications over longer distances and with minuscule barcodes.
Read more...
---
Unlock knowledge with Netilion Water Network Insights
Endress+Hauser South Africa IT in Manufacturing
With just a few clicks, an ISO 9001-certified and metrologically traceable verification can be triggered directly within the solution for all supported flowmeters.
Read more...
---
Network design for mission-critical systems
IT in Manufacturing
The network is effectively the nervous system of a modern site, allowing protection, control, monitoring, security and safety devices to intercommunicate in a quick, reliable and efficient fashion.
Read more...
---
How to achieve sustainable manufacturing
Omron Electronics Enclosures, Cabling & Connectors
The industry faces the mammoth task of developing sustainable alternatives, minimising waste while saving energy and using alternative energy sources.
Read more...
---
High-speed Ethernet up to 1 km with Gigabit Ethernet extenders
Phoenix Contact IT in Manufacturing
With Power-over-Link and Power-over-Ethernet functions, the entire Gigabit Ethernet extender network and connected PoE devices are supplied with power via the data lines.
Read more...
---
Ready for industrial network evolution?
RJ Connect Editor's Choice IT in Manufacturing
To prepare for the future, it is time for industrial networks to evolve, and Moxa is committed to helping them take the leap towards the next generation of networking.
Read more...
---
Fuel for the future
Omron Electronics Editor's Choice Electrical Power & Protection
In the coming years, hydrogen propulsion systems will be found in many different application scenarios, such as transport, heating and power generation.
Read more...
---
Are engineers equipped with 4IR skills?
Editor's Choice IT in Manufacturing
Technology has evolved exponentially in the last 10 years, much faster than the 10 years before. A gap will undoubtedly develop if technology evolves faster than our skills. Therefore, we must start immediately identifying the gaps and what 4IR skills we need to fill them.
Read more...
---
Valmet mobile maintenance app
Valmet Automation IT in Manufacturing
VMM meets industrial cybersecurity standards, follows all best practices and guidelines, and is audited by an accredited service provider.
Read more...
---
Business platform to accelerate digital transformation
Siemens South Africa IT in Manufacturing
Siemens has launched an open digital business platform, Siemens Xcelerator, to accelerate digital transformation and value creation for customers of all sizes in industry, buildings, grids and mobility. The business platform makes digital transformation easier, faster and scalable.
Read more...
---