printer friendly version
Inverters for PV generation plants
October 2021
Electrical Power & Protection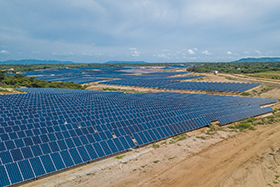 As solar energy contributes increasingly to cleaner, renewable energy for a more sustainable world, WEG has introduced its complete ESW line of central inverter stations for photovoltaic power generation plants. These are available through Zest WEG, WEG's South African operation.
The WEG ESW 750 centralised solar inverter stations are custom engineered for large scale solar plants, comprising a range of WEG's SIW 750 inverters, with a modular design to promote greater flexibility in their application. They can easily be integrated to suit the specific requirements of each solar power plant and can withstand even the most extreme weather conditions, including ambient temperatures from -10⁰C to 50⁰C.
Available in capacities up to 10 MW at 1500 V, these WEG solar stations represent an integrated solution with central inverters developed and manufactured with cutting-edge technology. Their design allows for quick installation and simplified operation and maintenance.
As one of the world's largest manufacturers of electric motors, electronic equipment and systems, WEG has the know-how to ensure that every solar station is fit-for-purpose and assures safety, efficiency and reliability.
Solar power has become an increasingly competitive renewable energy source around the world and offers fast installation with low environmental impact. Developed to support this important global trend, WEG's central inverters provide a complete solution for investors who want to take the lead in contributing to a more sustainable future.
Credit(s)
Further reading:
LV switchboard with enhanced safety features
Schneider Electric South Africa Electrical Power & Protection
Schneider Electric's next-generation BlokSeT switchboard enhances safety, reliability and connectivity for innovative power distribution and motor control.
Read more...
---
Beware the fire starter
Schneider Electric South Africa Electrical Power & Protection
Smart sensing has come a long way, and now allows organisations to proactively focus on and mitigate potential electrical fires, providing a substantial improvement in resilience.
Read more...
---
Optimising a building's energy consumption through data analysis
Electrical Power & Protection
The Empire State Building is a well-known example of how retrofitting can reap significant benefits, and is now considered to be one of the world's most energy efficient buildings.
Read more...
---
Buckman and Energy Drive partner on sustainability efforts
Electrical Power & Protection
The partnership has delivered 4 million kWh in energy savings, which equates to 4,16 million kg of CO
2
eliminated, 5,5 million litres of water saved, and 2,74 million kg of coal and ash reduction.
Read more...
---
Failsafe networking of photovoltaic systems
Phoenix Contact Electrical Power & Protection
Zebotec's large free-standing systems come with their own challenges, but for its floating power stations on bodies of water, wireless Ethernet networking is the only sensible solution.
Read more...
---
Narrow power supply with high power density
Phoenix Contact Electrical Power & Protection
The devices are particularly suitable for urban infrastructure and in machine building, where they find their way into small systems with basic requirements.
Read more...
---
Stakeholder engagement mitigates renewable energy project delays
Electrical Power & Protection
The challenge lies in seeing that a low-carbon transition is not about replacing one dirty fuel with another, cleaner type, but about adjusting our entire way of life around that fuel.
Read more...
---
Phoenix Contact launches Energy Solution Partner programme
Phoenix Contact Electrical Power & Protection
The concept is a win-win for end-customers, Energy Solution Partners and Phoenix Contact alike.
Read more...
---
Zest WEG develops robust local supply chain
Zest WEG News
The company has progressively increased its level of local manufacturing over the past decade and now boasts six manufacturing sites – four in the Gauteng region and two in Cape Town.
Read more...
---
Hitachi and Petrofac join forces on offshore wind power
News Electrical Power & Protection
The collaboration builds on the complementary core technologies and expertise of both companies, and covers high-voltage DC and AC solutions.
Read more...
---