printer friendly version
Rittal and Eplan join forces to add value for customers
September 2021
Enclosures, Cabling & Connectors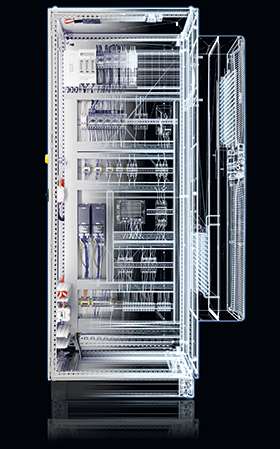 Thanks to an established international footprint, these two brands have found ways to optimise and streamline their customers' value chains at every stage in the process. "From engineering, sourcing and manufacturing through to operations and IT, we are helping customers reach the new Industry 4.0 standard," explains Adrian Buddingh, managing director, Rittal South Africa.
"Rittal and Eplan use combined software solutions, system technology and machinery for automation," adds Johan Reyneke, managing director, Eplan South Africa. "Only manufacturers that offer digitalisation and end-to-end data across all processes and systems will survive in the future. Together, Rittal and Eplan are at your side with their combined know-how and perfectly coordinated solutions. Adding to this, the unified integration between Rittal RICS configurator and the new Eplan ePulse cloud solution will make the journey from panel configuration to project completion quick and seamless."
The value added at each stage is detailed as follows:
Engineering
The key to greater productivity in enclosure manufacturing lies in digital integration and end-to-end data transfer throughout the entire value chain. Digital prototyping from the outset, with the digital twin taking centre stage, provides the basis for rapid links across processes and systems.
Sourcing
Never has it been easier to configure and order your perfect product and get it delivered in no time at all. All configuration and online shop solutions are closely interlinked with digitally integrated production at the new Rittal plant. As a result, client company value chains benefit from end-to-end data during the sourcing process and beyond.
Manufacturing
Benefit from the fully automated machinery and innovative automation solutions of Rittal and Rittal Automation Systems accrue in manufacturing operations when combined with the digital twin from the engineering stage, courtesy of Eplan, which serves as a virtual prototype and a central database throughout the production process.
Operations
After commissioning, machines and systems must ensure reliable long-term operation as the key to efficient, high-performance production. Here too, Eplan and Rittal are at your side with innovative solutions.
Added value
End-to-end data is the real success factor, saving time and money in value creation processes, preventing errors and leading to a lasting improvement in productivity.
The digital twin
"At the heart of all this is the digital twin of the actual product, which links all process steps from electrical engineering through to service operations," says Reyneke. "Products from Rittal and Eplan provide comprehensive support at every stage of the procurement process, from engineering, sourcing and manufacturing through to operations and IT. They enable you to reap the rewards of successfully completing the transformation to Industry 4.0."
"Rittal provides tailored IT and OT solutions for the data required and generated during the production process," concludes Buddingh. "These range from modular, scalable system architecture and energy-efficient data centres with innovative security concepts for physical data and system backups, all the way through to edge cloud data centres in the actual production environment that combine data sovereignty and real-time capabilities with AI-based applications."
For more information contact Rittal South Africa, +27 11 609 8294, info@rittal.co.za, www.rittal.co.za
Further reading:
Connectors for the evolving world of test and measurement
Spectrum Concepts Enclosures, Cabling & Connectors
Instrumentation employed to test new products needs to become more advanced to keep up with the rapidly increasing technology in these products.
Read more...
---
Pluggable system solution for control cabinet-free automation
Beckhoff Automation Enclosures, Cabling & Connectors
Beckhoff's MX-System provides maximum efficiency for machine builders, control cabinet manufacturers and end-users.
Read more...
---
Cost-effective electrical termination solutions for the construction industry
Pratley Enclosures, Cabling & Connectors
It is important not to compromise on quality in favour of cost, especially for safety-critical termination parts like cable glands and junction boxes.
Read more...
---
Compact emergency stop button
Anglo Allied Engineering Enclosures, Cabling & Connectors
Bernstein has brought out a smaller version of its safety rope limit switch, adding an extra layer of safety to the operation of machines and conveyor belts, with greater space saving and versatility.
Read more...
---
Automation construction kit replaces the control cabinet
Beckhoff Automation Enclosures, Cabling & Connectors
Beckhoff's MX-System harnesses all the advantages of PC- and EtherCAT-based control technology at the same time.
Read more...
---
Reliable interface for the blind plugging of modular connections
Phoenix Contact Enclosures, Cabling & Connectors
The new docking frames of the Phoenix Contact Heavycon product family enable the time-saving installation and maintenance of push-in systems and other applications in which the interfaces cannot be seen.
Read more...
---
Tool-free cabling with M12 push-lock connectors
Phoenix Contact Enclosures, Cabling & Connectors
Confined spaces and customised cable lengths are becoming increasingly common when it comes to the cabling of machines and systems. Whether for signal, data or power transmission, the Phoenix Contact 
...
Read more...
---
Pratley stands firm with international and local market growth
Pratley Enclosures, Cabling & Connectors
Shipping and supply-chain issues have led to a global shortage of a range of items and commodities. "The world is shopping around at the moment and we have seen fairly substantial international interest 
...
Read more...
---
Amphenol circular connectors available from RS Components
RS Components SA Enclosures, Cabling & Connectors
Extensive series of M8x1 D-coded devices delivers best-in-class data and power signal integrity for Ethernet industrial automation applications.
Read more...
---
Pratley's flameproof junction box
Pratley Enclosures, Cabling & Connectors
By combining a flameproof junction box with its Kwikblok terminals, Pratley can prevent arcing across the connections themselves.
Read more...
---