printer friendly version
Ana-Digi boosts energy efficiency at local mine
Technews Industry Guide: Sustainable Manufacturing 2021
Motion Control & Drives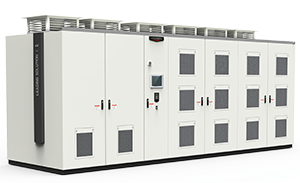 When a major player in the gold mining industry wanted to reduce the high cost of electricity required to run the shaft ventilation fans at a particular site – more than R90 million per annum – as well as reduce the cost of maintaining the existing slip ring motors, it approached Ana-Digi Systems for a solution. Management felt comfortable entrusting the project to Ana-Digi, as it had already implemented several similar conversions for the mining group. As a solution, Ana-Digi designed and implemented a new drive system based on LS Electric medium-voltage VFDs.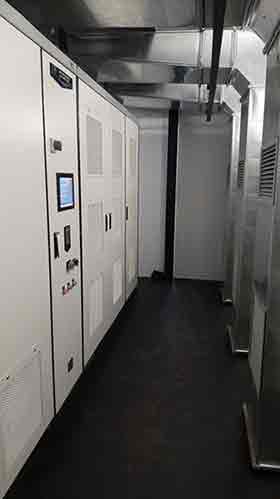 Solution design and implementation
The site has three 2,4 MW ventilation fans, two of which are duty fans, with the third being a hot standby unit. To drive the fans, the existing system utilised slip ring motors, which were run up to speed by using liquid starters. However, the slip rings needed regular brush maintenance and were prone to arcing across the brush-gear. In the new system, the existing motors were converted to operate as standard squirrel cage units by bypassing the slip rings. All three fans were then equipped with LS Electric VFDs, each with its own air-conditioned e-house, vacuum circuit breaker and fire detection system.
The reduction in energy consumption was immediately obvious. Maximum demand during starting was no longer a factor, with the mains current draw rising smoothly from zero to the reduced operating amps drawn by the motors. Underground air flow and air quality were then checked by the mine's ventilation experts to ensure that all necessary standards were met.
Once the site acceptance tests had successfully been completed, a service level agreement was drawn up to cover routine cleaning and checking of the various system components. One spare power module was provided for each VFD to cover any possible failure, even though the drives have an MTBF of 100 000 hours and no immediate problems were envisaged. In addition, the motors themselves are now subjected to much less wear and tear due to the reduced speed and the drastically reduced starting currents.
Benefits to the customer
Expectations were that greater reliability and control of the fans could be achieved using 15-20% less energy, without compromising the ventilation performance. In fact, the new VFD system achieved better than 40% energy reduction with initial savings closer to 50%. The VFDs were turned up a bit after the 40% savings mark had been settled on.
As things stand, the new system has delivered outstanding improvements in energy consumption, promising to pay for itself in just over one year.
Conclusion
Ana-Digi Systems strove to design and implement a state-of-the-art drive system to match the client's expectations of improved control and energy saving. Despite Covid-19 induced shipping delays and road transport disruption, which set the project back by about two months, an extremely successful upgrade was achieved at the mine. Delighted with the results, the client company is enjoying success in line with its stated energy-saving objectives and has been rewarded with a system that should pay for itself in just over a year. The success of this project has paved the way for more similar conversion projects in the future.
Credit(s)
Further reading:
BMG'S Nord IE5+ motor generation
October 2021, Bearing Man Group t/a BMG , Motion Control & Drives
BMG and German precision engineers, Getriebebau Nord, entered a partnership agreement in 1996 to assemble, distribute and support Nord Drive Systems throughout southern Africa.
Read more...
---
V-belts designed for food applications
September 2021, Bearing Man Group t/a BMG , Motion Control & Drives
BMG supplies a wide range of power transmission components, designed to enhance efficiency and safety in the food and beverage sector.
Read more...
---
Control automation excellence
September 2021, SEW-Eurodrive , Motion Control & Drives
Movi-C from SEW-EURODRIVE is a unique automation control system that sets a new benchmark in control automation, embracing Industry 4.0 technology.
Read more...
---
Efficient agriculture systems from BMG
Technews Industry Guide: Sustainable Manufacturing 2021, Bearing Man Group t/a BMG , Motion Control & Drives
BMG's Boer Slim/Smart-Farming agricultural team works closely with farmers throughout southern Africa, assisting them with the selection, installation and operation of new electromechanical systems. These 
...
Read more...
---
Inertial spin filters save energy
Technews Industry Guide: Sustainable Manufacturing 2021 , Motion Control & Drives
RTS Africa's inertial spin filters provide an effective, maintenance-free solution to dust problems in MCC rooms, transformer rooms, control rooms and the like.
Read more...
---
Drives for the chemical sector
July 2021, Bearing Man Group t/a BMG , Motion Control & Drives
BMG's range of Danfoss electronic, mechanical and intelligent mechatronic devices are designed to optimise automation processes and reduce energy consumption in many sectors, including the chemical industry.  
...
Read more...
---
The benefits of mobile robots and cobots
July 2021, Omron Electronics , Motion Control & Drives
Easily configurable production lines will in future consist of collaborative and flexible transport and transfer solutions, tailored to specific production environments.
Read more...
---
XTS transport system handles demanding packaging applications
July 2021, Beckhoff Automation , Motion Control & Drives
Beckhoff's intelligent XTS transport system sorts bottles while managing automatic format changeovers.
Read more...
---
BMG's integrated geared motors for efficiency
June 2021, Bearing Man Group t/a BMG , Motion Control & Drives
An integrated geared unit that combines the recently launched Nord IE5+ synchronous motor and a single-stage helical gear unit offers optimum system efficiency.
Read more...
---
New motors extend the Sinamics S210 system
June 2021, Siemens Digital Industries , Motion Control & Drives
Siemens has added new servo motors to its proven Sinamics S210 single-cable servo drive system, thereby expanding its range of applications.
Read more...
---