printer friendly version
Ana-Digi boosts energy efficiency at local mine
Technews Industry Guide: Sustainable Manufacturing 2021
Motion Control & Drives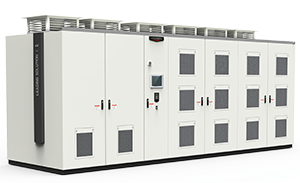 When a major player in the gold mining industry wanted to reduce the high cost of electricity required to run the shaft ventilation fans at a particular site – more than R90 million per annum – as well as reduce the cost of maintaining the existing slip ring motors, it approached Ana-Digi Systems for a solution. Management felt comfortable entrusting the project to Ana-Digi, as it had already implemented several similar conversions for the mining group. As a solution, Ana-Digi designed and implemented a new drive system based on LS Electric medium-voltage VFDs.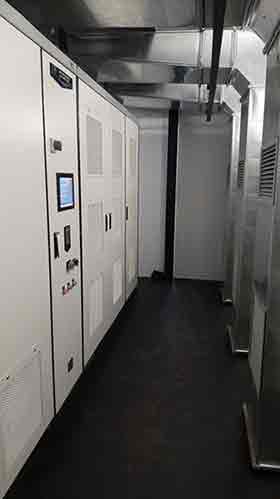 Solution design and implementation
The site has three 2,4 MW ventilation fans, two of which are duty fans, with the third being a hot standby unit. To drive the fans, the existing system utilised slip ring motors, which were run up to speed by using liquid starters. However, the slip rings needed regular brush maintenance and were prone to arcing across the brush-gear. In the new system, the existing motors were converted to operate as standard squirrel cage units by bypassing the slip rings. All three fans were then equipped with LS Electric VFDs, each with its own air-conditioned e-house, vacuum circuit breaker and fire detection system.
The reduction in energy consumption was immediately obvious. Maximum demand during starting was no longer a factor, with the mains current draw rising smoothly from zero to the reduced operating amps drawn by the motors. Underground air flow and air quality were then checked by the mine's ventilation experts to ensure that all necessary standards were met.
Once the site acceptance tests had successfully been completed, a service level agreement was drawn up to cover routine cleaning and checking of the various system components. One spare power module was provided for each VFD to cover any possible failure, even though the drives have an MTBF of 100 000 hours and no immediate problems were envisaged. In addition, the motors themselves are now subjected to much less wear and tear due to the reduced speed and the drastically reduced starting currents.
Benefits to the customer
Expectations were that greater reliability and control of the fans could be achieved using 15-20% less energy, without compromising the ventilation performance. In fact, the new VFD system achieved better than 40% energy reduction with initial savings closer to 50%. The VFDs were turned up a bit after the 40% savings mark had been settled on.
As things stand, the new system has delivered outstanding improvements in energy consumption, promising to pay for itself in just over one year.
Conclusion
Ana-Digi Systems strove to design and implement a state-of-the-art drive system to match the client's expectations of improved control and energy saving. Despite Covid-19 induced shipping delays and road transport disruption, which set the project back by about two months, an extremely successful upgrade was achieved at the mine. Delighted with the results, the client company is enjoying success in line with its stated energy-saving objectives and has been rewarded with a system that should pay for itself in just over a year. The success of this project has paved the way for more similar conversion projects in the future.
Credit(s)
Further reading:
Improved bearing block units for higher efficiency
Bearing Man Group t/a BMG Motion Control & Drives
BMG's range of BTC bearings and components – which is manufactured exclusively for BMG to stringent quality and safety specifications – has been extended to include new bearing block units.
Read more...
---
Electric cylinders eliminate compressed air requirements in production plants
Beckhoff Automation Motion Control & Drives
Beckhoff Automation's AA3000 Series represents an efficient servomotor alternative to energy-intensive pneumatic cylinders.
Read more...
---
Driving African mining solutions
SEW-Eurodrive Motion Control & Drives
SEW offers customised solutions for the African mining industry and lead time advantages thanks to its new multimillion local assembly facility in Johannesburg.
Read more...
---
Integrated bearing assemblies for tough applications
Bearing Man Group t/a BMG Motion Control & Drives
These NSK parts are designed especially for vibratory screen machines, which are used in arduous construction, agriculture, quarrying and mining applications.
Read more...
---
Proud milestone for Bearings International
Bearings International Motion Control & Drives
"We are definitely one of the longest-serving Cooper distributors in the world. It is a fantastic achievement, especially as it remains one of our top-selling brands."
Read more...
---
Sliding from Munich to Cairo on durable igus linear carriage
RS Components SA Motion Control & Drives
With the T20 of the drylin W series, igus has launched a new linear carriage which has the same dimensions as most classic carriages with recirculating ball bearing guides.
Read more...
---
XTS transport system with innovative 'No Cable Technology'
Beckhoff Automation Motion Control & Drives
Contactless power supply and synchronous real-time data communication enable XTS movers to be expanded into mobile handling and processing stations.
Read more...
---
An innovative alternative to mechanical seals
Bearing Man Group t/a BMG Motion Control & Drives
BMG's range of Garlock sealing products includes a versatile sealing system that replaces mechanical seals in industrial pump applications. Garlock's Hydra-Just system is a reliable, leak-free rotary 
...
Read more...
---
PC-based control for vehicles converted to electric drives
Motion Control & Drives
For small-series producers and manufacturers with a wide range of vehicle variants, being able to count on comprehensive test bench technology that is fast, flexible and cost-effective is hugely important. Kempten University of Applied Sciences has implemented a test bench just like this for ABT e-Line, allowing it to perform tasks such as testing Volkswagen vans that have been converted to an electric drive. PC-based control technology from Beckhoff serves as the central feature of the standard industrial components used.
Read more...
---
Brake takes the heat on aluminium smelter
Motion Control & Drives
With superheated molten metal moving through the facility, aluminium smelters need equipment that operates at the highest level of reliability. To ensure that the hoist installed on its aluminium smelter 
...
Read more...
---