printer friendly version
Portable combustion gas analyser
Technews Industry Guide: Sustainable Manufacturing 2021
Analytical Instrumentation & Environmental Monitoring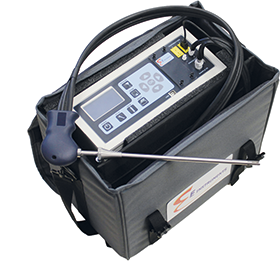 The E8500 Plus is a powerful and advanced portable emissions analyser, a complete, portable tool for EPA compliance and level emissions monitoring of boilers, engines and other combustion equipment.
An internal pressure sensor allows the analyser to measure both pressure and stack draught. With two pressure inputs, differential pressure can also be measured, and gas velocity can be measured using the differential pressure and an optional Pitot tube. The sample conditioning unit is mounted directly at the sampling probe exit, where excess moisture rapidly condenses and separates from the gas sample. This minimises contact of the gases with moisture, which could potentially affect NOx and SO2 measurements.
The internal thermoelectric chiller efficiently removes the water vapour from the flue gas sample to prevent combustion gases from bubbling from the gas phase into the condensate. The built-in condensate drain pump automatically pumps the accumulated water out through the bottom of the unit for greater convenience.
Real-time software with data logging
The updated EGAS software package includes the ability to save and graph data in real-time in the field with a laptop, or in a laboratory with a PC. It also allows the user to automatically log data for an exact number of tests for a specified time period. Communications between the E8500 Plus and a computer are established either by wireless Bluetooth communications or a USB cable. Data from the EGAS software can be exported to other spreadsheet programs for more user flexibility to create detailed emission reports.
The E8500 Plus can accommodate a maximum of nine gas sensors: up to six electrochemical type sensors and up to three non-dispersive infrared (NDIR) type sensors, plus an optional photoionisation detector (PID) sensor for measuring volatile organic compounds (VOC). A newly designed user interface incorporates an easily accessible filter compartment for quick and simple inspection and replacement of filters in the field.
Credit(s)
Further reading:
Systec introduces new autoclaves and software
Opto Africa Holdings Analytical Instrumentation & Environmental Monitoring
Autoclaves from Systec can be used in all laboratory applications for sterilising solids, liquids, waste and hazardous biological substances.
Read more...
---
Workers' safety assured by Becker's gas monitoring system
Becker Mining South Africa Analytical Instrumentation & Environmental Monitoring
This hybrid system is customisable to all installation requirements, including copper, RF and fibre-optic data connectivity.
Read more...
---
How utility instrumentation can benefit your plant
Endress+Hauser South Africa Analytical Instrumentation & Environmental Monitoring
An auxiliary plant instrument reading has to be available on demand, otherwise potentially serious problems may remain hidden.
Read more...
---
Versatile handheld indoor air quality meters
GHM Messtechnik SA Analytical Instrumentation & Environmental Monitoring
Both instruments are easy to handle and compact in design, and can be charged easily with a mobile phone cord.
Read more...
---
Water and wastewater treatment in the digital age
Endress+Hauser South Africa Editor's Choice Analytical Instrumentation & Environmental Monitoring
In these testing times of declining water security, IoT technology has been proven to boost operational efficiency and inform smart investment decisions.
Read more...
---
New webpage showcases natural gas plant analysers
Elemental Analytics News Analytical Instrumentation & Environmental Monitoring
Flagship products include multi-component odorant monitoring, hydrogen sulphide and carbon dioxide measurement, BTEX analysis and saybolt readings.
Read more...
---
Digitally managing energy costs and decarbonisation
Yokogawa South Africa Electrical Power & Protection Analytical Instrumentation & Environmental Monitoring
Real-time data combined with a single, asset-wide digital twin and proprietary analytics capabilities enable automatic opportunity identification and performance gap breakdown.
Read more...
---
Modified atmosphere packaging – making the right choice of gas analysis
Elemental Analytics Analytical Instrumentation & Environmental Monitoring
Modified atmosphere packaging (MAP) is used within the food and pharmaceutical sectors to extend the shelf life of many products that would otherwise deteriorate quickly in the presence of oxygen. It 
...
Read more...
---
Reducing the carbon footprint of milk production
Analytical Instrumentation & Environmental Monitoring
The certified Valio Carbo environmental calculator is used in monitoring the carbon balance of Valio dairy farms. In 2021, more than a thousand of them (about a quarter of all the company's dairy farms) 
...
Read more...
---
Process safety transformed by TDL technology
Elemental Analytics IS & Ex
Servomex has introduced a new advantage to safety systems with its unique line lock technology incorporated into the latest tunable diode laser (TDL) analysers.
Read more...
---