printer friendly version
Non-Nuclear online slurry density measurement
Technews Industry Guide: Sustainable Manufacturing 2021
Analytical Instrumentation & Environmental Monitoring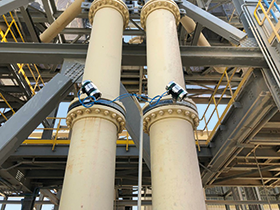 When a local metal smelting operation had a requirement to remove manual sampling from its slurry line and replace it with an online density measuring instrument, Allpronix was approached to advise on a solution. One of the requirements was that any proposed online system had to be radiation-free/non-nuclear, due to the associated safety and environmental regulations.
The solution
Allpronix proposed Rhosonics' slurry density meter (SDM) as a good solution for this measuring task because of its reliable real-time density measurement capabilities. In addition, the meter is non-nuclear, which means it does not pose threats to human health or the environment. This meant no special training of personnel, no need for a radiation safety officer (RSO) on site, and no associated licencing costs.
Rhosonics describes its mission as being to help industry through the provision of sustainable ultrasonic technology that allows safer, more reliable and cost-effective operation, in contribution to a greener and smarter industry.

In the last decade, the company has made significant steps towards becoming the leading supplier for density meters in mining applications through proving the reliability of ultrasonic technology for density measurement based on acoustic impedance. In 2020, the Rhosonics SDM became winner of the 'Environmental Impact' category in the mining excellence awards as one of the great achievements and innovations in the mining industry.
The technology
By measuring the acoustic impedance of a slurry, the SDM calculates its density in real-time during the process. The latest sensor is made of stainless steel and ceramic material, which give it advantageous properties. Making use of ceramic materials gives the ultrasonic signal more power than before; also, it is more wear resistant than previous models.
The transducer generates short, highly dampened ultrasonic pulses in the frequency range between 1 and 7,5 MHz. Differences in acoustic impedance of materials causes this acoustic signal to be (partially) reflected. As the density of liquid increases, so does its acoustic impedance, causing a decrease in the strength of the reflected signal (see Figure 1 below). The vibrations of the reflected signal cause the piezo element to send out electric signals, which are then analysed in the device and eventually used for density calculations.

Figure 1. Measuring principle of the ultrasonic density meter.
Today, the Rhosonics SDM is a sustainable solution for the mineral processing industry. This ultrasonic measuring instrument is designed to determine the slurry density in real-time to verify the amount of solid content in a liquid. Features and benefits include:
• Reliable results under harsh process conditions.
• Fast delivery times.
• Robust, compact and lightweight.
• Easy installation and calibration.
With more than 800 installations worldwide and more than 10 years of experience in the mining industry, Rhosonics has proven that ultrasonic sensors are suitable for the harshest process applications where typically only radiation-based technologies were applied.
Results
After installation of the Rhosonics SDM, the smelting company has achieved its goal of real-time online density measurement, which has allowed greater control of the process, enabling the production of a more consistent product.
A payback time of approximately two years is anticipated through reduction of labour costs and hours spent on manual sampling. In addition, no extra expenses were required for RSO training or radiation leakage tests.
Credit(s)
Further reading:
Systec introduces new autoclaves and software
Opto Africa Holdings Analytical Instrumentation & Environmental Monitoring
Autoclaves from Systec can be used in all laboratory applications for sterilising solids, liquids, waste and hazardous biological substances.
Read more...
---
Workers' safety assured by Becker's gas monitoring system
Becker Mining South Africa Analytical Instrumentation & Environmental Monitoring
This hybrid system is customisable to all installation requirements, including copper, RF and fibre-optic data connectivity.
Read more...
---
How utility instrumentation can benefit your plant
Endress+Hauser South Africa Analytical Instrumentation & Environmental Monitoring
An auxiliary plant instrument reading has to be available on demand, otherwise potentially serious problems may remain hidden.
Read more...
---
Versatile handheld indoor air quality meters
GHM Messtechnik SA Analytical Instrumentation & Environmental Monitoring
Both instruments are easy to handle and compact in design, and can be charged easily with a mobile phone cord.
Read more...
---
Water and wastewater treatment in the digital age
Endress+Hauser South Africa Editor's Choice Analytical Instrumentation & Environmental Monitoring
In these testing times of declining water security, IoT technology has been proven to boost operational efficiency and inform smart investment decisions.
Read more...
---
New webpage showcases natural gas plant analysers
Elemental Analytics News Analytical Instrumentation & Environmental Monitoring
Flagship products include multi-component odorant monitoring, hydrogen sulphide and carbon dioxide measurement, BTEX analysis and saybolt readings.
Read more...
---
Balluff adds wireless solution to IO-Link portfolio
Allpronix Industrial Computer Hardware Fieldbus & Industrial Networking
Balluff's portfolio expands with its IO-Link Wireless variant for a fast, reliable and flexible solution that guarantees consistent system integration and compatibility.
Read more...
---
Digitally managing energy costs and decarbonisation
Yokogawa South Africa Electrical Power & Protection Analytical Instrumentation & Environmental Monitoring
Real-time data combined with a single, asset-wide digital twin and proprietary analytics capabilities enable automatic opportunity identification and performance gap breakdown.
Read more...
---
Modified atmosphere packaging – making the right choice of gas analysis
Elemental Analytics Analytical Instrumentation & Environmental Monitoring
Modified atmosphere packaging (MAP) is used within the food and pharmaceutical sectors to extend the shelf life of many products that would otherwise deteriorate quickly in the presence of oxygen. It 
...
Read more...
---
Reducing the carbon footprint of milk production
Analytical Instrumentation & Environmental Monitoring
The certified Valio Carbo environmental calculator is used in monitoring the carbon balance of Valio dairy farms. In 2021, more than a thousand of them (about a quarter of all the company's dairy farms) 
...
Read more...
---