printer friendly version
Are you ready for the 2G/3G sunset?
August 2021
Industrial Wireless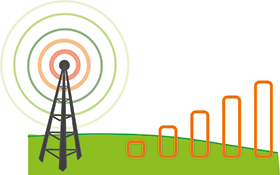 In many countries, the radio spectrum is highly regulated, with small portions of frequencies sold for vast sums of money to mobile network operators, enabling cellular devices with access to the Internet. With widespread adoption of 4G technology and services and the growing availability of 5G around the world, older technologies (2G and 3G) are now slowly being phased out.
The transition from 2G and 3G to the next generation of cellular networks may not happen overnight, however, migration to 4G-enabled devices has its benefits. 4G devices usually support all cellular technologies, including 2G and 3G, due to the chipsets built into the devices. This means that if a 2G-only device is replaced by a 4G-enabled device it can use those additional services should 4G be available in the area. This allows standardisation of networking equipment while using multiple cellular networks.
Migration to a new communications technology will create capital and project costs in the short term, but the possibility to gather more data than ever before, and then do more with it, will help to drive profitability in the long term. Current and next-generation services, such as 4G and 5G, pave the way for high-speed and low-latency networks that are perfect for IIoT, M2M and real-time data collection. The mass deployment of 4G worldwide has provided businesses with significant opportunities to improve performance and 5G will expand those opportunities even further.
Despite the promise of 5G, 4G will provide those migrating from 2G and 3G with a replacement service for the next decade, with 4G and 5G expected to coexist for many years to come. This means that over the next few years businesses will need to consider migrating to a newer cellular network and update their systems accordingly. For many, that will be 4G, which is already one of the most widely available and cost-effective global cellular network services.
Westermo, through the design and manufacture of data communications products for mission-critical systems in physically demanding environments, is ideally positioned to assist customers with their migration through the provision of relevant products and technical assistance.
Readers wanting more information can download the complete white paper at https://instrumentation.co.za/papers/J6163.pdf.
For more information contact Bob Petrie, Throughput Technologies, +27 11 705 2497, bob@throughput.co.za, www.throughput.co.za
Credit(s)
Further reading:
New addition to the Times-7 A5020 antenna range
Osiris Technical Systems Industrial Wireless
The Times-7 A5020 range of UHF RFID antennas was recently expanded with the addition of a mid-range and a linear extreme antenna.
Read more...
---
Wireless addition to the Jumo automation system
ASSTech Process Electronics + Instrumentation Industrial Wireless
Up to 32 wireless Jumo Wtrans sensors can be connected via a wireless gateway for various purposes, including measuring temperature or pressure.
Read more...
---
Gateway carries IO-Link sensor data to the cloud
ifm - South Africa Industrial Wireless
ifm electronic's io-key can bring data from more than 10 000 industrial sensors from more than 200 manufacturers into the cloud.
Read more...
---
How to use edge computing in industrial IoT
Industrial Wireless
Edge computing is a cloud environment located closer to automation-enabled devices at the edge of the network rather than at the data centre. End-points are connected to the operational network and control 
...
Read more...
---
I/O sensor turns wired sensors wireless
TRX Electronics Industrial Wireless
The Sentrius BT610 I/O sensor from Laird Connectivity is a new Bluetooth 5 sensor platform that turns wired sensors into IP67-rated, battery-operated wireless nodes that provide robust and secure messaging 
...
Read more...
---
5G routers for mission-critical operations
Industrial Wireless
The integration of 5G in Hitachi Energy's TRO600 routers enables a fast, secure and reliable hybrid wireless network for enhanced operational efficiency.
Read more...
---
Portable wireless gateway for Ex areas
Comtest Industrial Wireless
Comtest – local representative of Industrial Scientific, a global leader in gas detection – has introduced the RGX Gateway, which enables designated safety contacts to receive real-time alerts for gas 
...
Read more...
---
Simplify collaboration between machines and operators
RJ Connect Industrial Wireless
Moxa's wireless networking solutions are the perfect fit for manufacturing environments.
Read more...
---
DEK wireless kit
Turck Banner Industrial Wireless
The standalone DEK wireless kit from Turck Banner includes everything needed for a remote preventive maintenance monitoring solution.
Read more...
---
Unwired unleashes new possibilities
RJ Connect Industrial Wireless
In situations where it is hard to wire or reconfigure industrial operations, wireless LANs (WLANs) provide an ideal alternative.
Read more...
---