printer friendly version
Adjustable cable gland is easy to fit
August 2021
Enclosures, Cabling & Connectors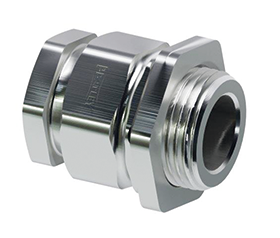 A cable gland performs two basic functions, namely fastening the cable to the apparatus so that it cannot pull out, and earthing the cable armouring to which it is connected. Cable termination manufacturer, Pratley, produces a uniquely adjustable cable gland that fits any size armouring. The adjustability of the gland makes it easy to fit.
Unique to the gland is an ingenious differential nut device to ensure unprecedented clamping force for aggressive armour anchoring. Using two lightly different coarse pitch threads, it achieves the mechanical advantage of an ultra-fine pitch thread. The armour is sufficiently gripped when the gland is only hand tightened. The differential nut is also self-locking, which means that the gland is locked in the adjusted position, even under extreme vibration.
Each gland size covers a range of cable sizes, while the thickness of the armouring also varies. On an ordinary cable gland, the only place to make up for these changes is in the thread. When the maximum size of cable that will go into a given gland is reached, one section of the gland clings to the other by only a thread or two when it is tightened up. This does not happen with the Pratley adjustable cable gland, as the same number of threads are always mated.
The gland is nickel-plated to reduce bimetal corrosion and the shroud is made from a specially formulated synthetic rubber to render the gland watertight. It will also resist acids and oils and will be unaffected by sunlight and UV radiation. Moreover, it fits snugly into the groove provided for it on the gland. Unlike conventional glands, the shroud covers the whole gland, meaning that when it is fitted, the only exposed part is a portion of the nut.
For more information contact Pratley, +27 11 955 2190, sales@pratley.co.za, www.pratleyelectrical.com
Credit(s)
Further reading:
Connectors for the evolving world of test and measurement
Spectrum Concepts Enclosures, Cabling & Connectors
Instrumentation employed to test new products needs to become more advanced to keep up with the rapidly increasing technology in these products.
Read more...
---
Pluggable system solution for control cabinet-free automation
Beckhoff Automation Enclosures, Cabling & Connectors
Beckhoff's MX-System provides maximum efficiency for machine builders, control cabinet manufacturers and end-users.
Read more...
---
Cost-effective electrical termination solutions for the construction industry
Pratley Enclosures, Cabling & Connectors
It is important not to compromise on quality in favour of cost, especially for safety-critical termination parts like cable glands and junction boxes.
Read more...
---
Compact emergency stop button
Anglo Allied Engineering Enclosures, Cabling & Connectors
Bernstein has brought out a smaller version of its safety rope limit switch, adding an extra layer of safety to the operation of machines and conveyor belts, with greater space saving and versatility.
Read more...
---
Automation construction kit replaces the control cabinet
Beckhoff Automation Enclosures, Cabling & Connectors
Beckhoff's MX-System harnesses all the advantages of PC- and EtherCAT-based control technology at the same time.
Read more...
---
Reliable interface for the blind plugging of modular connections
Phoenix Contact Enclosures, Cabling & Connectors
The new docking frames of the Phoenix Contact Heavycon product family enable the time-saving installation and maintenance of push-in systems and other applications in which the interfaces cannot be seen.
Read more...
---
Tool-free cabling with M12 push-lock connectors
Phoenix Contact Enclosures, Cabling & Connectors
Confined spaces and customised cable lengths are becoming increasingly common when it comes to the cabling of machines and systems. Whether for signal, data or power transmission, the Phoenix Contact 
...
Read more...
---
Pratley stands firm with international and local market growth
Pratley Enclosures, Cabling & Connectors
Shipping and supply-chain issues have led to a global shortage of a range of items and commodities. "The world is shopping around at the moment and we have seen fairly substantial international interest 
...
Read more...
---
Amphenol circular connectors available from RS Components
RS Components SA Enclosures, Cabling & Connectors
Extensive series of M8x1 D-coded devices delivers best-in-class data and power signal integrity for Ethernet industrial automation applications.
Read more...
---
Flameproof cable glands
Pratley IS & Ex
A new flameproof cable gland range from Pratley allows for soft-bedding cables like PVC to be fitted to flameproof equipment without any concern regarding cable damage.
Read more...
---