printer friendly version
From the Editor's desk: Bryan Baxter talks cybersecurity
August 2021
News
This month, SA Instrumentation and Control welcomes Bryan Baxter to the editorial fold. Bryan, a 20-year IT Industry veteran, recently joined Wolfpack Information Risk where his extensive knowledge of IT and information security is proving invaluable to clients. We first met Bryan at one of the SAIMC Durban branch virtual technology evenings, where he presented to members on the importance of effective cybersecurity for industrial networks.
Two things really impressed us about the presentation. First was the extent of Bryan's knowledge and understanding of the subject matter, and second, was the unbridled enthusiasm he projected – not always an easy thing to do with only virtual audience participation. At SAI&C we have long held the view that as OT and IT converge, good cybersecurity practice on the control networks is going to become ever more critical. With that in mind, we were delighted when Bryan agreed to author a series of articles that will run in the magazine over the coming months.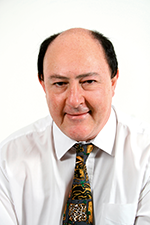 Steven Meyer, Editor
As the series unfolds, Bryan will cover several areas of vulnerability presented by industrial networks to opportunistic hackers, from the threat posed by people on site, to the organisations' suppliers and their IT systems, to the impact of 4IR on cybersecurity for OT systems.
The first article in the series positions the problem by posing the question: How safe are our factories? From the cybersecurity perspective, this question earned its relevance in the aftermath of the ingenious Stuxnet attack that tore apart the centrifuges at a nuclear facility in Iran, while fooling operators into thinking everything was running smoothly.
The sophistication of the Stuxnet malware was evident in its ability to do absolutely nothing until it identified the specific control architecture it was designed to attack, whereupon all hell broke loose. Since then, the number of cyberattacks against industrial facilities has been on the rise, culminating in the recent Darkside takeover of Colonial Pipeline's systems.
There is no doubt that cybersecurity is an issue that manufacturing CIOs must now take very seriously. But, as in the IT world, it's a problem that involves us all and constant awareness is a big part of the solution. Bryan's first article appears here: http://www.instrumentation.co.za/13900r – it's well worth a read.
Technews Industry Guide: Sustainable Manufacturing
Due to a shift in emphasis towards sustainability and waste elimination in manufacturing, we have put together a new handbook to accompany the August issue of the magazine. In essence, sustainable manufacturing is an expanded form of traditional production strategy designed to minimise negative impact on society and the environment. Since automation provides the nexus between sustainability and manufacturing, automation vendors are tackling the problem on two fronts. Firstly, they are looking inward at their own operations and refurbishing their office space and production facilities to ensure the sustainability of their own companies. And secondly, they are looking outward to develop new products and services that address sustainability dilemmas within their customers' organisations.
This is the stuff of the new Technews Industry Guide: Sustainable Manufacturing, which presents the subject through application studies, product news, and relevant sustainability reports. We hope you find it useful.
Credit(s)
Further reading:
New chief marketing and communications officer joins Zutari
News
Leading consulting engineering and infrastructure advisory firm, Zutari, has appointed Zipporah Maubane as chief marketing and communications officer for Africa and the Middle East (AME).    The company 
...
Read more...
---
Women thrive at the coalface of BI's sales and customer service
Bearings International News
"Do not compare yourself to others. Work hard, as no job is beneath you. Soak up the knowledge available to you. Do not be discouraged or demotivated."
Read more...
---
More women to be capped at MUT's Women's Month graduation
News
All told, 990 women will graduate from the Faculty of Management Sciences, 308 from the Faculty of Natural Sciences, and 310 from the Faculty of Engineering.
Read more...
---
Hitachi Energy is championing its Diversity 360 approach
News
In recognition of Women's Month, the company highlighted the achievements of exceptional local female talent by profiling three leading women who form part of the company's South African operations.
Read more...
---
LTM garners prestigious global 'green energy' award
News
The company was awarded for the AEE Innovator of 2022 the Enhanced Smart Utility Management System (eSUMS), which helps clients reduce their utility costs and boost their climate change mitigation contribution.
Read more...
---
Attaining a sustainable legacy
Technews Publishing (SA Instrumentation & Control) Editor's Choice News
Through this quagmire of crises and uncertainties, the wheels of industry must continue to turn if we are to sustain our modern way of life, and those wheels are, either directly or indirectly, powered by electricity.
Read more...
---
From the editor's desk: Today's seed, tomorrow's shade
Technews Publishing (SA Instrumentation & Control) News
Today's captains of industry did not create the environmental problems we face, but they inherited this poisoned chalice and so it falls upon them to rinse it clean.
Read more...
---
From Industry 4.0 to Industry Green.0
Rockwell Automation Editor's Choice News
As sustainability becomes a business imperative for manufacturing organisations, they must incorporate sustainability goals into every step of the business lifecycle – because purpose and profit must go hand in hand.
Read more...
---
Strong order intake, record revenues for Atlas Copco
News
The demand for Atlas Copco's products and services remained high for the second quarter of 2022, and order volumes increased markedly in all business areas compared to the previous year.
Read more...
---
Zest WEG poised for African growth
Zest WEG Group Africa News
Zest WEG's drive on local manufacture and local sourcing is consistent with WEG's global approach of maximising local content and procurement wherever possible.
Read more...
---