printer friendly version
Rockwell Automation expands visualisation offering
February 2021
Industrial Computer Hardware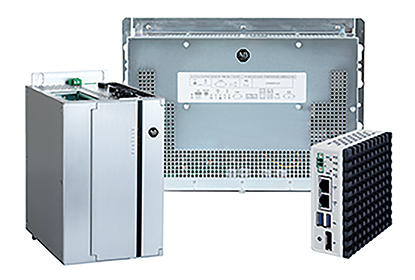 Rockwell Automation has released new industrial PCs and software to improve the reliability and security of visualisation applications. Visualisation systems are often among the most expensive plant floor systems to maintain, and are a common target for unauthorised users looking to access control system assets and intellectual property.
The new industrial Allen-Bradley VersaView 6300 PCs and thin clients combine with FactoryTalk HMI software and ThinManager thin-client management software to create a complete visualisation system. Thin clients are computers connected remotely to a server storing applications, rather than using a local hard drive. For mission critical applications, users can deploy ThinManager redundancy or a VersaView 6300 PC running local and remote applications to help ensure reliability if server communications are lost.
In addition, unlike most industrial PCs, each model in the VersaView 6300 family is individually designed to minimise or remove frequent points of failure like fans and connectors, helping to reduce costs and extend the life of the PC.
Customers can enhance cybersecurity when they use the new industrial PCs with ThinManager software. Multiple PCs with locally stored applications spread across a plant floor can increase the attack surface and security risks. ThinManager software allows applications to run and be maintained from a central and secure location.
Additionally, when users acquire both the visualisation hardware and software from one source, support is simplified. This can reduce the cost and mean time to repair that typically come from working with multiple vendors for support issues. Users can also save money by taking advantage of the flexible content delivery methods and simplified licensing that are available from a Rockwell Automation-based system.
The new Allen-Bradley VersaView 6300B box PCs and thin clients deliver dependable performance and are available in multiple options to match user application needs. They include Windows 10 IoT Enterprise 2019 LTSC, the latest Microsoft Windows 10 IoT Enterprise version, while Ethernet ports are gigabit to handle high-volume network traffic.
Credit(s)
Further reading:
From Industry 4.0 to Industry Green.0
Rockwell Automation Editor's Choice News
As sustainability becomes a business imperative for manufacturing organisations, they must incorporate sustainability goals into every step of the business lifecycle – because purpose and profit must go hand in hand.
Read more...
---
Rockwell appoints Kenyan distributor for East African market
Rockwell Automation News
Multivista specialises in taking care of industrial equipment throughout its lifecycle, owing to the company's strong after-sales support.
Read more...
---
Cleanroom tablet PC
Extech Safety Systems Industrial Computer Hardware
The device is convenient to operate, even with multiple pairs of nitrile cleanroom gloves or a stylus. Both the front and rear cameras of the tablet can be used within the stainless steel enclosure.
Read more...
---
The most common cyber threats in the industrial environment
Rockwell Automation IT in Manufacturing
Rockwell Automation's cybersecurity portfolio strategic growth leader delves into this topic in a recent blog post.
Read more...
---
Smart manufacturing will power the battery gigafactory of the future
Rockwell Automation Electrical Power & Protection
Electric vehicles' role in the decarbonisation of mobility requires gigafactories that can produce batteries in high volumes, at high speeds and with consistently high quality.
Read more...
---
Rugged, fanless computers in 19-inch rack housings
Rugged Interconnect Technologies Industrial Computer Hardware
The solution is ideal for railway, maritime, defence, medical or other applications that need to be supported for ten years or more.
Read more...
---
Balluff adds wireless solution to IO-Link portfolio
Allpronix Industrial Computer Hardware Fieldbus & Industrial Networking
Balluff's portfolio expands with its IO-Link Wireless variant for a fast, reliable and flexible solution that guarantees consistent system integration and compatibility.
Read more...
---
Mini-PC for IoT and industrial applications
Brandwagon Distribution Industrial Computer Hardware
Compulab recently launched fitlet3, its latest Atom-based miniature fanless PC, featuring Intel's newest Atom processor family, Elkhart Lake. Designed to be highly versatile with multiple functions in 
...
Read more...
---
Ultra-low latency standalone 4xD1 H.264 video streamer
Rugged Interconnect Technologies Industrial Computer Hardware
The XStream-SD4 is an intelligent, standalone, ultra-low latency H.264 streaming solution that accepts 4x NTSC/PAL/RS-170 composite video sources and records and streams them over 100/1000 Mbps Ethernet. 
...
Read more...
---
Three steps to a more agile workforce
Rockwell Automation News
Recruiting, managing and retaining skilled workers have remained critical priorities for manufacturing organisations.
Read more...
---