printer friendly version
Quad-monitor thin client applications from Pepperl+Fuchs
October 2020
Industrial Computer Hardware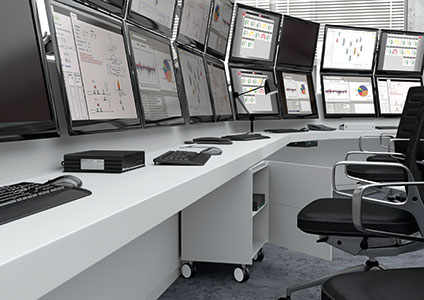 The control room is the hub for production, planning and process control. Using established thin client technology from Pepperl+Fuchs, production statuses are transmitted to multiple monitors in real time so that all plant data can be monitored and operators can respond quickly. With digital DisplayPorts, the BTC14 facilitates optimal visualisation of process parameters and production figures on up to four monitors to ensure an optimal overview of process information.
Uncompromising reliability
No company can afford failures in the control room. With this in mind, users focus particularly on the reliability of hardware and software. To meet these high requirements, reliability was a focal point for the BTC14 during the development stages. This new generation of reliable and rugged computers has been specially designed for harsh conditions and 24/7 operation in industrial environments. The design is based on thin client technology, which allows users to access data and information that runs on centralised servers, and thereby represents the user interface. Packaged in a compact aluminium housing, the device is passively cooled and easily withstands temperatures from -20°C to 60°C.
Users can also rely on the BTC14 when it comes to system stability. With its dual Gigabit Ethernet interfaces, it supports network redundancy of the control systems.
Increased physical security
In addition to maximum reliability and guaranteed long-term availability, all aspects regarding security are crucial. It is important to look at all factors, from solutions such as antivirus and firewall systems, to additional protection that can be handled by the hardware. Completely enclosed housings – such as the IP4x housing of the BTC14 – provide protection from the environment.
Installing the equipment such that it is hidden or enclosed can protect it from being accessed by third parties. This prevents unauthorised access to devices and minimises the possibility of viruses being introduced. A variety of installation kits for the BTC14 give users a wide range of installation options, while the rugged design and increased operating temperature range maximise the number of areas in which the BTC14 can be installed. It can easily be stored in drawers or containers with a guaranteed circulation of air.
Especially in the case of vibration, there is a risk that unsecured connectors will work loose. With the BTC14, all interfaces can be mechanically protected, preventing disconnection and guaranteeing secure cable connections.
Low maintenance and administrator involvement
Individual employees now take control of entire automation lines. Devices that are easy to integrate and use in the control room have a major impact on the amount of effort required on the part of individuals.
All box thin clients from Pepperl+Fuchs and thin-client-based workstations with industry-standard touchscreen displays – remote monitors (RMs) – are equipped with specially developed thin client firmware based on Windows 10 IoT Enterprise LTSB: the Windows version of Microsoft with long-term support.
RM Shell 5 thin client technology – patented for use in hazardous areas – is already in its fifth generation and is seen as the pioneer of its kind. The preinstalled RM Shell 5 firmware not only allows simple and intuitive configuration and commissioning of BTCs and RMs, but is also optimised and preconfigured for use with conventional process control systems used in process automation. Creating a profile allows direct access to virtualised workstations and servers with just one click. Even if a connection is interrupted, e.g. due to a power failure, the devices can automatically re-establish the connection when the 'Auto-Connect' function is configured. The system settings allow for an unlimited number of connections to be re-established, and multiple backup connections can be set up if the connection to the actual host fails. After a predefined wait time, the BTC/RM then connects to the backup connection. All activated devices within a network can be set up, configured, and monitored from a central workspace, eliminating the need to make time-consuming journeys to individual devices.
Credit(s)
Further reading:
Cleanroom tablet PC
Extech Safety Systems Industrial Computer Hardware
The device is convenient to operate, even with multiple pairs of nitrile cleanroom gloves or a stylus. Both the front and rear cameras of the tablet can be used within the stainless steel enclosure.
Read more...
---
Hydrogen: the key to energy turnaround
Pepperl+Fuchs Editor's Choice Analytical Instrumentation & Environmental Monitoring
If you want to curb climate change, you can't get around hydrogen. To ensure the safety of automated processes, explosion-proof components and sensors with a wide range of functions are required. Pepperl+Fuchs offers the hydrogen industry a comprehensive portfolio of devices and many years of experience in diverse areas.
Read more...
---
Ex solutions for chemical processes
Pepperl+Fuchs IS & Ex
As an expert in electrical explosion protection, Pepperl+Fuchs helps its customers to select, plan and develop their specific solution.
Read more...
---
Enhancing worker safety with mobile solutions
Pepperl+Fuchs Editor's Choice
Smartphones and tablets enable companies to improve not only their productivity, but also the safety of their employees.
Read more...
---
Sensor technology for explosion-protected areas
Pepperl+Fuchs IS & Ex
To enable customers to use Pepperl+Fuchs sensors in explosion-protected areas, the company has made sensors suitable for use in Zones 1 or 21, and Zones 2 or 22.
Read more...
---
Universal code reader for optimal reliability
Pepperl+Fuchs Sensors & Transducers
Camera-based code readers have already proven their worth in reading detailed data for automated processes, with the adaptability to suit many tasks.
Read more...
---
IO-Link master with OPC UA interface
Pepperl+Fuchs Fieldbus & Industrial Networking
The combination makes data accessible beyond the central control system, for decision-makers to access without complex workarounds.
Read more...
---
Gateway connects remote I/O systems to the Profinet world
Pepperl+Fuchs Fieldbus & Industrial Networking
Up to 80 field devices can be connected to a fully occupied remote I/O system, and they communicate without a time delay.
Read more...
---
Witt Sensoric joins Pepperl+Fuchs Group
Pepperl+Fuchs News
Witt Sensoric was founded in 1993 and is characterised by its performance in the field of photoelectric sensor development, mechanical design and the production of large volumes.
Read more...
---
Rugged, fanless computers in 19-inch rack housings
Rugged Interconnect Technologies Industrial Computer Hardware
The solution is ideal for railway, maritime, defence, medical or other applications that need to be supported for ten years or more.
Read more...
---