printer friendly version
Safety rope limit switch
September 2020
Operator Interfaces, Switches & Relays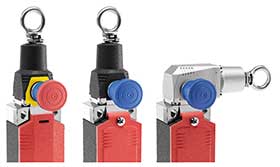 Bernstein has introduced its new safety rope (SRO) limit switch to the international market. Bernstein has focused on developing electrical safety products to protect machine and process operators for over 70 years and the SRO is no exception.
The German-based industrial safety technology company is represented in South Africa by Anglo Allied Engineering. Managing director Karin Visser explains: "The SRO is a rope pull switch that provides safety for conveyor belts or machines. As a supplementary safety function it was designed to be installed on machines in addition to existing safety devices, but is not a replacement for other safety devices. The SRO comes into play if other measures stop working or the user is unable for any reason to conduct a normal stop."
An emergency stop happens when a dangerous movement is anticipated or has been spotted. It is different to a normal stop, which switches off the power. With one action, any person present can avert danger by hitting the emergency stop button.
The SRO emergency stop device has an ISO13850 rating. Its compact design is useful for narrow spaces and distances of up to 30 metres can be secured. The rope device is made of metal and the housing comes in either plastic or metal. The SRO combines two different devices in one: an emergency stop activated by pulling a rope and an integrated emergency stop button on the device.
Applications in which the SRO can be used include packaging machines, woodworking machines, intralogistic systems, printing and paper machines, textile machines and automation systems.
Credit(s)
Further reading:
SIL 2 safety switching over fibre-optic cable
Omniflex Remote Monitoring Specialists Operator Interfaces, Switches & Relays
The FCT and FCR module pair are DIN-rail mounted, fibre-optic contact transmitters and receivers that can send a digital contact signal up to 10 km over a single optical fibre.
Read more...
---
LED strips enhance efficient pick-to-light C-parts management
Turck Banner Editor's Choice Operator Interfaces, Switches & Relays
KEB Automation used Turck's WLS15 strip lights to refine its assistance system for C-parts management into an efficient and failsafe pick-to-light solution.
Read more...
---
Industrial Ethernet rack mount switch
Allpronix Operator Interfaces, Switches & Relays
The Korenix Jetnet 7628XP is an Industrial Ethernet rack mount switch with a 10G backbone capability and 4x 10G SFP ports. This Layer 3 managed switch can operate in extremely harsh environments.
Read more...
---
Flexible LED strip for illumination and signalling
ifm - South Africa Operator Interfaces, Switches & Relays
Triggering is via four digital inputs that can be used to produce the colours red, yellow, green, blue, cyan and purple, as well as pure white
Read more...
---
Compact emergency stop button
Anglo Allied Engineering Enclosures, Cabling & Connectors
Bernstein has brought out a smaller version of its safety rope limit switch, adding an extra layer of safety to the operation of machines and conveyor belts, with greater space saving and versatility.
Read more...
---
Absolute encoder for construction and agricultural machinery
Instrotech Operator Interfaces, Switches & Relays
Siko's AH25S is cost-effective and flexible, and provides a balance between high resolution, extensive functionality, a sturdy housing design and a minimal construction form.
Read more...
---
EPLAN releases new full version of eManage
EPLAN Software & Services News Operator Interfaces, Switches & Relays IT in Manufacturing
With the full version of the software, master data can be accessed in the cloud, as can supplementary documents, and performance is increased with additional capacity.
Read more...
---
Cascadable pick-to-light display module
Turck Banner Operator Interfaces, Switches & Relays
The PTL110 system's RGB LEDs can output up to fourteen colours and various predefined animation functions.
Read more...
---
E-stops with protective shrouds
Turck Banner Operator Interfaces, Switches & Relays
Turck Banner now offers variations of its popular emergency stop controls with a durable protective shroud. The shroud has a sturdy one-piece design that ensures safe and consistent operation for the 
...
Read more...
---
High output LED strip light
Turck Banner Operator Interfaces, Switches & Relays
Increase worker productivity and ergonomics with bright, high-quality, uniform light.
Read more...
---