printer friendly version
Ultrasonic transducer with mini horn array
May 2020
Flow Measurement & Control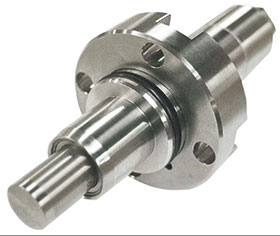 Emerson has released the Daniel T-200, a titanium-housed transducer, for its gas ultrasonic flowmeter product line, marking the first use of metal 3D printing to enhance the acoustic performance of ultrasonic flowmeters in custody transfer applications. The T-200's robust design provides increased reliability, uptime and safety while achieving the highest accuracy class attainable in gas measurement.
In an ultrasonic flowmeter, transducers generate acoustic signals that are sent back and forth across the fluid stream. The arrival times of these signals determine the fluid flow velocity. Signal quality and strength are critical to measurement accuracy, which is paramount in custody transfer applications. An error of only 0,1% can equate to hundreds of thousands of dollars annually in a large-diameter, high-pressure pipeline.
To boost signal strength through the titanium housing, the T-200 uses a metal 3D-printed mini-horn array, which consists of an intricate geometrical structure of titanium horns and a titanium diaphragm that acts as a harmonic oscillator and matching layer. This maximises the sound energy coupled into the gas, which improves the signal-to-noise ratio and accuracy of the measurement.
"The T200's mini-horn array could not be made without metal 3D printing technology, making it transformational to the sound quality and performance achievable through a titanium barrier," said Kerry Groeschel, director of ultrasonic technology, Emerson. "Emerson is committed to developing innovative solutions that help our customers achieve safer, more efficient operations."
The meter's all-metal housing provides a barrier from corrosive hydrocarbon fluids and wet gas, thereby extending the life of transducer components and ensuring stable performance. This unique design allows the meter to be hydrotested with transducers in place, steam cleaned while in the operating line and blown down with no limits on the rate at which the meter can be depressurised.
The T-200 can also be safely extracted while the meter is under pressure without special high-pressure extraction tools, which reduces the possibility of greenhouse gas emissions during extraction. The capsule which contains the piezoelectric crystal used to produce ultrasonic sound waves is retractable as a single piece for simplicity and ease of use. No other gas ultrasonic transducer can be extracted under pressure without special tools and with so few parts to remove or touch in the removal process.
Credit(s)
Further reading:
Pulse totaliser counter
Instrotech Flow Measurement & Control
The electronic unit shows flow rate, resettable daily and total counter (mass units can also be set), and all customised program settings remain saved, even after a battery exchange.
Read more...
---
Permanently precise flow measurement
Morton Controls Flow Measurement & Control
Proven and tested in practice, the small size of the FMQ's measuring body and electronics enable simple, vibration-insensitive integration into almost all applications.
Read more...
---
Mass flow controllers and meters
Electrocomp Flow Measurement & Control
Unlike most other devices on the market, these devices do not suffer from drift and do not require in-service recalibration.
Read more...
---
Magnetic-inductive flow meter for phosphate precipitation
Instrotech Flow Measurement & Control
With a 4-20 mA signal or optional pulse output, the MIK allows for immediate response to the latest process conditions.
Read more...
---
Inline process viscometer for polymer and oil monitoring
SECO Process Instrumentation Flow Measurement & Control
This hermetically sealed unit is assembled entirely from 316L stainless steel and includes built-in fluid temperature measurement.
Read more...
---
Wall-mount ultrasonic flow meters
Royce Water Systems Flow Measurement & Control
High measurement accuracy and minimal interference due to its advanced error correction technology are among the flow meter's benefits.
Read more...
---
Flow meters and switches for very slow flows
Instrotech Flow Measurement & Control
Kobold's KSV meters are shock resistant, small, lightweight and simple to install for measuring liquid or air flow with full-scale accuracy within +/-6%.
Read more...
---
Condition monitoring software gets asset health boost
Emerson Automation Solutions IT in Manufacturing
The newest version of Emerson's AMS Machine Works adds support for embedded, automatic analytics at the edge using patented PeakVue technology.
Read more...
---
Indian airport's fuel station retrofitted with Rotork actuators
Flow Measurement & Control
A reduction of downtime was of critical concern to the customer, which can be assisted by an holistic asset management programme such as Lifetime Management.
Read more...
---
Emerson's new edge solutions simplify IIoT projects
Emerson Automation Solutions IT in Manufacturing
PACSystems Edge Solutions are fit-for-purpose packages that reduce the time spent integrating, developing and validating IIoT projects.
Read more...
---